Data entry clerks are responsible for maintaining or updating data in a database. Their key functions include updating existing data, entering new data, prepping data for entry, checking for errors in data entry, prioritizing source data and other administrative tasks related to the database. Data entry clerks must have either a high school diploma or GED. They must demonstrate good written communication, oral communication, attention to detail, proficient typing skills, customer service, software knowledge and efficient time management.
A good resume is well-written and concise. It should be neat and easy to read, listing previous experience in a logical order.
Our resume samples will provide you with multiple examples of what you can include when writing your resume.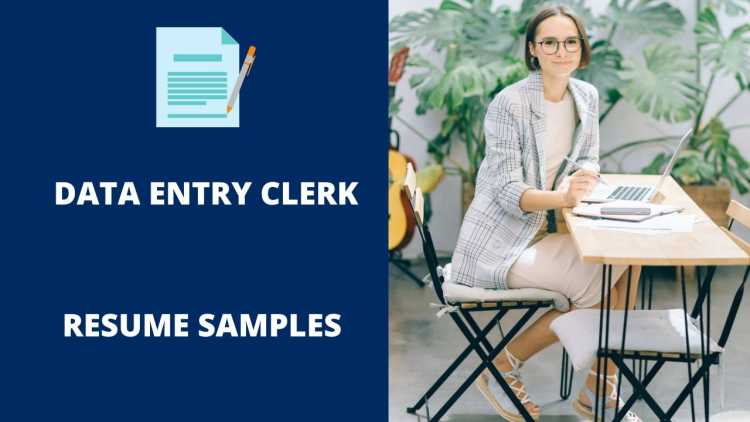 The Best Data Entry Clerk Resume Samples
These are some examples of accomplishments we have handpicked from real Data Entry Clerk resumes for your reference.
Data Entry Clerk
Maintain 98% accuracy rate by assessing client and account documents for errors.
Complete all assigned entry requests/tasks within required timeframes while maintaining a high level of quality.
Compile, prioritize, sort and process clients information into databases fro storage and analysis.
Performed other clerical duties such as answering telephone, sorting and distributing mail.
Multi-tasked, prioritized, and completed a large volume of clerical tasks in a timely manner with minimal supervision.
Data Entry
Inserted customer and account data by inputting text based and numerical information from source documents within time limits.
Compiled, verified accuracy and sorted information according to priorities to prepare source data for computer entry.
Reviewed data for deficiencies or errors, corrected any incompatibilities if possible and checked output.
Developed knowledge of accounting software; accomplished assigned tasks accurately and efficiently.
Provided customer service to prospective clients by responding to requests in a prompt, friendly, and positive manner.
Data Entry Clerk
Insert customer and account data by inputting text based and numerical information from source documents within time limits.
Compile, verify accuracy and sort information according to priorities to prepare source data for computer entry.
Review data for deficiencies or errors, correct any incompatibilities if possible and check output.
Apply data program techniques and procedures and Generate reports, store completed work in designated locations and perform backup operations.
Recognized by peers as the best customer service person in the department; selected as an intern for Customer Service Excellence Program at company headquarters.
Data Entry Clerk
Enters into the main database information about patients as part of regular surveillance and surveillance studies as it appears in study forms on which patient study data is collected.
Organizes forms by specimen number and attaches forms to a checklist in order to ease monitoring of barcode and form scanning processes as well as data entry completion.
Scans forms (back and front) after data is entered and participant's unique identifier is assigned.
Organizes and files forms by unique identifier once all clinical and demographic data for each participant is entered into the main database.
Educated consumers about home loans through presentations and demonstrations at consumer financial shows and seminars.
Data Entry Clerk
Handled valuable documents which are converted into electronic files by scanning and then uploading these electronic files in the relevant database.
Trained new data entry clerks the process of scanning and uploading electronic files in the database.
Managed how much files are uploaded by each clerk and ensure they are done correctly.
Prepared a monthly report to customers on the status of their contracts with the company.
Edited, formatted & copied records for customers' processing of everyday inquiries.
Data Entry Clerk
Read source documents such as canceled checks, sales report, or bills and entered data in specific data fields using keyboard.
Compared data with source documents, or re-entered data in verification format to detect errors.
Interacted with customers to provide information in response to inquiries about products and services and to handle and resolve complaints.
Processed orders for group insurance plans, credit cards, and income tax returns; also procured licenses and licenses renewal checks by mail.
Delegated special projects such as purchasing tickets to sporting events, processing payroll; also implemented new systems in the office and implemented processes to support the growth of the company.
Data Entry Clerk
Operate office machines, such as photocopiers and scanners, facsimile machines, voice mail systems, and personal computers.
Answer telephones, direct calls, and take messages.
Maintain and update filing, inventory, mailing, and database systems, either manually or using a computer.
Communicate with customers, employees, and other individuals to answer questions, disseminate or explain information, take orders, and address complaints.
Received commendation from a Regional Vice President; processed paperwork accurately and on time; was given responsibility to make decisions on special projects with minimal oversight by supervisors.
Data Entry Clerk
Working as a Data Entry Clerk in the Loan Department taught me how to take payments through a personal work station.
To work with different departments in different location to get the customers information and payments into the system without delay.
We were authorized to access customers accounts and information to use the correct billing and coding for each particular customer.
At the end of the business day, we each had to balance out each of our payment drawers to make sure it would coincide with the system.
Successfully completed data entry activities for the Production Department according to EDI guidelines.
Data Entry Clerk
Distributed the billings to each doctors unit from east admissions and west areas of the hospital.
Begin gathering data from copy machines to report hospital census report.
Collect census copies, and care report to issues the daily census report.
Performed word processing and assisted with employee letters, memos, and correspondence to promote effective business communications.
Coordinated and prepared reports for meetings; achieved the award for accuracy under pressure.
Data Entry Clerk
Prepared source data for computer entry by compiling and sorting information; establishing entry priorities.
Enter customer and account data by inputting alphabetic and numeric information on keyboard or optical scanner according to screen format.
Maintain data entry requirements by following data program techniques and procedures.
Completed clerical duties involving inventory control with an average error rate of 2%.
Completed daily tasks in an organized, professional manner by utilizing available resources and following defined procedures.
Data Entry Clerk
Apply client specifications to accurately complete process and key client materials.
Timely and efficient identification of various client materials.
Worked efficiently within a team environment to meet client deadlines and service level agreements.
Ability to identify different document types.
Recognized for exceptional quality, accuracy, and speed in the completion of assigned tasks; received a commendation from District Manager.
Data Entry Clerk
Accurately input research information from paper formats into Electronic Document Management systems.
Managed the organization of necessary materials for medical research studies.
File research subject paperwork into corresponding chart.
Greet and escort patients to their designated treatment rooms after their admission to the facility has been completed.
Recognized by Staff Supervisor for completing data entry tasks throughout the day in a timely, accurate, and professional manner.
Wrap Up
You need to make sure your resume stands out amongst the other candidates. It is the first impression that employers have of your work experience and skills. Use the samples above to put together a resume that best suits your needs and helps you get the job you want.