Lawyers provide legal advice and assistance to a client. Their duties include representing an accuser or a defendant, assisting the client through the legal process, creating legal documents, researching historic cases and laws, providing and receiving information for the case and attending pretrial obligations. To work as a Lawyer you must have a bachelor's degree, attend a three year law school and pass the BAR examination in the state they would like to practice. Lawyers must demonstrate honesty, empathy, analytical skills, oral and written skills, trustworthiness, public speaking and time management skills.
A good resume is well-written and concise. It should be neat and easy to read, listing previous experience in a logical order.
Our resume samples will provide you with multiple examples of what you can include when writing your resume.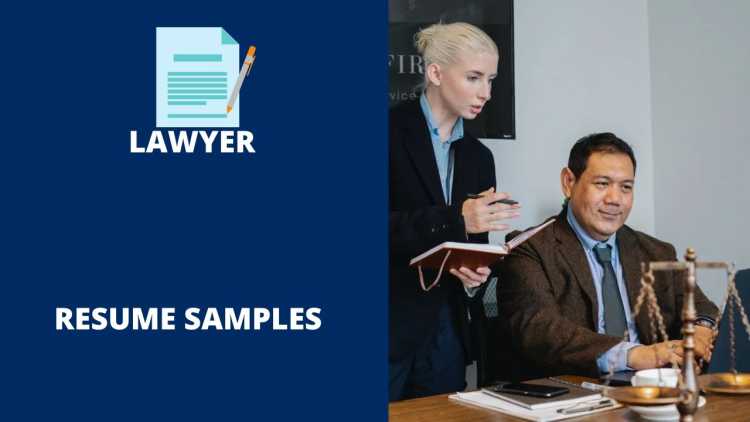 The Best Lawyer Resume Samples
These are some examples of accomplishments we have handpicked from real Lawyer resumes for your reference.
Trainee lawyer
Helped senior partners in the preparation of lease and employment agreements and incorporation of legal entities.
Attended court hearings; attended several business meetings with clients; negotiated out of court settlements.
Performed legal research with respect to a landlord-tenant case involving a Lebanese secondary school.
Drafted estate plans for the estates of six prominent families, including that of my own; provided comfort and assistance to families during their time of grief.
Recognized by peers as one of the top estate planning specialists in the state; proven ability to resolve complex issues.
Lawyer
Retained as outside counsel for Companies and businesses.
Investigated complaints of retaliatory and discriminatory employment practices.
Developed detailed litigation strategies for each case.
Analyzed Data to test compliance with all legal reporting regulations.
Wrote thousands of wills, living trusts, powers-of-attorney, and other important legal documents while working with a variety of clients to safeguard their property.
Lawyer
Proven business and legal professional with over 20 years demonstrated ability to acquire and retain new business including Lincoln Center for the Performing Arts.
Procured revenues totaling over $50 million including recoveries from defaulting, bankrupt and previously written-off entities.
Successfully brokered deals and negotiated contracts involving commercial real estate transactions over diverse business sectors with organizations including Silverstein Properties and Cushman & Wakefield.
Commercial financing consultant with involvement ranging from business development, sales, marketing and compliance to litigation in diverse arenas including collection, work-out, credit card processing and merchant advocacy.
Effectively used professional analysis and judgment to interpret complex legal procedures and to manage the work of other attorneys and staff.
Lawyer
Administering files in the following areas of law: real estate, litigation, debt collection, probate and matrimonial law to include drafting documents.
Communicating and meeting clients, colleagues, experts and counsel.
Liaising with financial institutions and insurance companies.
Handled numerous appeals and trials before state, federal, and administrative courts while maintaining exemplary performance.
Chaired civil and criminal court trials with a focus on minority rights, community involvement, and education.
Lawyer
I provided specialized knowledge in the areas of liability, insurance, risk management and urban development.
Given that the main purpose of the company was the urban management and the real estate operation as well as the development, execution and consulting Plans for the urban projects of the municipality, my activities included, but were not restricted to, the analysis and consulting in risk management and the design of the best insurance solutions for the company.
I oversaw the claims related to the hiring processes and the general company operation.
I also provided substantive inputs for Policies and Procedures revisions.
Earned respect as a community leader by helping neighbors work with both police officers and criminals to avoid segregation.
Lawyer
Managing relations between local community and third parts, I have been negotiating about contents of contracts, mainly with corporations, among those also foreign, therefore also in foreign language.
I have been very successful in executing debts, that have been active 10 years and more as well as other active debts, which has reflected in enlargement of influx and regularly paid new debts.
I was a professional mentor for two lawyer's apprentices in years 2011 and 2012, therefore I have also successfully passed my experiences on younger colleagues.
Sought out cases that contributed to the advancement of civil rights and protections for minorities.
Used legal precedents to obtain first-class citizenship for Africans in America.
Lawyer
I reviewed the applications for funding by individuals seeking to appeal against their conviction or sentences.
This required reading the transcript of entire criminal trials to identify potential issues, than legal research to assess chances of success.
I would than draft advice recommending that funding for the appeal be approved or rejected.
Avoided losing and winning cases by enlisting my own or a partner's extensive knowledge of the law.
Fulfilled duties as a class officer; managed legal funds, served on the yearbook staff and student council.
Lawyer
Worked in litigation and corporate groups including Media Law, Worker's Compensation, Corporate Law and Administrative Law and Labor Law.
Assisted in all stages of litigation, including initial consultations with clients, advising on pre-litigation issues (such as applications for security for costs), preparing for and attending Court hearings.
Regularly advised both partners and clients as to relevant case law and legislation i.e. providing a legislative overview to the Australian Physiotherapists Association with regard to the ability of physiotherapists to administer certain pharmaceutical substances.
Won competition in Mock Trial-sustained jury award against opposing counsel.
Assisted with research and preparation of legal briefs in cases involving personal injury, insurance coverage, family law, wills and estates, employment discrimination, constitutional law and contracts.
Lawyer
Assisting principal with the preparation of contracts and ancillary project documentation; publication of "Construction Contract Principles" & "Adjudication in Construction".
As the website editor; Preparing case notes, articles and reports on legal developments relevant to areas of practice (published on the Firm's website.
Conducting extensive due diligence and advice for a range of legal issues including; construction, taxation, public policy and strategic development.
Managing client budgets and invoices, working within projected timelines and reaching monthly billing targets.
Led a team in the successful defense of five juvenile delinquents charged with robbery; defendants were acquitted after trial.
Lawyer
Assisted in the litigation of Public Liability, Professional Indemnity, Personal Injury, Workers Compensation and Dust Diseases claims.
Appeared before the Local, District and Supreme Courts at Sydney as well as in the Dust Diseases Tribunal of New South Wales.
Drafted Court documents including defenses, appearances, affidavits, motions, discovery lists.
Provided extensive legal advice on quantum and liability.
Assessed quantum on claims including all heads of damages both economic and non economic loss and legislated workers compensation deductions where appropriate.
Lawyer
Specialized in non-litigation area, including IPO, capital and private equity investments, mergers and acquisitions, construction law, labor law.
Have participated in several Initial Public Offerings and foundation of Investment Fund.
Also have pertinent experience in Construction and Real Estate.
Have second chaired in several cases representing our clients in relation to civil or criminal issues.
Served as a member in the Board of Directors for the largest youth mentoring program in Garland, Texas.
Lawyer
Preparation, tracking, distributing and archiving of official correspondence between Client and Consortium partners.
Preparation of the package of necessary documents to submit to the Owner of the construction project.
Verification of monthly progress payment reports in accordance with Letter of Credit issued by bank.
Developed and delivered presentation on behalf of two local law firms on potential areas for business growth.
Routinely instructed and advised clients including, but not limited to, international business and financial entities on building successful corporations, mergers, acquisitions, and lawsuits.
Wrap Up
You need to make sure your resume stands out amongst the other candidates. It is the first impression that employers have of your work experience and skills. Use the samples above to put together a resume that best suits your needs and helps you get the job you want.