Senior IT Project Managers provide leadership and guidance to a team during all phases of a project from planning to implementation. Their tasks include setting goals, leading a team of people, providing resources, conducting audits, managing the budget and resolving issues. This position requires a bachelor's degree and several years of experience. The successful candidate will demonstrate excellent communication skills, managerial skills, process improvement, planning, trends analysis, critical thinking skills and strong leadership.
A good resume is well-written and concise. It should be neat and easy to read, listing previous experience in a logical order.
Our resume samples will provide you with multiple examples of what you can include when writing your resume.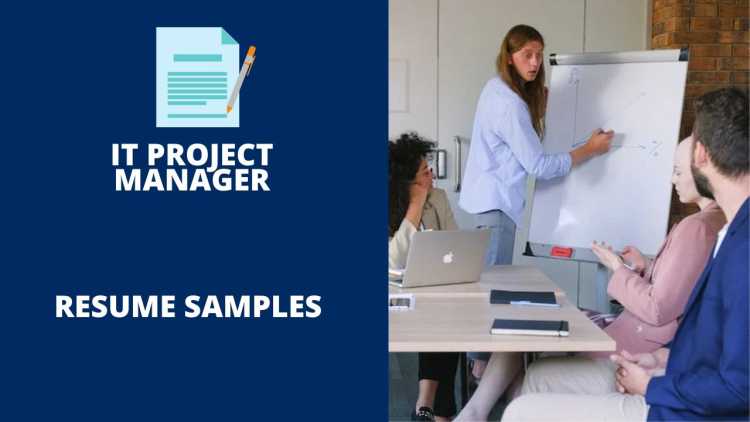 The Best IT Project Manager Resume Samples
These are some examples of accomplishments we have handpicked from real IT Project Manager resumes for your reference.
IT Project Manager
As the Senior Digital/IT Project Manager, I oversee complex projects ranging from industries in advertising using 3D Design, Information Technology using Advanced Business Analytics.
I manage the development of Augmented Reality (AR) and Virtual Reality (VR) applications under the Unity Engine C# for clients seeking technologically innovative ways of branding their image and/or marketing their product.
During the execution of software development life cycle, I coordinate, delegate, and motivate my team in a Consultative-Autocratic/Charismatic Leadership style, meeting milestones and quality audits
Established guidelines, procedures and project plans to develop, manage and implement information technology projects that met or exceeded the client's expectations.
 Maintained 90% of project budget under $50,000 against track records of budgets over $500,000.
IT Project Manager
Bi-weekly meeting with the hospital administration (Stakeholders) to provide project updates and the risks associated with the project.
Assign a team for change control for the project, consist of Administration and Department heads.
 Conducted monthly updates for monthly estimated costs that exceeded the original budget by 50%.
Managed the company upgrades to Windows 2003 Server with a mix of NT and Linux workstations.
Developed flat rate software solutions for hourly services for small business clients; provided training and support to clients on Microsoft Office 2004.
IT Project Manager
Project Manager for several projects and PM Tickets, including high-profile "Medica" projects.
Leads meetings and is primary point-of-contact and source of expertise.
Coordinates and delegates responsibilities with both team members and customers.
Makes sure milestones are hit and results are driven. Handles all issues that arise.
Assists other Project Managers with compliance work in PPM Optics, Microsoft Project, and Excel.
IT Project Manager
Created Business Requirements / Technical Specification documentations for all projects, handing off to development team for review and coding.
Developed Business Requirements Q&A that resulted in all documentation to created test samples for client review and QA testing.
Completed a variety of production projects for 92 clients, all of them on budget.
Used Smart Sheet by Google for project plans and milestones, and to see unresolved issues and documents.
Developed project cost estimates for a major vendor's management software by analyzing the system; lead the team in developing a proposal.
IT Project Manager
Led planning and/or implementation of projects by participating in the introduction of projects for new systems, technologies and ideas.
Facilitated the definition of service level agreements for customer and/or upper management requirements.
Interact regularly with the System Managing Experts or potential clients to determine their needs and to develop plans for improving delivery.
Advocate on behalf of clients and represent clients' needs as appropriate to senior management.
Responsible for coordinating staff, vendors, and resources when developing new server software; ensured timely completion.
IT Project Manager
Delivered key component of 15M+ TRU Oracle ATG webstore redesign using SCRUM methodology.
Interfaced with Business partners, Subject Matter Experts and Cross-functional Work Stream Leads to understand/deliver Business Requirements and Functional specifications.
Represented development team at daily meeting, planned monthly releases, managed requirements backlog, demonstrated working software to product owners for approval.
Maintained communications to key stakeholders including project share point sites, status meetings, and executive reporting.
Charted course of next-generation release by compiling systems requirements of requesting departments/business units; coordinated user groups to validate requirements.
IT Project Manager
Have a strong background of Project/Program management, Global Delivery, business analysis, process, expertise in defining scope of projects based on gathered Business Requirements including documentation of constraints, assumptions, business impacts, Project risks & scope exclusions.
Ability to meet deadlines, spanning multiple business domains and capable of handling pressure, coordinating multiple priorities and managing customer expectations working with multiple customer groups, creating partnership with customers in multiple project environment and experience with training and mentoring team members with product knowledge and business processes.
Have experience in working with various department teams developing interactive relationships with business and IT colleagues, having a thorough understanding of the constraints, needs, and perspectives of both the customers and the organization's technical team.
Introduced state-of-the-art server infrastructure that reduced system downtime in half and increased efficiency by 15%; earned appreciation award from management.
Restructured department layout to better meet business needs without increasing operating expense; summarized costs and risks of the transition during the process development phase.
IT Project Manager
Managed infrastructure upgrades & decommissioning activities of end of life hardware / software to achieve efficiency and cost reductions.
Establish an internal Vendor Relationship Management governance process to align with the banks VRM guidelines for Contracts, SoW and PO management, Risk definition & control.
Organize risk & control governance procedures to identify internal & external audits exposures and manage Statements of Work to address audit resolution.
 Managed a six-month IT Project to organize, plan, and deliver a complex program.
Accomplished multi-tasking by managing quality projects, personal departmental responsibilities, and outside activities.
IT Project Manager
Developed project status reports to indicate status on schedule, cost, scope and risks and taking any corrective course of actions to bring back projects on track.
Managing multiple projects under both agile and waterfall methodologies.
Developed Process Improvement Strategies for multiple service management areas (Test Management, Defect Management, Environment Management, Release Management, Access Management, Information Security Management).
Covered for two managers on vacation during his project development period.
 Accomplished project scopes by completing all deliverables within budget; increased productivity while avoiding project delays.
IT Project Manager
Spearhead development and implementation of consistent process and data definitions across the computing environment.
Identify the key stakeholders and define project scope, prepare project plans and schedules.
Managed the entire software development lifecycle from requirements capturing, to database design, development, testing and release of the changes.
Received superior work performance awards on all tasks completed.
Successfully implemented and supported a new customer relationship management system, thereby increasing sales productivity by over 75%.
IT Project Manager
Served as project manager for point of sale authorization (POSA) cards and transferred value products (prepaid cards redeemed by end-users).
Managed over 40 clients' migration to SFTP server and ensured password security for daily sales reports.
Served as technical consultant in switching dedicated main line used for transaction processing with backup line for Seven Eleven Japan, one of Japan's biggest merchants.
Directed migration of frame-relay line migration to MPLS line for Family Mart, Japan's second largest convenience store chain.
Streamlined the company's payroll processing system through the development of an in-house customized, web-based application.
IT Project Manager
Provided Program Management Office support such as process improvements, documents controls and repository for 9 college campuses within the college district as well as for the LACCD District office.
Led a $8.5 million district-wide project to implement improved network security and firewalls programs at all nine colleges in the LACCD.
Responsible for operational and management level reporting, critical path milestone management, risk management and scope management to LACCD Vice-Chancellor, CIO and college IT VPs and Management.
Instituted and managed the corporate IT budget for five consecutive years, resulting in a 15% increase in network efficiency.
Coordinated with government entities to launch E-check and E-signature software systems that revolutionized business documentation.
Wrap Up
You need to make sure your resume stands out amongst the other candidates. It is the first impression that employers have of your work experience and skills. Use the samples above to put together a resume that best suits your needs and helps you get the job you want.