Senior Information Technology (IT) Managers manage teams or departments specializing in information technology within a company. Their duties include business management, employee management, scheduling, responsibility for computer technologies and software, information risk management and project management. To work as a Senior IT Manager most have a Bachelor's degree in information technology, computer science or another related field. Senior IT Managers must demonstrate problem-solving, communication, management, leadership, technological, strategic and information systems skills.
A good resume is well-written and concise. It should be neat and easy to read, listing previous experience in a logical order.
Our resume samples will provide you with multiple examples of what you can include when writing your resume.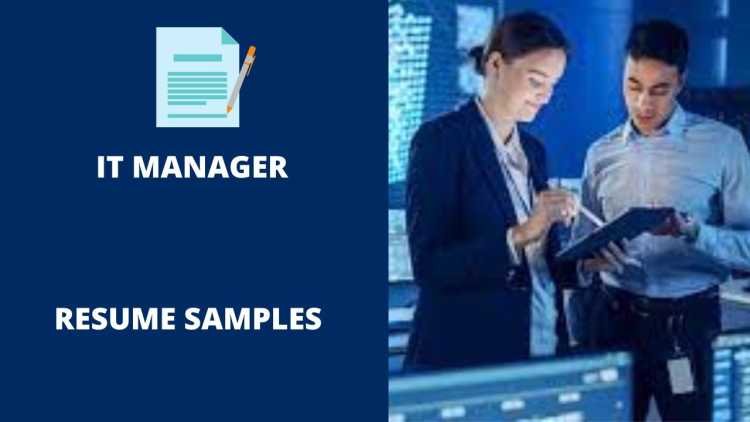 The Best IT Manager Resume Samples
These are some examples of accomplishments we have handpicked from real IT Manager resumes for your reference.
IT Manager
Led IT Department operational and strategic planning, including fostering innovation, planning projects, organizing and negotiating the allocation of resources.
Managed the deployment, monitoring, maintenance, development, upgrade, and support of all IT systems, including servers, PCs, operating systems, hardware, software, and peripherals.
Benchmark, analyze, report and make recommendations for the improvement and growth of the IT infrastructure and IT systems.
Oversee provision of end-user services, including help desk and technical support services.
Worked with stakeholders to define business and systems requirements for new technology implementations.
IT Manager
Managed multiple projects that were crucial to opening several new locations.
Maintained IT Department budget oversaw hiring and maintained IT team schedule and training.
Designed and deployed multiple networks and Server Infrastructure to accommodate a rapidly growing infrastructure.
Managed networks and systems in accordance with the company's guidelines and objectives.
Researched, simulated, and prevented security risks to data integrity.
IT Manager
Department, Executive and C-level collaboration to develop short-term and long-term strategic plans, aligning technology and infrastructure with the vision and mission of the company.
Directed and manage 3rd party support and IT vendor relationships.
Negotiated multiple vendor agreements, contracts and purchases; purchases from Enterprise class vendors with up to 73% discount.
Managed help desk/service desk delivering improvements to IT service; creating and embracing standards to leverage cost efficiencies.
Effectively analyzed data for new software applications; created new databases for computer information management.
IT Manager
Design, develop and implement policies and procedures for the IT department.
Managed staff by recruiting, training and coaching employees, communicating job expectations and appraising their performance.
Understand client's objectives to design, lead and implement IT projects to support their goals.
Supervise Helpdesk operations, ensuring the compliance of the policies and procedures, deliver coaching, and review customer satisfaction.
Applied data analysis to problem-solving; developed new databases for integrated information.
IT Manager
Establish and maintain regular written and in-person communications with the IT Manager and regarding pertinent IT activities.
Resolve daily issues of a complex scope that impact employees, customers, and overall business objectives.
Assisted in the planning and implementation of hardware and software to meet divisional growth requirements.
Developed and maintained total-systems backups; personally prepared computer files for disaster recovery.
Managed and implemented an Active Directory infrastructure.
IT Manager
Designed and led implementation team for local and corporate WAN DFS replication cloud as replacement for traditional tape backup systems, with estimated yearly cost savings of $500k enterprise-wide.
Planned, implemented and documented enterprise disk and tape backup topology, creating unified procedure for all divisions, resulting in more robust disaster recovery abilities across the company.
Directed implementation of Exchange 2010 email rollout across corporate WAN, including DAG replication.
Created yearly divisional hardware/software budget, providing planned service with actual costs running 5-10% consistently under budget year over year while maintaining high level of service.
Developing and administering Windows 2003 Active Directory domain models (LDAP, NDS, security, and user accounts) using SBS 2003.
IT Manager
Rescued Mighty Leaf Tea Australia's Website from hostile vender control, replaced unreliable e-mail service with robust Hosted Exchange corporate e-mail.
Planned/designed IT Network infrastructure for Payroll Masters; saved $100K by improving customer service/data access.
Saved Farmers Insurance Agents millions annually by converting Legacy computer systems into High-Tech Microsoft GUI systems that enhanced; Data Accuracy, Contracts & Forms Generation, Created Paperless handling of information, Customer Service Enhanced Capabilities, and etc.
Developed a ticketing system for the company; utilized SCOM to track the status of tickets within the system.
Coordinated with other systems administrators to ensure reliable performance in a distributed environment.
IT Manager
Managed a global team of 40+ employees responsible for the development and maintenance of applications supporting sales, marketing, and customer service departments for US and International products.
Delivered key initiatives improving user management and single sign-on, content delivery, and technical platform integration resulting in $750K savings.
Successfully managed multiple projects ensuring communication, alignment, and mitigation of possible project collision issues.
Partnered and collaborated with business teams to create, implement, and evolve the digital strategy.
Operated Microsoft Exchange Server 5.5 network infrastructure by creating new users, managing their mailbox availability, configuring email rules and distribution lists while monitoring server performance using SQL server tools.
IT Manager
Served as Facility Security Officer for corporate compliance with duties including escalation of security issues and completing quarterly compliance audits and remediation of outstanding issues.
Managed IT purchasing and planning for upgrades and maintenance for all IT hardware at multiple onsite and remote locations across East Texas.
Major projects include: Deploying Cisco UCS Blade Servers for Citrix XenServer upgrades, Upgrading Citrix XenApp to version 7.9 from 6.0, Replacing the old IBM SAN and Cisco Fabric switch with an EMC SAN and Cisco Nexus Fabric.
Reduced error rate by 20 percent. Increased productivity by 25 percent. Redefined project management processes to address competitive and customer needs.
Managed a team of eight staff members in the execution of eight projects with an average project completion time of fewer than four months; on-time and under-cost.
IT Manager
Combined IT Operations and Development teams to better align the IT organization to meet business needs.
Implemented an Open Environment and involved business decision makers in prioritizing IT projects.
Deployed an IT Service Management System to track and prioritize all requests made of IT.
Increased Completion rates of projects by 300% by instituting an Agile project management methodology within the IT Department.
Provided ongoing leadership in process improvement initiatives to optimize customer service and technology.
IT Manager
Provides technical direction and ensures IT staff follows the correct procedures, policies and documentation requirements across project phases.
Provides an efficient working atmosphere to IT staff and ensures objectives are met within stipulated time.
Provides technical training on C4I systems to a ten person technical team when required and serves as a technical mentor to team members.
Meets with client and gathers requirements, conducts regular team meetings and tracks project progress.
Spearheaded the development of a "Precision Scheduling" module, replacing the previous process that was ineffective in providing customer access within two hours of making a request at peak times.
IT Manager
Managed the IT infrastructure for all of Micronesia Renewable Energy Inc.
Provided network and endpoint security for all employees and cloud based solutions.
Maintained and managed policies and procedures for all the company's technology.
Developed department budget and implemented a new billing system that reduced expenditures by 20 percent and customer complaints by 100 percent.
Taught college-level courses in networking, operating systems, software applications, and customer service to increase degree completion rate.
Wrap Up
You need to make sure your resume stands out amongst the other candidates. It is the first impression that employers have of your work experience and skills. Use the samples above to put together a resume that best suits your needs and helps you get the job you want.