A virtual assistant provides remote clerical and administrative assistance, often similar to a secretary in brick and mortar offices. Their duties include tasks like scheduling, social media management, marketing, data analysis, answering emails, organizing events, data entry, managing inboxes, and making phone calls. There aren't any particular educational requirements for virtual assistants, though any prior job experience in administrative or clerical work is beneficial for this position. Successful virtual assistants are computer literate, social media literate, detail oriented, organized, active listeners, communicate well, and are comfortable making appointments and speaking to others on their employer's behalf.
A good resume is well-written and concise. It should be neat and easy to read, listing previous experience in a logical order.
Our resume samples will provide you with multiple examples of what you can include when writing your resume.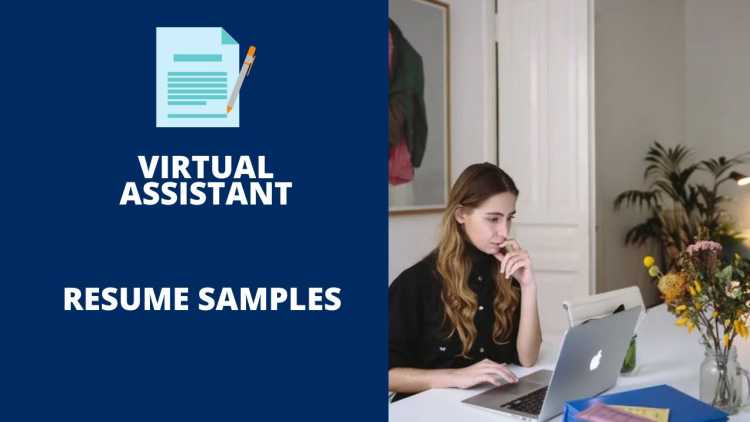 The Best Virtual Assistant Resume Samples
These are some examples of accomplishments we have handpicked from real Virtual Assistant resumes for your reference.
Virtual Assistant
Provides organized and thorough market, industry and competitor research in the military and aerospace sectors for the manufacturing industry.
Demonstrates attention to detail by correctly and effectively linking to resources as necessary.
Completed assigned tasks in a timely manner, making sure that the assignment is accomplished even if it means working off the clock.
Virtual Assistant
Customer service sales representative it is my responsibility to handle inbound calls from customers who are looking to hire contractors for their EHR needs.
Maintained contacts and followed up on problems that required special handling.
Serve as an assistant to the business owner, making appointments and returning phone calls, maintaining a schedule, etc.
Created and update employee schedule based on sales trend and average clients per hour, day, and month (reducing overall payroll costs by balancing the needs of the business with employee requests).
Virtual Assistant
Provided administrative support to small business owners, executives and other independent professionals.
Coordinate and schedule Webinar and teleconference setup, recording and survey.
Drive and launch marketing email blast to client's customer database via MailChimp and Constant Contact.
Virtual Assistant
Managed and purge client's customer database of over 3000+ contacts using CRM tracking & MS Excel.
Strengthened customer relations list via marketing projects by preparing, creating and generating marketing materials: Newsletters, flyers, Blogs, Social Media Posts, editing LinkedIn accounts etc.
Created contracts, policies & procedures, and agreements for general operations of daily business functions.
Virtual Assistant
Served as first point of contact, fielding and routing telephone calls, greeting visitors, and responding to client and vendor inquiries.
Provided administrative support for the Senior Program Director & CSAP Staff.
Performed a wide-range of office functions such as key operator for office equipment (copiers, fax, postage machines), ordered general office supplies, sorted and distributed incoming and outgoing mail, processed check requests, purchase orders, travel reimbursements and invoices.
Virtual Assistant
Provides virtual and in-person support for businesses needing a highly organized individual to assist them in the day-to-day operations of their business.
Provides local and long-distance property management services such as vendor control, minor maintenance repairs, and working with tenants as the main point of contact to ensure jobs are performed in a timely and satisfactory manner.
Acts as a "virtual gatekeeper" via phone and email to clients as their personal assistant, as well as remotely managing demanding personal and professional schedules via Google Calendar.
Developed marketing materials for real estate and general contractor including MLS listings, flyers, email campaigns, and program development.
Virtual Assistant
Managed and tracks executive calendar events for seven company executive officers and managers.
Coordinates, schedules, and records weekly virtual business development and executive meetings.
Accurately tracks and resolves conflict event scheduling issues for executive management team.
Virtual Assistant
Meet client sales targets by utilizing Up-Selling and Cross-Selling techniques.
Process/Manage customers' Complaints, Shipments/Deliveries and Returns with accuracy Sykes Enterprise: AT&T Customer Service sales &Technical Support.
Troubleshooted technical and software issues operated multiple applications simultaneously.
Virtual Assistant
Supplied clients with alarm system certificates for insurance purposes.
Invoicing and collected payments from past due and current accounts.
Assisted clients in deactivation of alarms, password changes, and service calls.
Maintained recurring credit card payments via Fidelity Payment Services Virtual Terminal.
Virtual Assistant
Provided high level administrative support to multiple companies in various fields.
Coordinate and maintain records of vital competitive analysis to facilitate implementation of company marketing strategy.
Conduct in-depth business development research and compiles results for review for real estate organizations.
Administrative support for projects, develop presentations and schedule all meetings and travel; prepare expense and travel reports; manage invoicing and billing processes.
Virtual Assistant
Management of inventory and updated as new orders are received and fulfilled.
Participate in lead generation and opportunity analysis meetings.
Organize and lead phone conferences with clients and graphic designers.
In charge of creating daily management reporting including sales/leads/interactions.
Virtual Assistant
Provided remote administrative assistance to an international physician including phone management, preparation of international travel itineraries, lecture schedules and expense reports.
Produced clinical and business documents via transcription.
Prepared and submitted medical journal manuscripts and book chapters; managed peer review process for journal articles; coordinated publication of medical textbooks.
Wrap Up
You need to make sure your resume stands out amongst the other candidates. It is the first impression that employers have of your work experience and skills. Use the samples above to put together a resume that best suits your needs and helps you get the job you want.