Tour Guides take tourists to places of interest to show and inform them of their significance. They are in charge of familiarizing themselves with the places, learning all about them, setting up a schedule, and a price range, as well as buying tickets for attractions, museums, galleries, etc. ahead of time. The minimum education requirement is a high school diploma or equivalent. Tour Guides must be charismatic, eager, flexible, engaging storytellers, knowledgeable of the Tour Area, and have excellent communication, organizational, and leadership skills.
A good resume is well-written and concise. It should be neat and easy to read, listing previous experience in a logical order.
Our resume samples will provide you with multiple examples of what you can include when writing your resume.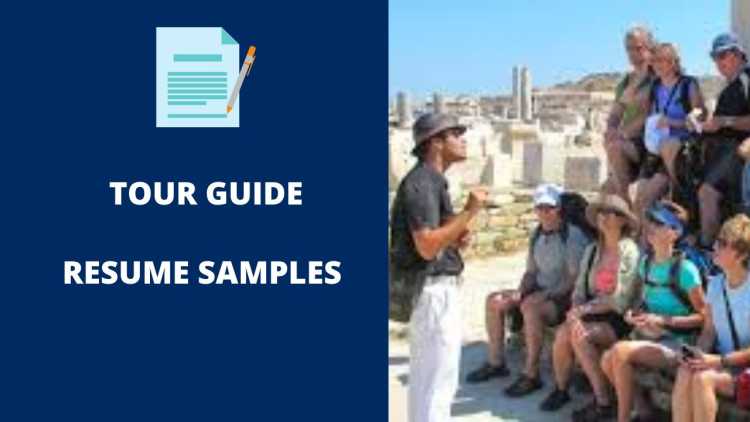 The Best Tour Guide Resume Samples
These are some examples of accomplishments we have handpicked from real Tour Guide resumes for your reference.
Tour Guide
Responsible for taking American military members and their families on tours of select cities in Europe.
Trained to lead large groups of people on tours (usually around 46 people total).
Responsible for getting guests to and from the destination, knowing facts/history about the city, making sure guests are happy with their experience, and keeping up with required paperwork along the way.
Increased the number of customers that stayed at the hotel from 10 to 17.5 by utilizing a detailed tour guide as a key figure in customer relations.
Over 25 percent increase in revenue from new walk-ins from word of mouth and referrals.
Tour Guide
Organized, scheduled, and lead individual tours around Georgia while providing significant information about each destination visited with emphasis on its cultural and historical meaning.
Took charge of meeting clients at the airport and ensured travelers were comfortably settled in their hotels or resorts.
Provided recommendations on tour plans, helped answer inquiries of prospective clients, and perform tasks assigned.
A recommended business establishment for expansion, for which it grew to over $600,000 annual revenue per year with growth of 5-10 percent annually.
Developed relationships that led to donations and in-kind donations, including free hotel and gift items, tickets to sporting events, free advertising space at the hospital (concession stand), and other types of charity work on behalf of local community organizations.
Tour Guide
Taking all the tourists to their interesting attractions, and provide detailed intros to them.
Use the Travel-port system to check airline seat availability then issue the tickets for all the customers.
Constant communication with all the partnered airline local offices to solve any issues for our clients and also built a strong relationship with them.
Consultant for travel company selling things to do in Americas, Europe, and Asia.
Corporate English teacher in private school.
Tour Guide
Worked at the WB VIP Tours call center answering phones, booking reservations, answering questions, and basic customer service.
Occasionally translated tours into Spanish for Spanish language tours.
Worked as a greeter and as a field assistant (duties included guiding tours away from prohibited areas and congestion control in sound stages).
Lectured on topics of personal growth and leadership for over 400 people at conferences and churches.
Coached youth sports teams for personal development, character growth, good sportsmanship, and teamwork.
Tour Guide
I had worked with this tour company for seven years of my working career, started with the company as a regular tour guide carrying out tours under a lead tour guide for a couple of years before quickly being promoted to lead tour guide within three years with the company.
As the lead tour guide I took on responsibilities of carrying out safe and professional tours for our guests, I had to make sure that all equipment was up to mark, that the environment was safe and clean.
Never late to work, always willing to work at any time, days holidays, etc.
Began a daycare business for neighborhood children, starting with four children in a small apartment; later opening two other locations.
Created a company called Chi Traveling, which arranged VIP tours to the major parks, cities, and tourist attractions in Japan during spring break from college.
Tour Guide
Providing and interpreting historical-artistic, and architectural aspects of all the places and resorts for visitors.
Liaise bus drivers and local tour guides to plan and organize a smooth travel experience for all the visitors.
Organize activities and entertain the group while on the transportation to keep all clients enjoying the whole tour.
Served in self-defense courses as a classroom assistant and model for children.
Created an interest in photography while assisting others in professional photography services.
Tour Guide
Worked as a tour guide on top of a double-decker bus, and liked the job very much.
Especially liked the interaction with the tourists, as I learned so much about people from other countries and states.
During the time that I worked there, I received a raise and had a great rapport with the bus drivers.
Earned two awards of Excellence while working at an after-school program for three years.
Received numerous reviews of service with five stars by leading tour guides in the United States, Canada, and Japan; received one award as a best-in-class guide by special recognition from the American Society of Tour Operators (ASTO).
Tour Guide
Led small two to ten-person groups on entertaining half-day walking tours through different neighborhoods in San Francisco.
Maintain a broad knowledge base about the city's history and culture in order to personalize a tour for customer interests.
Quickly assess group dynamics and guide people through a challenging urban environment.
Demonstrated excellent communication skills in both Anglo-American and Chinese languages.
Made arrangements for a variety of cultural and historic events at the White House.
Tour Guide
Providing information on historic and significant destinations in an entertaining and engaging fashion.
Offering other tour products to customers as well as selling company merchandise on tour and at trade shows.
Created phone applications for training purposes and for self-guided customers.
Outstanding performance in all areas of the hospitality industry during four years of hotel management; earned the highest Hotel Manager's award and an A-List Listing by "Choice Hotels" magazine.
What made up most of my duties was training, consulting, and counseling other employees to enhance their customer service, problem-solving, leadership skills, communication skills, work ethics, and performance.
Tour Guide
I currently work for the admissions department as a tour guide for the University.
I lead campus tours and act as a representative for the school.
I have memorized facts about the school and have received public speaking and leadership training through work.
Compiled most traditional procedures and protocols as an R. N.; participated in several charity events around Washington D.C.
Confidently and knowledgeably guided over a thousand families through The Everglades, pointing out wildlife, plants, and history.
Tour Guide
Selected through a competitive interview process to work with admissions faculty and students as a Tour Guide.
Achieved the second-highest student turnovers to Allegheny College post tours for the time period.
Participated in the organization and execution of Visit Days: compiling packets, overseeing projects, cataloging files, and helping out with other office work.
Mentored Scout troops in the development of merit badges while making sure they remained on schedule to avoid missing scheduled events.
Earned award for best all-around Tour Guide; recognized by employers for extracurricular efforts.
Tour Guide
Conducts a personalized, unscripted tour of Studio production facilities, sound stages, exterior sets, other areas of interest using a customized passenger tour cart to travel from location to location.
Presents a comprehensive and engaging description of what is being viewed, including historical and current information about the Studio, TV, and Feature productions filmed on the lot.
Other duties include answering phones and making tour reservations using a computerized system.
Guided visitors throughout the city to several historical landmarks and museums, and introduced the benefits of community projects for the preservation of historic homes.
Provided visitors with in-depth descriptions of art, customs, and culture of almost every nation by conducting a tour celebrating diversity, international friendship, and culture.
Wrap Up
You need to make sure your resume stands out amongst the other candidates. It is the first impression that employers have of your work experience and skills. Use the samples above to put together a resume that best suits your needs and helps you get the job you want.