Web Testers check and monitor websites for quality assurance. Job duties are to prepare tests, use testing tools, perform tests, document results, communicate with website creators, and teach website management. Web Testers need a Bachelor's degree in Computer Science, Mathematics, or Engineering; however, some employers just require a diploma/GED with experience. Web Testers need to be self-motivated, disciplined, have great verbal/communication skills, pay attention to detail, be organized, have good time management skills, and work efficiently to be successful.
A good resume is well-written and concise. It should be neat and easy to read, listing previous experience in a logical order.
Our resume samples will provide you with multiple examples of what you can include when writing your resume.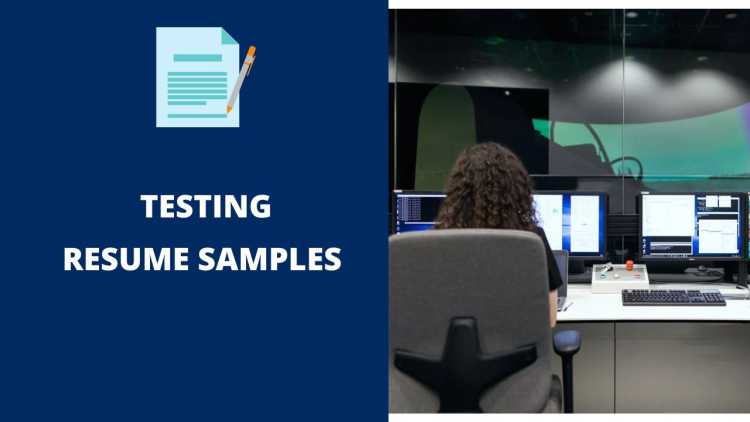 The Best Testing Resume Samples
These are some examples of accomplishments we have handpicked from real Testing resumes for your reference.
Web Tester
Wrote up to 30 new test cases daily by visiting clients' websites and exploring potential web issues, including page redirects and malfunctioning pages, and recorded issues in Test Rails to run test cases.
Manually verified defects for companies' customers by running test cases to ensure functions were working as intended, and escalated further issues to the appropriate teams when needed, including developers, network engineers, policy writers, and leadership.
Liaise between Shape Security and clients' internal QA teams to cross-reference bugs discovered, ensuring consistent user experience and ruling out false-positive results for bugs.
Collaborated with Network Engineering team to make network changes and reran tests to verify changes did not impact site functionality, escalating issues to Engineering team to prevent impact on user experience.
Performed comprehensive testing for twenty-seven Web sites for one of the oldest children's publishing companies in the United States.
Web Tester
Determined adjustment and certification methods, formulas, and measuring instruments required based on blueprints.
Monitored production operations for compliance with specifications and promptly reported defects.
Presented clear, organized data in graphs, charts, tables, and written reports.
Maintained a high standard of workmanship by using only approved data, materials, tools, and test equipment.
Detected and reported on problems in Web site design, meaning functionality, and navigation.
Web Tester
Performed all aspects of verification, including functional, regression, and system testing.
Performed testing activities for compatibility in multiple environments (Web, Android, iOS, Windows).
Identified, isolated, reported, and tracked defects in the defect tracking system.
Created new scripts and modified existing test scripts for the application changes.
Conduct exploratory testing on evolving leading-edge product with a special focus on the quality of user experience.
Web Tester
Gather the client requirements, prepare analysis, and design documents conducted a feasibility study, and provide technical solutions to service/change requests.
Created and implemented viable testing routines with the test plans created in the quality center and mapped them with specific requirements utilizing the tests coverage feature of the quality center.
Overviewed the setting up of the test environment, defining detailed test data requirements, converting them into test cases, and collecting test metrics for analyzing the testing effort.
Devised solutions to improve programs through testing, including optimizing E-commerce solutions and developing a privacy policy for electronic payments for one of the largest Web developers in the country.
Analyzed complex data sets and developed similar relationships between various Web metrics; integrated that knowledge into research projects requiring skills from math and computer science departments at university.
Web Tester
Designed and wrote anomaly testing procedures for new web-based developments and services; resulted in more accurate, streamlined, and accurate testing of products.
Performed anomaly resolution and cataloging of errors concerning new services; resulted in a better performing product for the end-user and helped make the error-correcting process more efficient.
Updated physical data files, help partition and set up file management system, and ran scripts to test new websites access to the files needed for functionality.
Received recognition as a creative genius after designing and producing websites that are a pleasure to view, visit, and use.
Applied skills in web testing to test the functionality of websites.
Web Tester
Performed Quality Assurance testing on web-based applications and mainframes.
Executed all test phrases during System, Integration and Functional testing including Component, Regression, User Acceptance, Performance, Ad-Hoc and Stress testing etc.
Developed websites with Dreamweaver and HTML, created and edited graphics and photographs with fireworks and Identify bugs, system errors, and potential improvements.
Achieved an A+ rating for more than 200 websites visited daily by thousands of people.
The saved company over $150,000 by conducting usability tests of an entire website; recommended changes that increased conversion rates from .002% to .08%.
Web Tester
Functional and user acceptance testing of multiple websites; new and maintenance releases.
Created test plans and detailed test cases for web tests to be performed.
Recorded, assigned, verified and resolved bugs found during all stages of testing.
Collaborated with clients to prioritize and resolve outstanding issues.
Won the "Most Fun To Talk With" award for my positive attitude and willingness to assist others in their projects.
Web Tester
Battery Testing to see the effect on the life of the battery whenever we add a new functionality within the application.
Wrote test plans, test cases for the MVM mobile handset application. Wrote positive, negative, edge, as well as an end to end test cases.
Performed deployment of builds on all the devices.
Involved in coordinating the entire release on a weekly basis.
Increased market share for a leading provider of SaaS industry solutions for testing, monitoring, and managing online infrastructure.
QA Tester
Worked as a QA member in a web-based E-commerce site development project in an agile environment.
Involved in analyzing System Requirement specifications, Design, Development, and Execution of Test plans and Test cases for Manual and automated testing.
Attended Daily Stand Up meetings and provided QA status updates on different user stories.
Attended Sprint planning sessions, User story grooming sessions, and Retro meetings in a rapid and effective agile atmosphere.
Led testing efforts that helped launch and promote new solutions to the largest customers in the SaaS industry.
Lead Software Tester
Responsible for reviewing and approving or denying of system enhancements or modifications prior to implementation into production.
Responsible for reviewing business requirements, design documents, technical designs, and test scenarios provided by the vendor, HP, to identify and report any gaps.
Wrote SQL or PL/SQL queries to validate the results of the system change for assigned projects and compare my results with vendors results and update management whether there are or aren't any issues.
Grew revenue, while decreasing costs and improving application quality levels through successful test automation.
Achieved award for launching all new releases on time; improved employee retention by 20%.
QA Tester
Organized and led meetings concerning Timeline, Test Strategies, Planning, Execution for a release.
Conducted internal and external reviews as well as formal walkthroughs, and participated in status meetings.
Participated in the review of new software and consulted with IT staff and client to resolve questions during the testing process.
Consulted with client and IT management and staff throughout the Project Life Cycle, to assist and support the Design, Development and Implementation of effective systems.
Secured 100% first-pass delivery rate during multiple code base merges; trained two new employees.
Quality Assurance Tester
Execute and evaluate manual or automated test cases and report test results.
Performed web and mobile front end validations, and validate the backend to web services and/or the database layers.
Engaged with team resources across development, business analysis, product management, and operations teams to drive test efficiency and effectiveness for new and existing application functionality.
Hand-selected by the creative director to support website development and design.
Propelled website content integration and optimization; successfully trained staff in new procedures.
Wrap Up
You need to make sure your resume stands out amongst the other candidates. It is the first impression that employers have of your work experience and skills. Use the samples above to put together a resume that best suits your needs and helps you get the job you want.