Personal Bankers help manage people's bank accounts. Their duties include opening banking accounts and safe deposit boxes, customer service, client education, deposits/withdrawals, money transfers, online banking assistance, and assisting with other account-related actions. To work as a Personal Banker, you need a high school diploma or GED and at least 2 years of sales and customer service experience. Personal Bankers need to have excellent customer service skills, good written/verbal communication, great computer literacy, be detail-oriented, be good with mathematics, have accounting knowledge, and sound judgment to be successful.
A good resume is well-written and concise. It should be neat and easy to read, listing previous experience in a logical order.
Our resume samples will provide you with multiple examples of what you can include when writing your resume.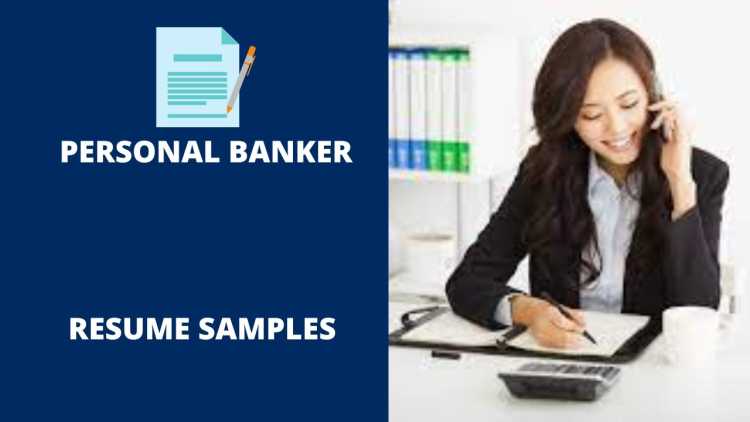 The Best Personal Banker Resume Samples
These are some examples of accomplishments we have handpicked from real Personal Banker resumes for your reference.
Personal Banker
My Job as a Personal Banker is to service new and existing customers with opening new accounts and performing maintenance.
I am also able to service clients on auto financing, Line of credit and Mortgages as well, taking credit card applications and creating follow up calls.
My overall goal as a Banker is to meet monthly quote.
Developed a relationship with customers based on trust and respect during confidential money management and personal banking.
Discovered opportunities to exceed customer expectations by providing them with personal service, attention, and care.
Personal Banker
Open new accounts, Process wire transfers, recommend products and services.
Process banking transactions. Outbound and Inbound sales.
Recommend Home loans as well as Home Equity Lines of Credit, gather all documents and forward to lending.
Achieved top sales target of $120,000 by selling personal advice and innovative financial products.
Reviewed and processed daily deposit of all cash, check, electronic funds transfers, money orders, and negotiable instruments for the company.
Personal Banker
Prospect and acquire new clients and generate business to gain greater share of the market.
Promoted from CSSR to personal banker within the first 6 months.
Winner of the Circle of Stars award recognition for Customer Service Excellence.
Accurately process a variety of transactions for bank patrons using batch processing systems.
Proactively cross-selling additional products through referrals and outbound calling with the goal of acquiring 100% of the customers' financial services business.
Personal Banker
Help existing customers with their accounts, and open new accounts for new customers.
Assisted affluent clientele with trust accounts, and IRA contributions.
Asses' customers with their borrowing needs; credit cards, personal loans, personal line of credit, and home equity lines of credit.
Schedule, plan appointments or outbound calls to preferred customers.
Earned appreciation from the Regional Manager for exceeding sales goals set by the bank annually for excellence in sales training and customer service.
Personal Banker
Personal Banker in charge of developing customer leads and other opportunities for current and new clientele.
Identifying needs, wants and backgrounds of clients in order to make sure the client's saved time and money.
Assimilated sale goals, relationships and credit strategies that were aligned with the branch's business plan.
Provided the Tellers and staff with advice and coaching on company products and specialized programs for designated clientele.
Recognized for achieving ranking as the top salesperson in all branches at branch level.
Personal Banker
My role as a personal banker is to provide excellent customer service and put our customers needs first.
I pride myself in answering my customers concerns in person or over the phone.
I am in charge of updating account information as well as making sure our customers succeed financially.
Accurately researched and disseminated information regarding customer service, document authentication, disclosures, and credit.
Resolved the needs of customers in the face of more than one hundred different computer system malfunctions.
Personal Banker
My role as a personal banker is to provide excellent customer service and put our customers needs first.
I pride myself in answering my customers concerns in person or over the phone.
I am in charge of updating account information as well as making sure our customers succeed financially.
Executed exemplary customer service through communication that was positive and helpful to customers applying for personal loans.
Provided quality customer service to assigned bank as a representative for a regional subsidiary during a 90-day probation period.
Personal Banker
Answered an average of 18 calls per day by addressing customer inquiries, solving problems and providing new product information, recommended new products and services to customers, Entered data promptly and efficiently.
Reviewed loan applicants' credit histories, corporate financial statements and other financial information.
Assisted senior-level credit officers with complex loan applications, Reviewed and edited loan agreements to ensure accuracy, educated customers on the variety of loan products and available credit options.
Recognized by Regional Manager for outstanding performance; when the computer failed, I performed my duties per the old manual system with efficiency and accuracy.
Held individual client account.
Personal Banker
Provided each customer with a banking experience individualized to their need.
Received outstanding customer referrals for both commercial and personal banking.
Managed and assisted lower level employees in their transactions.
Established a new personal banking relationship with long-time bank customers.
Adopted multiple high-risk accounts for direct deposit by 12 months following an initial review of customer credit reports.
Personal Banker
Assisting customers in their selection of various accounts and financial services.
Opening, maintaining and closing of all account types.
Promoting business for the Bank by maintaining good customer relations and referring customers to appropriate staff for new services.
Handled customer accounts with integrity, professionalism, and confidentiality.
Attained highest possible customer satisfaction index from customer surveys.
Personal Banker
Open new accounts both business and consumer, offer cross sales, acquire new business through business calling, telemarketing, and cold calling.
Worked with partnering departments and refer sales when the opportunity arose.
Created interest in loans and process applications for car, personal, and home equity loans.
Brought in the highest dollar volume of new money to the bank.
Involved in all aspects of branch operations including opening new accounts, economic research, and business development.
Personal Banker
Worked with business clients to find the best credit options to help manage and grow their business.
Oversee banking operations to ensure processes are followed correctly and efficiently, while staying up-to-date on ever changing regulations and federal guidelines.
Maintain and practice sales integrity to give the clients the best experience.
Created a new revenue stream by conducting a series of five neighborhood barbecues with a variety of prizes which were used to introduce the bank to over one hundred new customers.
Supervised and coordinated the daily banking activity.
Wrap Up
You need to make sure your resume stands out amongst the other candidates. It is the first impression that employers have of your work experience and skills. Use the samples above to put together a resume that best suits your needs and helps you get the job you want.