Relationship Bankers deal with a financial institution's clients. They inform the client of all bank services, manage their personal and business accounts, resolve any issues, perform administrative duties, provide financial advice, and help establish a long-term relationship. Education requirements include a Bachelor's degree in accounting, finance, or business, and experience gained through internships. Relationship Bankers must have excellent math, communication, and marketing skills, as well as know how to use banking software and interpret spreadsheets. To succeed, one must be charismatic, efficient, and good at problem-solving.
A good resume is well-written and concise. It should be neat and easy to read, listing previous experience in a logical order.
Our resume samples will provide you with multiple examples of what you can include when writing your resume.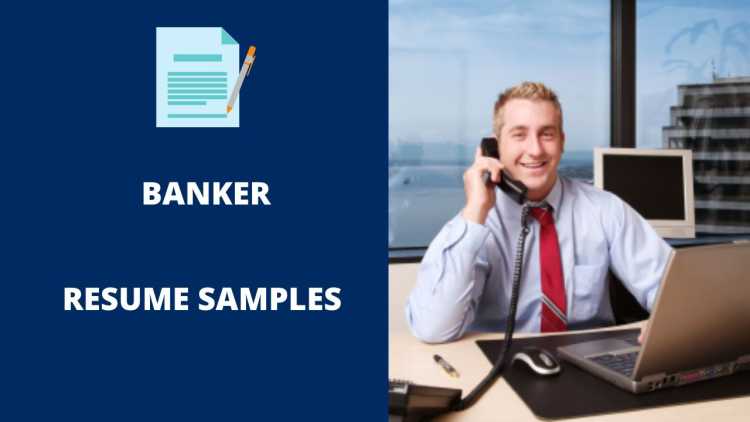 The Best Banker Resume Samples
These are some examples of accomplishments we have handpicked from real Banker resumes for your reference.
Banker
Developed and maintained relationships with Wells Fargo partners to maximize sales opportunities.
Discovered customer's financial needs and provide product and service recommendations.
Conducted outbound sales activities (e.g., phone out-reach, community events, meetings with local businesses) to establish visibility in the community and drive business to the branch.
Conducted bank reconciliations.
Maintained a safe cash handling system to ensure accuracy of customer deposits, as well as back-up cash handling system to ensure availability of funds for business operations.
Banker
Consistently meet or exceed sales goals as set by Branch management by effectively and efficiently cross-selling bank products and services to both current and potential customers.
Performed daily office responsibilities and tasks such as account transactions, account maintenance, customer correspondence, balancing consistently, balance and monitor cash items, order and prepare cash shipments, and collection items.
Consistently executes the Sales process (Opportunity management, Needs Assessment, Present/ Pitch, Fulfillment and Follow Up) and seeks opportunities to deliver excellent customer service on each client interaction.
Performed Bank Reconciliations for more than 100,000 customers and completed bank reconciliations for all branches in the region.
Assigned accounts to tellers and instructed them on best practices in customer relations, delivery of services, inventory management, and departmental procedures.
Banker
I was hired to make sure the games were played correctly and to make sure the payouts to the bonus and base bets were correct.
I also tend to the costumer's needs rather its giving directions to a location or calling service for their needs.
I also taught new bankers how to bank a table making sure the game goes smoothly and make sure they make no mistakes in paying out bonuses.
As Branch Manager I was responsible for customer support; training employees; managing accounts receivable; assisting with asset valuation; and preparing budget forecasts.
Resolved customer service problems by using conflict management and negotiation skills.
Banker
Provided excellent customer service to clients and casino players.
Ensured all winnings and losses were collected and disbursed correctly according to table rules.
Ensured all table rules were followed honestly by dealers and patrons.
Protected and monitored money on game table at all times.
Assisted in the creation of new accounts and loan modification programs. Recognized as a top performer; earned Financial Advisor of the Year award.
Banker
Maintain excellent customer service skills, while enforcing the rules of the game to players.
Watch the dealer to make sure all casino procedures are followed correctly.
Make sure that every hand is set correctly by the dealer.
Ensure that wagering is carried out properly and bets are handled appropriately.
Responds quickly to requests from clients and/or prospects with extensive attention to detail, closing under thirty-six hours; recognized by bank management for outstanding performance.
Banker
Banking on a table in charge of chips being pay out and exchanging chips in.
Audit players and dealers when chips and cards are being play making sure correct amount is being paid out and the game rules are being follow.
Help train new team members to master card games per assignments and pairing with new members making sure mistakes are not made and correct amount of chips are going out according to bonus/hands win.
Maintains accurate accounts receivable records and collections procedures in order to ensure timely payment of debts; recognized as Fastest Closer.
Creates customized business plans and proposals; delivers presentations to businessmen, businessmen's groups, real estate developers, banks, insurance agents, purchasing agents, mortgage brokers, financial advisors and sales persons on behalf of clients.
Banker
Greeted & interfaced with customers to facilitate daily banking transactions; provided excellent customer service in their banking needs & services and their account concerns.
Cross-sold bank products & services to increase sales & revenues.
Balanced daily transactions & reconciled daily transactions to ensure accuracy.
Attended every branch phone-in training session and branch visit where I could. Incorporated new ideas and procedures into branch office routines.
Met with new customers and explained personal loans, mortgage loans, property insurance, etc.
Banker
Engage with sales and service activities that help build relationships with customers as well as help them reach their financial goals.
Maintain a organized schedule that allows me to follow up with customer needs.
Open accounts, handle teller transactions, cross-sell bank products and services, and resolve customer service issues.
Assisted supervisors in effectively maintaining branch operations and conducting monthly audits to ensure compliance with federal banking regulations and policies.
Attended monthly staff meetings to learn changes at the company that may effect our branch's operations.
Banker
Responsible for upholding company Operational Procedures and Federal Regulations on a daily basis to ensure branch location is within compliance.
Serving in a customer-facing and call capacity for a wide variety of customers ranging from private clients to standard customers.
Duties include assisting guest in person or over the phone with requests regarding general information to successfully handling customer concerns and issues directly with limited supervision or through escalation by providing clear communication.
Applied for positions in other branches to keep up with the changes in banking industry.
Borrowed computer systems to facilitate banking operation between branches at critical times during bank transfer of Mortgage files into Amcore system and back again after mortgages were sold nationwide.
Banker
I work one on one with customers to ensure they are optimally utilizing the product catalog offered by Arvest bank to cultivate individual financial well-being, whether that be opening a new checking account, setting up an IRA, or referring the customer on to a product specialist like a mortgage lender or private banking specialist.
I often have to use conversational clues to uncover the unspoken financial needs of the customer.
As the designated branch credit captain, I ensure my branch is uncovering and filling the credit needs of our customer base by generating weekly reports updating credit goals and sales for my team.
Led a team of 6 branch tellers in implementing new policies to improve customer service.
Advised customers on financial questions and concerns regarding investment, retirement, and insurance products.
Banker
Very competent in dealing with many different types of situations with customer and coworkers.
Durability to not over reacts and has patience in an uncommon situation and handles it with maturity.
Great communication skills approachable and ability to and understand and get along with others.
Managed a $50 million lending portfolio; processed loans for 15 separate borrowers for real estate purchases and construction.
Analyzed commercial loan requests for the purpose of recommending approval or denial; utilized credit scoring techniques to determine potential risk.
Banker
Job duties range from helping customer with transaction to dealing with customer service issues.
The main responsibility of a banker is to drive bank profits up in a monthly goal oriented structure.
This is achieved by product knowledge and building rapport with customers.
Leading to a sale by paring customer needs with a service product.
Achieved recognition as employee of the month based on outstanding performance in advising commercial loan applicants on loan criteria and underwriting procedures.
Wrap Up
You need to make sure your resume stands out amongst the other candidates. It is the first impression that employers have of your work experience and skills. Use the samples above to put together a resume that best suits your needs and helps you get the job you want.