SEO specialists optimize web content to increase traffic to their websites. This is done by analyzing, reviewing, revising and developing content, conducting tests and preparing reports. SEO specialists need experience in content marketing, an understanding of search engine optimization tactics and a knowledge of Google analytics. They need to strategize, think creatively, have excellent organizational, time management and analytical skills, strong oral and written abilities and a willingness to work with others.
A good resume is well-written and concise. It should be neat and easy to read, listing previous experience in a logical order.
Our resume samples will provide you with multiple examples of what you can include when writing your resume.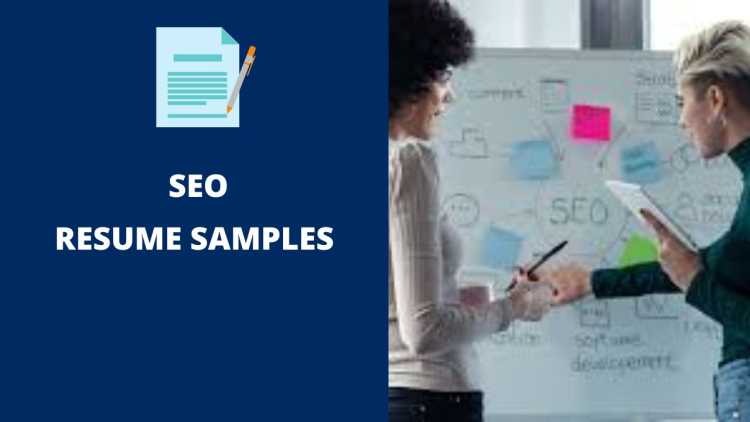 The Best SEO Resume Samples
These are some examples of accomplishments we have handpicked from real SEO resumes for your reference.
SEO Specialist
Performed technical SEO audits for small and large enterprise clients.
Conduct on-page and off-page optimization to increase traffic and conversion rate to client websites.
Handle client relations providing feedback, reports, and answering any questions that arise.
Increased the online visibility of a B2B company by 15% within the first six months after joining the team.
Handled over twenty large-scale web projects, including promotional and informational sites. Used knowledge of SEO, analytics, HTML, and CSS to effectively increase search engine rankings for company websites.
SEO Specialist
Managing and providing a high level of customer support to my SEO portfolio (up to 70 clients).
Participate in SEO strategic meetings for team development purposes and customer satisfaction.
Answering client requests via phone and email in a timely manner.
Providing support and guidance for other team members on effective Marketing strategies for their client portfolios.
The increased capability to determine client needs by establishing a higher-quality relationship with other SEO consultants before any proposals or presentations were offered.
SEO Specialist
Created monthly and quarterly strategies for each client based on client goals, products, data, and testing.
Develop and present monthly report outlining traffic, conversions, rankings, and recommendations.
Content development and expansion for each client based on organic and paid search queries and patterns.
Wrote unique content and blogs to increase organic ranking and support overall quarter goals.
Develop strategic page titles, H1s, meta descriptions based on competitive analysis and search landscape.
SEO Specialist
Review and analyze client sites for areas that need to be improved, deleted, or revised.
Prepared detailed strategy reports.
Improve a company's organic search results. Perform keyword research.
Produced three original marketing reports for clients in order to demonstrate my ability to add value to their projects.
Gained knowledge of other organizations and their philosophies as well as their principles of business.
SEO Specialist
Created Content along with SEO improvements for all of our client websites.
Managed traditional orders by working in Quickbooks to created sales orders, purchase orders, and invoices.
Attended Pubcon 2014 to improve SEO and best web practices skills.
Traffic coordinator between sales team and production team which consisted of a copywriter, graphic designer, and programmer.
Sourced, managed, and delivered a wide range of SEO services to diverse clients in the retail and consumer goods sectors.
SEO Specialist
Knowledge in AdWords Accounts – reduced CPC, implement proper account structure, and increase relevant traffic through keyword research and negative keywords, A/B Split Testing.
SEO Optimizing WordPress Sites – did competitive keyword research to determine rankability, find long tail keywords and new opportunities., Citations and link building.
Utilizes Analytics to Assess Visitor Behavior and Make Adjustments to Paid Campaigns and Organic Search Strategies.
Maintained high levels of customer satisfaction and retention in all service offerings.
Implemented and monitored ongoing SEO efforts for retail chains of 500+ locations, generating over $500,000 in company revenue via local growth.
SEO Specialist
Developed, organized and implemented SEO tests for both mobile and desktop sites.
Worked closely with the development team on new versions of the site and verify they contain SEO necessities.
Independently read current search engine news, interpret trends and share developing changes with the marketing department.
Created, planned, and implemented processes that generated almost $1 million in online sales per quarter.
Increased website traffic 10x through organic search engine optimization; tracked monthly results from initial campaign launch to full ROI.
SEO Specialist
I came to Rockwall to help the owner to free up some of his own time for other responsibilities.
I worked on getting a feel for how Glen runs the business as well as getting to know the clients and their needs.
I have helped to created a web development timeline for helping to streamline the process for both clients as well as the Adfinity team.
Learned about business marketing by performing research on websites.
Drafted and presented an SEO plan for a client.
SEO Specialist
Knowledge of SEO best practices to optimize sites including creation of unique page title tags and h1, meta tags, proper canonicalization, internal navigation (footer text links, content links), and optimization of content including images and image alt tags.
Improved overall organic search engine rankings and conversions for clients through implementing on-site optimization best practices, off-site backlink development and strategic content creation.
Improved client sites' organic traffic from 15%, up to 45% in some cases and help clients to achieve and maintain first-page rankings for targeted phrases.
Track sites' rankings and backlinks on a monthly basis with Web CEO and acquire new backlink opportunities via competitive analysis.
Taken part in online discussion boards, forums, blogging, and guest blogging to promote a website.
SEO Specialist
Implemented backlink strategies to increase the number of links to academy.com.
Conducted analysis to determine the quality of backlinks we received and from whom.
Worked with store operations on strategic plans to bring awareness to new store openings in new markets.
Worked with developers, user interface and user experience to implement SEO initiatives on academy.com.
Meet with site merchants bi-weekly to provide an analysis and to come up with action items to optimize their categories.
SEO Specialist
SEO analyst-Responsible for all aspects of lead gen, marketing, & sales.
I work closely with my marketing team on dynamic strategies for each client/ prospective client.
I also research and compile comprehensive website analysis for prospective clients.
This includes analyzing the architecture of the site, page authority, competitors, back-links, and the volume of searches there are for their services.
Educated clients on SEO techniques to prevent keyword stuffing; optimized websites to increase their rankings in search engines.
SEO Specialist
Working at Gladiator Law Marketing was really a great experience, during which I learned a lot and had the opportunity to work with a great team.
This was a remote position that during which I performed all levels of SEO work ranging from basic on-page optimization, link outreach and keyword analysis to advanced Schema and data mark-up techniques.
I also helped develop standard operating procedures, improved the reporting processes, developed relationships with vendors for improved link opportunities and more.
Contributor of SEO techniques in community forums and website resources of higher education institutions.
Developed customized search engine optimization plans for various companies to facilitate web traffic increases and improve website responses as well as sales.
Wrap Up
You need to make sure your resume stands out amongst the other candidates. It is the first impression that employers have of your work experience and skills. Use the samples above to put together a resume that best suits your needs and helps you get the job you want.