Shipping and Receiving Clerks assist in the operation of a warehouse. Their duties include tracking inventory levels, keeping records, packaging items, printing labels, comparing bills of lading with received items, inspecting damaged goods and tracking movement of items. To work as a Shipping and Receiving Clerk you need a high school diploma. Shipping and Receiving Clerks must demonstrate attention to detail, hard work, dedication, motivation, be physically capable, forklift operation and Microsoft Office skills.
A good resume is well-written and concise. It should be neat and easy to read, listing previous experience in a logical order.
Our resume samples will provide you with multiple examples of what you can include when writing your resume.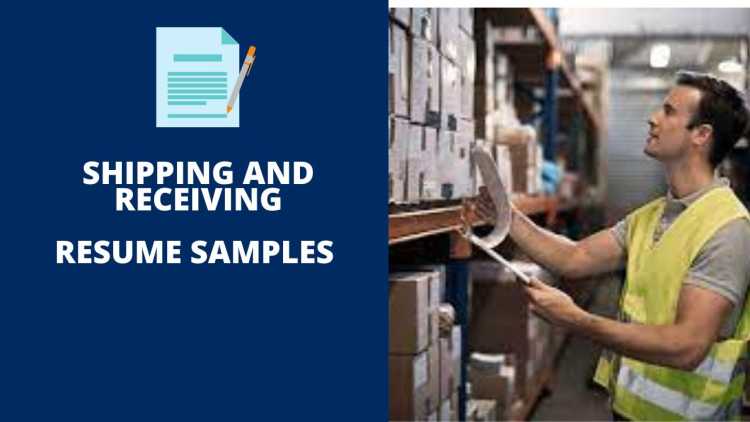 The Best Shipping And Receiving Resume Samples
These are some examples of accomplishments we have handpicked from real Shipping And Receiving resumes for your reference.
Shipping & Receiving Clerk
Inventory processing: sorting, counting, and labeling bulk items that were offered for sale and shipped worldwide.
Quality control: cleaning, testing, and organizing various types of products.
Record management: confirmed all items inventoried were properly recorded into categories before processing.
Order processing: worked with multiple vendors to process goods in open market.
Data processing: weekly tracking information was compared at month's end to assist in compounding month-end profit loss report.
Shipping & Receiving Clerk
Load and unload all incoming/outgoing material with sit down forklift.
Maintain records of all outgoing and incoming shipments from and to the warehouse.
Prepared shipments with the correct mailing labels and ensure that all orders and withdrawal requests from the warehouse are correctly fulfilled.
Used knowledge of proper storage methods, stock location and identification on the basis of environmental factors, turnover, physical capabilities of facilities and maintain material safety data sheets.
Achieved outstanding quality award; effectively compiled data relating to shipments and provide accurate, updated shipping data on arrival of freight.
Shipping/Receiving Clerk
Make sure that goods are properly packed, labeled and loaded on to shipment vehicle in a safe and timely manner.
Operate forklift to transport shipments safely and efficiently from storage area to delivery pallets or trucks.
Operate Reach Truck to safely pull pallets from racks to fulfill orders.
Accurately identified and processed returned goods by determining the cause of a discrepancy between the purchase order and delivered freight.
Recognized for outstanding attendance; absent less than six working hours in seven years of full-time employment.
Shipping/Receiving Clerk
Examined shipment contents and compared with records such as manifests, invoices, or orders to verify accuracy.
Corresponded with company representatives to rectify problems, such as damages, or shortages of items or merchandise.
Packed, sealed, labeled and affixed postage to prepare materials for shipping in a timely manner.
Worked in teams to load and unload trucks, organized pallets for movement of boxed merchandise to designated areas throughout warehouse or storage.
Voluntarily coached co-workers, especially those with less experience, in all aspects of shipping & receiving department operations.
Shipping/Receiving Clerk
Maintained all relevant inventory paperwork and enter accurate inventory data in computer system.
Responsible for comparing all incoming shipments with their corresponding purchase orders to make sure shipments were complete.
Monitor inventory through different inventory reports and communicate discrepancies and shortages to purchasing and sales representative.
Achieved performance award by maintaining a 1.5% Plus rating in errors on daily count sheets, reflecting a 99.
Performed receiving duties, including sorting and delivering shipments to the proper department.
Shipping/Receiving Clerk
Arranged customer orders for shipping utilizing freight services and express carriers.
Verified packages and freight, performed counts, and conducted check weighs on customer order requests.
Electronically processed purchase orders and shipping documentation to inventory control and tracking software applications.
Loaded, unloaded and handled materials in compliance of work flow guidelines and facility safety practices.
Assisted the Store Manager in purchasing materials, while maintaining inventory records and ensuring that the needed supplies were available.
Shipping and Receiving Clerk
Part of a small team responsible for expediting all sales orders to various destinations around the globe.
Required to perform quality control for all shipments to ensure accuracy.
Carefully package delicate ink cartridges and various containers of ink and related materials to ensure safe and proper delivery.
Utilized various shipping software or websites (UPS Worldship/ FedEx online/ DHL/ TNT) depending on destination or cost.
Recognized as an exceptional warehouse clerk and received a merit award.
Shipping and Receiving Clerk
Received shipments from third-party suppliers, and packed and shipped material to vendors and shipped finished products to warehouse.
Accurately picked, packed, and shipped finished goods to customers and sales reps while updating inventory and following related policies and procedures.
Managed system inventory data and performed routine audits to maiuhhntain inventory and data integrity.
Identified and communicated material and inventory issues or shortages to mitigate production disruptions.
Maintained a daily log of all receipts on hand by type, amount, and customer name; provided accurate status reports to store management concerning product efficiency; completed returns for money orders and cashier's checks with accuracy; entered new work orders in a timely manner.
Shipping and Receiving Clerk
Updated spreadsheet board and Order profile with above information obtained by driver.
Verifying the correctness of incoming shipments by comparing items and quantities unloaded against bills of lading, invoices, manifests, storage receipts, or other records.
Checking for damaged goods, insuring that goods are appropriately identified for routing to departments within the establishment, and preparing and keeping records of goods received.
Directed and coordinate the activities of other workers engaged in handling goods to be shipped or being received.
Received outstanding quality award; effectively kept accurate records of money orders totaling over five dollars during the period of employment.
Shipping and Receiving Clerk
Prepared orders for shipment following order tickets, purchase orders and pick lists.
Followed regulations to ship orders by air and truck freight.
Generated appropriate shipping documents, including packing list and bill of lading.
Maintained inventory of shipping materials and supplies. Coordinated freight pickup.
Used office suite software such as word, Excel, Outlook and Power Point.
Shipping and Receiving Clerk
Communicated with managers by phone and email to inform management of daily activities, such as quality of shipments and the accuracy of merchandise.
Verified purchasing orders and inspected products for damage.
Ensured the serial number and batch numbers correctly matched the product and prepared outbound deliveries by entering data manually into the computer to print documents needed for ticket orders, using multiple applications including Microsoft Word, Excel and Power Point.
Purchased and processed previously rejected packages for customers within 3-5 days of ownership.
Worked closely with supervisors to develop positive relationships and provided exceptional customer service.
Shipping and Receiving Clerk
Responsibilities included scanning all computer products laptops, desktops, iPad and all forms of computer products received in building.
All products would be pulled from their designated area to fill orders that were ordered from customers.
Also products would be packed and labeled accordingly to and shipped to customer.
Spearheaded a new location's successful relocation plan through leadership, initiative, and effective communication.
Met or exceeded production quotas in all areas of responsibility; managed warehouse materials effectively.
Wrap Up
You need to make sure your resume stands out amongst the other candidates. It is the first impression that employers have of your work experience and skills. Use the samples above to put together a resume that best suits your needs and helps you get the job you want.