Radiology Technologists utilize many different tools and machinery to identify injuries and illnesses in patients. Their duties include operating the imaging equipment, explaining procedures to patients, following safety protocols to reduce exposure of patients, updating and tracking patient records and following the physician's instructions. To work as a Radiology Technologist you must graduate from an accredited radiology technology school. Radiology Technologists must demonstrate initiative, accountability, attention to detail, empathy, self motivation, customer service and the ability to deal with conflict.
A good resume is well-written and concise. It should be neat and easy to read, listing previous experience in a logical order.
Our resume samples will provide you with multiple examples of what you can include when writing your resume.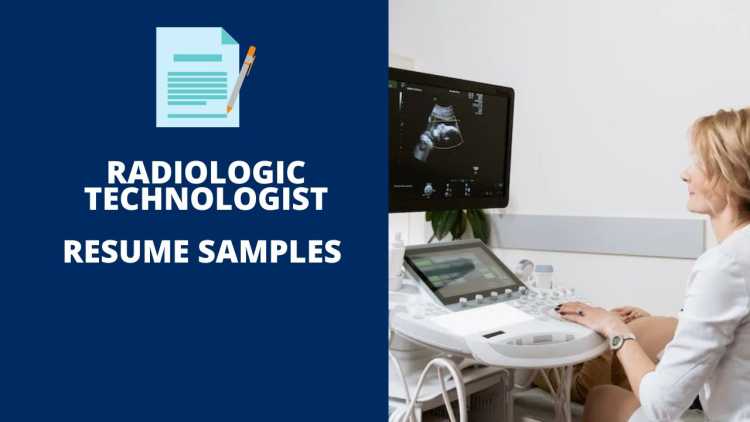 The Best Radiologic Technologist Resume Samples
These are some examples of accomplishments we have handpicked from real Radiologic Technologist resumes for your reference.
Radiologic Technologist
Performed Fluoroscopic procedures such as UGI, Esophagram, Barium Enema, etc.
Provided excellent patient care and customer service by obtaining sufficient patient history, keeping cleanliness of all exam rooms, stocking exam rooms with supplies, and attending to specific needs of the patient.
Assisted Radiologist through preparing films/images and marking them ready to be read.
Received excellent rating from the CEO for exceeding expectations in safety, quality, documentation, communication, and on-time performance.
Certified as a difficult patient technologist; established a medical record for over 50% of all patients seen.
Radiologic Technologist
Performed radiographic techniques, position and operate conventional and special equipment for the purpose of performing mammographic examinations.
Performed administrative work and quality assurance to facilitate the scheduling of patients and the accuracy and completeness of records in the Diagnostic Imaging Division.
Receive patients and explain method of procedures to patients.
Performed radiographic examinations using special low dose techniques, positions patients, select and set technical factors and adjust equipment parameters taking into consideration physical differences in patients and make exposures necessary for the requested procedure.
Demonstrated excellent technical and interpersonal skills that helped me to achieve the highest efficiency ratings and skills.
Radiologic Technologist
Select correct exposure factors based on established procedures to produce good quality diagnostic images.
Display knowledge of and follow standards for radiation protection, utilization of lead shields appropriately.
Knowledge and consistent use of permanent film identification devices.
Critique film quality and adjust technical factors to improve image quality.
Performed complex diagnostic procedures on 100% of my cases during my initial 3 months on the job.
Radiologic Technologist
Determine patients' x-ray needs by reading requests or instructions from physicians.
Position patient on examining table and set up and adjust equipment to obtain optimum view of specific body area as requested by physician.
Position x-ray equipment and adjust controls to set exposure factors, such as time and distance.
Use beam-restrictive devices and patient-shielding techniques to minimize radiation exposure to patient and staff.
Supervised 400 staff members while maintaining an exceptional safety record during my shift.
Radiologic Technologist
Performed inpatient diagnostic x-rays in a variety of settings: Emergency Department, intra-operativepost-operativepre-operative, out-patient, ICU and med-surge units.
Operate C-arm fluoroscopy and O-arm portable CAT scan units under the direction of a surgeon during surgical procedures.
Created a friendly, warm and memorable experience for patients while maintaining the department focus of zero patient misidentifications.
Performed competently and accurately in every position. Demonstrated outstanding work ethic, people skills, and customer service.
Fostered creativity and innovation through continuous research of new methods, equipment, and diagnostic applications.
Radiologic Technologist
Performed OB/GYN, abdominal, small part, vascular, breast and cardiac ultrasound examinations on inpatients, outpatients, and in emergency situations.
Vascular ultrasounds centered around lower extremity venous duplex and carotid duplex imaging, with some experience in PVR/segmental pressures of the upper and lower extremities.
Assisted doctors with breast biopsies and aspirations, lumpectomies, thoracenteses, amniocenteses and jugular vein catheters.
Sent images to PACS, making sure all images transferred properly labeled, relaying my interpretation of the examination in a report page.
Recognized as a top performer on the job, by excellent customer service year after year.
Radiologic Technologist
Performs general diagnostic, fluoroscopic, and C-Arm procedures.
Applies principles of radiation safety which includes using filters, cones, protective clothing and devices to obtain diagnostic-quality images.
Documents procedures in patient medical records and departmental logs.
Stocks supplies, maintained cleanliness, and quality assurance of scanners.
Produced exceptional quality results for each day's tasks; developed efficiencies of time and labor where possible.
Radiologic Technologist
Performed X-ray imaging, portable radiography and fluoroscopic procedures.
Serve a diverse caseload including newborns, infants, children, adolescents, adults and geriatric patients.
Managed 12 to 15 procedures per shift, while maintaining high quality of care.
Mastered radiology/hospital information systems including RIS and Care stream.
Received recognition for meeting departmental goals. Modeled a team-oriented environment by being an asset to others in one's department.
Radiologic Technologist
Certificate of training in Extracorporeal Shock Wave Lithotripsy (ESWL) using Modulith SLX-F2.
Complete diagnostic radiographic procedures in the radiology department and in surgery.
Rotating Lead Tech, schedule tech schedules for the day for ER and surgery department.
Performed diagnostic imaging, portable radiography and fluoroscopic procedures and the use of C-arm procedures in surgery.
Serve a diverse caseload including newborns, infants, children, adolescents, adults and elderly patients.
Radiologic Technologist
Demonstrated care and concern in patient handling and is proficient in good body me- chanics.
Accurately position patients in an efficient manner to produce diagnostic images.
Properly complete special fluoroscopic procedures (such as UGI, BE, esophagus, cys- togram etc).
Reviewed and interpreted images for 8500 radiation therapy patients to treatment plan goals.
Gained praise for detecting a patient who had been misdiagnosed for 5 years by other doctors.
Radiologic Technologist
Complete MRI, and CT procedures in a radiology department of a 909 bed hospital.
Performed MRI, CT, and x-ray imaging, portable radiography and fluoroscopic procedures.
Serve a diverse caseload including newborns, infants, children, adolescents, adults, geriatric, and trauma patients.
Mastered radiology/ hospital information systems including centricity, image cast, EPIC, nightshift, hyperspace, and synapse.
Induced remission of cancer in multiple patients during 9 months of administering radiation medicine.
Radiologic Technologist
Performed diagnostic digital x-ray on patients, assisting the physician with potential diagnosis.
Front desk clerical work, including checking patients in and out, collecting payments and verifying insurance.
Triage of patients, including taking vitals and gathering patient history and symptoms.
Maintained follow-up records on a regular basis; collected data on 300 patients, meeting radiation therapy department standards.
Effectively communicated with physicians, nurses, social workers, and receptionists while completing the required work schedule within all time constraints.
Wrap Up
You need to make sure your resume stands out amongst the other candidates. It is the first impression that employers have of your work experience and skills. Use the samples above to put together a resume that best suits your needs and helps you get the job you want.