Project engineers complete projects efficiently within time and budget constraints. They are responsible for a team of engineers, must understand the needs of the client, implement safety protocols, meet legal requirements, identify and solve work-related issues and delegate tasks. Project engineers will have a degree in engineering and qualifications specific to their field. It is important that projects engineers have excellent IT skills, leadership ability, take initiative, are organized, communicate effectively, and are able to work with budgets and deadlines.
A good resume is well-written and concise. It should be neat and easy to read, listing previous experience in a logical order.
Our resume samples will provide you with multiple examples of what you can include when writing your resume.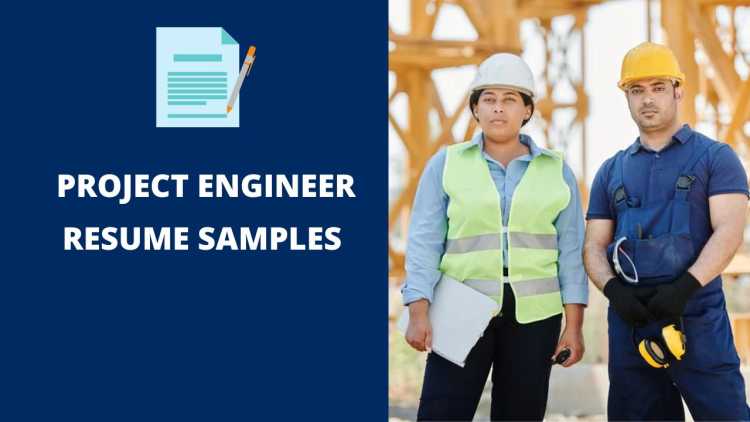 The Best Project Engineer Resume Samples
These are some examples of accomplishments we have handpicked from real Project Engineer resumes for your reference.
Project Engineer
Technical integrator working with executing engineers, business management, suppliers, and customer tracking cost, schedule and progress.
Software Management of multiple disciplines for product integration of complex systems to meet content deliveries under schedule constraints.
Working with multiple independent groups to focus program level goals managing technical content while tracking to cost and schedule.
Understand software development, the agile development process and managing technical engineering project teams.
Reviewed and analyzed structural and stress loads.
Project Engineer
Assisted the Engineering Manager in executing projects using company procedures and project management guidelines.
Follow up with the Capital Improvement Projects process to ensure appropriate approvals are received prior to execution.
Develop and document the scope of work and specifications for proposed projects and vendor quotations. Interact with vendors for quotations and develop project plan.
Document projects in accordance with company guidelines. Collect data validate project execution and benefits.
Supervised engineering interns, interns were responsible for creating detailed drawings of structural systems.
Project Engineer
Selected by Clark Concrete Project Manager to qualify concrete subcontractors.
Created RFI for Architect review in Kahua Project Management program.
Marked plan drawings in Bluebeam Revu Program to facilitate Subcontractor change order process.
Selected to Cost Management team to review Subcontractor change orders.
Provided design technical support to the client, liaison between project team and the client's engineers.
Project Engineer
Primary focus was to provide engineering and construction guidance to project construction activities.
Provided clarity and technical support to the sub-contractors that implemented the project on a daily basis.
Provided frequent consolidation and summarization of input from consultants, sub-contractors, quality assurance personnel, clients, owner's representatives, financial and project controls.
Effectively communicated all input and suggested course of action based on engineering judgment to project manager and client.
Responsible for the design, engineering reports, construction administration, commissioning, and punch lists for a $5 million project.
Project Engineer
Oversaw job walks, budget & cost analysis, construction documentation management, proposal accuracy, change orders, purchase orders, subcontractor agreements and cost of sales reconciliations.
Coordinated construction through on-site Superintendent, subcontractors and office support team to ensure the project is built on schedule and within budget.
Served as Financial Manager and Cost Analyst to prepare accurate executive summaries, integrating various Master builder takeoffs as needed.
Earned recognition for consistent quality work by receiving a $50,000 award from Engineering firm president as best Project Engineer to date.
Performed extensive troubleshooting and repair on electrical, HVAC, and mechanical systems for client's offices and buildings.
Project Engineer
Oversaw nearly 30 member full- and part- time engineering project team located in India and United States; managed communications between the engineering team and other project support functions.
Developed Integrated master schedule with detailed technical WBS definition and cost.
Provided technical direction to the engineering team for product development and verification testing.
Worked with clients to solve project problems related to electrical power distribution, evacuation planning, energy cost savings, environmental control equipment installations.
Actively participated as a Project Leader of multi-discipline high risk projects.
Project Engineer
Project Engineer for electromechanical control valves for aerospace and industrial platforms.
Introduced new or enhanced designs on existing products in the following components: fuel metering valves, staging valves, butterfly valves, fuel metering skids, purge valves, and compressor bleed air valves.
Led interdisciplinary teams including liaisons from customers into RCCA failure investigations on brazed joint failure on the purge valves and false brinneling discovered on linear actuators.
Presented project data and results in meetings; effectively analyzed technology for commercial application.
Spearheaded project, from ground level to completion, which resulted in a savings of $100,000 to the client.
Project Engineer
Assisted in maintaining project master schedule using appropriate techniques and scheduling software with input from other project management personnel.
Managed multiple projects at a time from planning, executing, controlling & closing of projects.
Developed project schedule on MS Project to track the activities and resources.
Communicated project status on a regular basis to Management and Customers.
Directed project that was completed $240,000 under budget.
Project Engineer
Developed project objectives, including defining the milestones, deliverables, project scope, etc.
Determined the different phases of the project and assigned the right people for the different tasks.
Determine project schedule by studying project plan and specifications; calculating time requirements; sequencing project elements.
Maintained project schedule by monitoring project progress; coordinating activities; resolving problems (utilizing MS project).
Reduced the time needed to complete a project by 80%.
Project Engineer
Develop project objectives by reviewing project proposals and plans; conferring with management.
Determine project responsibilities by identifying project phases and elements; assigning personnel to phases and elements; reviewing bids from contractors.
Maintain project schedule by monitoring project progress; coordinating activities; resolving problems.
Received "Outstanding Achievement in Engineering" award for significantly contributing to research and development of an experimental drug delivery system.
Raised revenues by 20% by demonstrating new equipment features and assisting sales representatives in strengthening sales promotion tactics to clients.
Project Engineer
Assisting project manager on bid date, upon immediate request, in preparing and/or reviewing documents, making calls or other needs that could arise.
Handling all project specific incoming and outgoing phone calls, emails, mails and filing archiving all incoming/outgoing correspondence.
Maintaining open and frequent communication with Project Manager in order to ensure priorities are set.
Superior customer service skills. Researched, designed, and completed $750,000 project in eight weeks after extensive equipment damage by storm.
Innovative design ideas. Introduced the application of microchip technology to process control computers and hourly charting of machine functions; recognized as leader in developing potentials.
Project Engineer
Track all work efforts and log project work activities for each Southern California Gas project.
Capture material quotes, material takeoff list and develop material list prior to procurement.
Provided bi-weekly reports on project status to Southern California Gas project managers.
Assigned to review project information and provide feedback to Southern California Gas project managers.
Technical innovation ideas. Evaluated cost savings through the elimination of material costs by adapting an innovative method for curing adhesive on bags; recognized as leader in developing potentials.
Wrap Up
You need to make sure your resume stands out amongst the other candidates. It is the first impression that employers have of your work experience and skills. Use the samples above to put together a resume that best suits your needs and helps you get the job you want.