Leasing agents find customers' and renter's properties. Their duties include meeting with a potential renter, explaining a contract to a customer, negotiating rental rates, showing customers houses, and more. To become a leasing agent, you must have a high school diploma or equivalent and a clean criminal background check. Leasing agents must have excellent communication skills, confidence, active listening skills, organizational skills, attention to detail, and a passion for helping others.
A good resume is well-written and concise. It should be neat and easy to read, listing previous experience in a logical order.
Our resume samples will provide you with multiple examples of what you can include when writing your resume.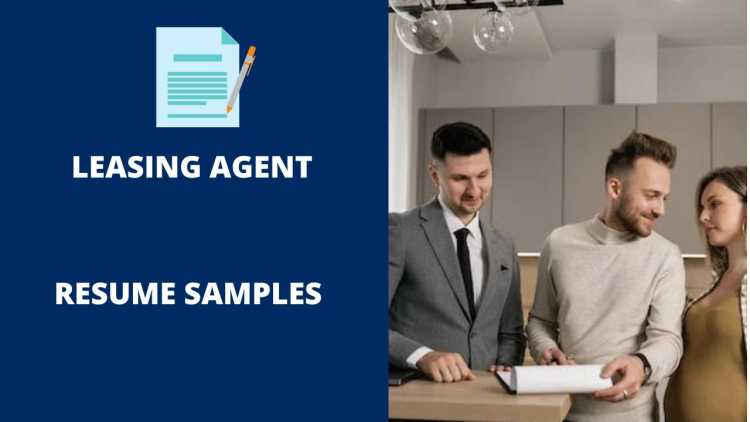 The Best Leasing Agent Resume Samples
These are some examples of accomplishments we have handpicked from real Leasing Agent resumes for your reference.
Leasing Agent
Use application checklist to ensure all documents requested were submitted with the application.
Accurately Prepare and thoroughly knowledgeable with all lease-related paperwork, from the applications, process through move out.
This includes processing housing applications, preparing move in information, lease files, renewal leases, completing move out request and any other forms utilized as they relate to leasing and resident relations.
General clerical assistant including answering phones, taking messages, managing, filing.
Recruited, negotiated, and closed an investment property in less than 30 days.
Leasing Agent
Received customers cordially by greeting them and providing them with information on vacant apartments available for rent.
Held long discussions with the clients to assess their needs regarding properties.
Kept up with all paperwork such as applications, agreements, credit and employment checks and move-in packages.
Resolved customer queries and doubts over the phone and in personal meetings.
Maintained and documented accurate records of new and existing customers for future business purposes.
Leasing Agent
Conduct tours of vacant and occupied units and answer questions regarding the unit, the amenities, the services of the building, and the neighborhood.
Performed criminal and financial background checks utilizing On Site.
Provided excellent customer service and ensure that each prospect is contacted and followed up with in a timely and professional manner.
Generate prospect traffic through marketing efforts including Street Easy advertising, community outreach, broker blasts, and constant contact updates.
Achieved the top percentile in sales performance; generated $1.8 million in real estate commissions.
Leasing Agent
Managed daily emails and phone call inquiries as well as updating unit availabilities on excel spreadsheets.
Organizing and categorizing tenant information to produce a yearly demographics sheet on excel.
Conducted background and credit checks of prospective tenants while maintaining high occupancy in building.
Adhered to strict quality standards and guidelines while generating a 99% satisfied customer rating.
Realized a new potential for self-improvement while leading a team of nine asset managers responsible for leasing over 1800 units per year.
Leasing Agent
Managed calendar, answering phones, returning calls, following up with clients and filing paper work.
Oversee completion of all necessary paperwork and ensure proper customer service.
Engaged in all aspects of research including backgrounds checks, weekly pricing and sales calls with senior level staff.
Earned outstanding reviews from all customers who applied for property appraisal, management, and leasing services.
Coordinated multiple real estate transactions; performed leasing duties including showing and lease negotiations.
Leasing Agent
Close sales by assisting client to make the right selection based on affordability, family needs, and personal preference.
Develop a strong relationship with current and potential future consumers.
Resolve all issues promptly such as assisting customers exit old vehicles with the guidance of management.
Established and implemented client follow up system to maintain client satisfaction level.
Adhered to all Fair Housing guidelines; assisted customers in understanding landlord and tenant rights and responsibilities under the law.
Leasing Agent
I process leasing paperwork, including the application, leasing agreement, credit checks, and move-in packets.
I support overall marketing techniques in the promotion, advertising, and marketing of properties.
I maintain an accurate and a thorough knowledge of all the aspects of the property, specifically in areas like leasing and pricing information, availability, expiration of leasing contracts, and the sizes of properties.
Secured a rental unit for an area family displaced by fire; these actions were recognized by the local chapter of Volunteer Organizations Active in Disasters (VOAD).
Earned award for timely rental of units, which resulted in a $2,000 increase in revenue from the previous year.
Leasing Agent
Responsible for providing information about the property and the community to the prospective clients.
In charge of keeping track of all leasing paperwork, including application papers, leasing agreements, employment and credit checks, and lease move-in packets.
Supports marketing team with promotions and leasing specials for the property.
Attained goal of 100% occupancy while maintaining a renewal rate of 95%.
Negotiated to secure multiple lines of credit for tenant improvements.
Leasing Agent
Ensure building inventory is up-to-date, compile and submit daily, weekly and monthly traffic, application and lease completion reports.
Present properties and amenities in a positive light to prospective tenants.
Walk prospects through application process, secure payments in accordance with company procedures and Fair Housing requirements.
Managed a turnkey portfolio of apartments from acquisition through management.
Conferred sound advice to investors on market conditions and risk points; conveyed property information and management issues in easy-to-understand terms.
Leasing Agent
Interacted and assisted new clients interested in leasing residential and corporate apartments and condominiums.
Booked appointments, set up showings showed properties helped clients to determine which unit best suited their needs.
Presented new, renewed and terminated leases as needed per agreements.
Responsible for proper communication and scheduling with maintenance, utilities services and contractors as needed for new occupancy and vacancies.
Relocated properties to new markets by researching available real estate; demonstrated leadership skills by acquiring and managing units in new locations.
Leasing Agent
Assisted the leasing director in managing 5 Goldfarb property rental buildings throughout Manhattan.
Rented apartments for the owners quickly, found them quality tenants, rented at market rate or higher in buildings with rents up to $25,000 per month.
Served at a busy front desk by courteously answering multiple phone lines, showed vacancies to walk in's, and attended scheduled appointments between the 5 buildings.
Executed lease agreements, created ads for rental vacancies, negotiated lease renewals, worked closely with the maintenance department and building supers.
Operated with a "can do" attitude when facing obstacles during the transition into multi-unit portfolios of apartments and commercial properties.
Leasing Agent
Schedule meet, and show property to prospects; and ensure that unit closely matches the client's' requirements.
Execute lease packages for each rental and maintained an occupancy rate of over 85 percent.
Assisted in developing marketing plans, internet ads, print ads and direct marketing.
Generated a $78,000 revenue increase in leasing non-residential properties; earned recognition as a top producer.
Closed a $3.8M commercial lease; recognized by the Agent Manager for outstanding performance.
Wrap Up
You need to make sure your resume stands out amongst the other candidates. It is the first impression that employers have of your work experience and skills. Use the samples above to put together a resume that best suits your needs and helps you get the job you want.