Mortgage Loan Processors assist clients in completing mortgage loan applications. Their duties include advising on mortgage loan types, verifying client employment length, answering client questions, analyzing expenses of the client, looking at current client debts and analyzing the clients employment data. To work as a Mortgage Loan Processor you will need a bachelor's degree and a Mortgage Loan Originator (MLO) license. Mortgage Loan Officers must demonstrate time management, ability to multitask, be ambitious, self starting, motivated, driven and be team oriented.
A good resume is well-written and concise. It should be neat and easy to read, listing previous experience in a logical order.
Our resume samples will provide you with multiple examples of what you can include when writing your resume.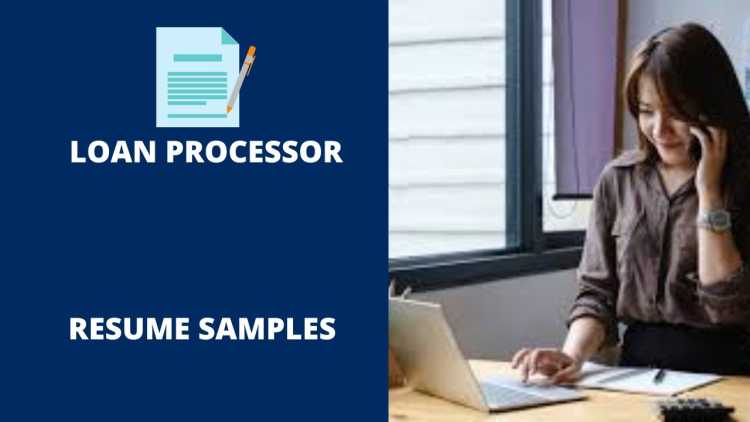 The Best Loan Processor Resume Samples
These are some examples of accomplishments we have handpicked from real Loan Processor resumes for your reference.
Loan Processor
Loan Processor-worked remotely and independently as liaison between borrowers, loan officers, and borrowers to provide highest level of customer service.
Processed loan application, employment verifications, ensured applicants met program and product guidelines for FHA, VA, and conventional loans.
Took loans from application to closing in a timely manner meeting or exceeding timelines.
Began as a Clerk (Borrower Service) responsible for customer service and follow-up on the loan file.
Advanced to Assistant Property Manager (Closing/Loan Processing), and then to Property Manager in a company that specialized in the refinancing of real estate equity.
Loan Processor
Review file for correct stacking order, AU findings for initial determination and appropriate documentation.
Re-review documentation in file, input any changes into the computer systems and re-run for a correct AU Determination.
When all conditions are received, make any changes necessary to the computer system and resubmit to the AU system.
Added broker's licenses to skillset, becoming chosen to work for an exclusive broker-dealer partner.
Initiated for loans for which applicants were not prequalified (due to missing application, affidavit, or bad credit).
Mortgage Loan Processor
Recommended process and systems improvements such as district policy and student placement.
Researched, negotiated, implemented and tracked public relations activities.
Developed workable solutions for recurring problems for individuals, educators, and families.
Attended and collaborated in program meetings, treatment reviews, and executive boards and committees when necessary.
Obtained a closed loan from FHA in less than 30 days.
Loan Processor
Greet customers, make loan payments, pay down or give advances on revolving lines of credits, balance general ledgers.
Review consumer and real estate loans to make sure they are in compliance with banking regulations and loan policy.
Updated credit tracking and release titles and deeds when applicable.
Maintained an excellent credit rating despite being in an area with 15% unemployment.
Performed Customer Service and Loan Arrangement responsibilities while adhering to banks' guidelines regarding customer service, disclosure, and repayment arrangements.
Senior Loan Processor
Responsible for Conventional, FHA, VA, and New Construction loans for purchases and refinance.
Assisted in the production of a training manual for New Hire Loan Processors.
Managed the Loan Processor help desk to ensure all questions were answered.
Created a daily report to ensure all lock alerts were completed and disclosed.
Responsible for reviewing DU Findings and gathering all pertinent information from the borrower to make a qualified loan decision.
Loan Processor
Limited credit signing authority, including clearing conditions and issuing changes to the terms on previously approved loans.
Responsible for verifying conditions of loan approval which may include customer income/assets documentations.
Maintains a high level of customer service by being proactive in communication with customers (may include realtors, attorneys, builders, financial planners).
Credited with the establishment of a new departmental policy of accommodating non-traditional working hours.
Processed assigned loans in a timely manner according to FHA, Fannie Mae, Freddie Mac lending guidelines. Examined titles for servitudes and ordered subordinations.
Loan Processor
Works with Loan Officer to determine product suitability; communicates changes to loan officer.
Complies financial and other needed data to complete loan file.
Orders supporting documentation, such as appraisals, 4506T, verifications of employment, verifications of deposits, etc.
Evaluates loan applications for reasonableness and, if needed, escalates files for further evaluation.
Closed a purchase loan in less than 30 days; recognized by the Regional Manager for outstanding performance.
Loan Processor
Obtain and review all necessary documentation to meet FHA, VA, and Conventional underwriting guidelines.
Run all scenarios through various underwriting systems including, Loan Prospector and Direct Underwriter.
Extensive communication with the borrower on updates and needed items.
Review title commitments, appraisals, income documentation, bank statements, Truth In Lending, and The Good Faith Estimate, ensuring the loan is in compliance.
Earned appreciation as a call monitoring Superstar; effectively addressed the needs and concerns of customers while adhering to banks' guidelines regarding authentication, disclosure, and customer service.
Loan Processor
Improves loan applications and documentation by informing applicant of additional requirements.
Updated job knowledge by participating in educational opportunities; reading professional publication; maintaining personal networks; participation in professional organization.
Performs a variety of other technical and special assignments as may be required in accomplishing and exceeding the division's goals and objectives, or the Small Business Administration mission.
Achieved award for meeting customer satisfaction guidelines based on customer survey ratings from customers who had applied for a loan.
Received outstanding quality award; effectively compiled data relating to loan applications.
Loan Processor
Verify and examine information and accuracy of loan application and closing documents.
Assemble and compile documents for loan closings, such as title abstracts, insurance forms, loan forms, and tax receipts.
Answer questions and advise customers regarding loans and transactions.
Contact customers by mail, telephone, or in person concerning acceptance or rejection of applications.
Maintained a high level of customer service; built relationships with title companies and other lending institutions.
Loan Processor
Assisted the real-estate/mortgage loan officer in all aspects of the origination process.
Process loan applications; Review verified information for conformity with program guidelines.
Assisted in clearing approval conditions; Assist in shipping files to investors for purchase after closing.
Assisted post-closing and/or quality control department in obtaining any missing documentation needed in order to render a loan saleable into the secondary market.
Improved customer service through effective management skills of employees while increasing the number of eligible loans processed per day by ten percent.
Loan Processor
Communicate with borrowers, title companies, and insurance agents to ensure efficient loan closings.
Responsible for preparing, reviewing, and processing up to 15 mortgage loans at one time.
Accountable for ordering all appraisals and ensuring timely delivery.
Achieved the highest possible rating from loan customers due to prompt attention, in a timely manner, to requests for information.
Processed loans from application to closing; maintained employee efficiency and well-being by creating an enjoyable work environment through regular communication and team-building activities.
Wrap Up
You need to make sure your resume stands out amongst the other candidates. It is the first impression that employers have of your work experience and skills. Use the samples above to put together a resume that best suits your needs and helps you get the job you want.