Material Handlers manage the movement and location of materials within a warehouse. Their job duties include locating products, labeling, doing inventory, moving products, packaging materials, preparing shipments, and loading products for movement. To work as a Material Handler, you need a high school diploma or GED. Material Handlers need to be skilled at data entry, teamwork, problem-solving, packaging, documenting, analyzing, and time-management in order to be successful.
A good resume is well-written and concise. It should be neat and easy to read, listing previous experience in a logical order.
Our resume samples will provide you with multiple examples of what you can include when writing your resume.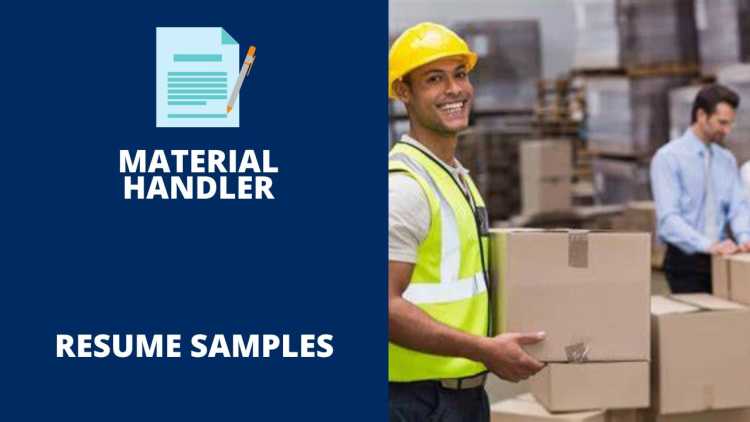 The Best Material Handler Resume Samples
These are some examples of accomplishments we have handpicked from real Material Handler resumes for your reference.
Material Handler
Establishes order for receiving, issuing, shipping, and/or storing of commodities to include packaging material, gold and silver bullion bars, and blanks.
Receives, unloads and processes shipments and prepares shipping reports using Oracle to maintain accountability of inventory.
Utilized material handling equipment to include forklifts, electric and manual pallet jacks and motorized carts, including banding equipment and wrapping material.
Achieved shifts with greater than 80% attendance rate. Followed management's job expectations to the fullest extent.
Used a variety of mechanical equipment as an individual, and as part of a team to achieve results in strict time constraints at an effective pace.
Material Handler
Load and unload materials in the warehouse and storage facility. Materials are moved from trucks, trains and other transport equipment.
Receive materials into an organization and verify materials against invoices to ensure the accuracy of the delivery.
Materials handlers count or weigh parts to check quantity accuracy, and contact the vendor when shipment is inaccurate to rectify the discrepancy.
Pick parts for shipment and package according to shipping procedures, and then fill out the appropriate paperwork to ship the product.
Gained pride in performing duties safely while maintaining high production standards.
Material Handler
Read work orders and follow oral instructions to ascertain materials and containers to be moved.
Load and unload materials onto and from pallets, trays, racks and shelves by hand.
Follow established safety rules and protocols while maintaining an orderly and efficient work environment.
Convey materials to and from storage and work sites to designated area.
Implemented a safety program designed to ensure the protection of persons during all phases of production and handling operations.
Material Handler
Sorted and placed materials or items on racks, shelves, and bins in keeping with predetermined sequence.
Helped in loading and unloading trucks, checking in merchandise by means of receiving documents.
Documented information relating to receipt, storage or distribution of materials for processing.
Matched and reviewed purchase orders to packing lists to make sure all required items are included.
Worked in a clean environment to oversee shipping and receiving of materials; minimized order errors with consistent quality checks.
Material Handler
Sort and place materials or items on racks, shelves, or in bins according to predetermined sequence such as size, type, style, and color or product code.
Document amounts of product received and distributed via the se of automated systems.
Proper use of equipment, including but not limited to pallet jacks, to move inventory in warehouse.
Installed and maintained furniture and fixtures into retail stores; recognized by Regional Manager as a valuable employee.
Developed a structured approach to overseeing inventory control, which lowered company overhead by 70% through improved efficiency.
Material Handler
As a material handler, you are to sweep and mop floors, attend to the needs of customers by unlocking dressing rooms and bathrooms, put out and take away 3 racks of clothing every hour, clean up any messes made by customers and place wet floor signs so that the customers do not slip and fall.
Zone through the aisles of clothing racks, picking up clothes off the floors and placing them neatly back on their hangers, any hangers sticking up on racks should be fixed while zoning.
Any clothes not in their proper rack should be taken to the right one while zoning.
Recognized by management for outstanding teamwork in the coordination of over 10,000 items for a chain store expansion project.
Identified potential problems before products shipped to the customer; ensured customers' satisfaction by fulfilling needs within 12 hours after the initial call.
Material Handler
I am accurate, analytical, conscientious individual with twelve plus years in logistics, custodial, medical device industries.
While a Medical Tech at Universal Medical Supply eliminated my patients stress by instructing them on different devices they would need to use when being discharged from the hospital.
While a CSR I demonstrated the ability to record details of client contract and service history, with proven ability to determined answers and solutions quickly.
Delivered quality service to customers, co-workers, and management; consistently following procedures for material handling and shipping.
Summarily instructed new workers on quality control, documentation procedure, and safe work procedures.
Material Handler
Responsible for performing routine and some non-routine tasks involved in the receiving, stocking, and shipping of material.
Performed these tasks in a warehouse, cross dock, or production support environment and plane.
Ensure safe and legal handling of regulated materials for all inbound and outbound shipments; including proper separation, palletizing, loading and storage.
Reduced scrap rates by effectively monitoring the production distillation process.
Established relationships with suppliers in order to improve operation efficiency; maintained inventory between certifications of materials.
Material Handler
Assisted in reviewing pick sheets based on customer orders and then pulling the right products for each order.
Worked closely with the inventory group to monitor supply levels and submit purchasing recommendations on a regular basis Load and unload delivery trucks and make sure that each incoming delivery matches the company purchase order.
Collaborate with the inventory control and purchasing groups to determine when product is missing in a delivery.
Achieved award as outstanding employee.
Became supervisor of warehouse material handling team; developed group of material handlers into a cohesive and effective workforce.
Material Handler
Duties included review of daily order sheets to determine type and number of orders.
Responsible for analyzing incoming orders to prepare to assist in unloading them from the delivery trucks.
Assess accuracy of order by ensuring that the right type and quantity has been received.
Review/assess all incoming orders are carefully labeled and stored in appropriate storage areas.
Expanded material handling capabilities by creating a manual ordering process to ensure 100% accuracy in inventory control.
Material Handler
Moved freight, stock, or other materials to and from storage or production areas, loading docks, delivery vehicles, ships, or containers, by hand or using trucks, tractors, or other equipment.
Sorted cargo before loading and unloading.
Read work order instructions to determine work assignments or material or equipment needs.
Provided consistent, efficient service to customers by ensuring checked-in stock was available for rapid pick-up.
Proved ability to be a problem solver when daily production figures could not be met; worked with manufacturing staff on floor to develop solutions.
Material Handler
Responsible for off-loading, put-away, picking and staging of equipment and parts while providing professional quality customer service to all internal and external customers.
Handled customer questions, complaints, and inquiries with the highest degree of courtesy and professionalism to resolve customer issues.
Offered alternative solutions where appropriate with the objective of retaining customer's business.
Delivered high levels of customer service and quality through participation in inspecting and inventorying materials that were shipped out on time.
Became a proficient and innovative craftsman through self-directed training and experience.
Wrap Up
You need to make sure your resume stands out amongst the other candidates. It is the first impression that employers have of your work experience and skills. Use the samples above to put together a resume that best suits your needs and helps you get the job you want.