A Patient Care Technician works with other medical personnel to make sure that patient needs are met. Their duties include bathing patients, feeding patients, monitoring vital signs, helping patients use the restroom, maintaining patient files, documenting patient condition, noting any patient pain, and responding to patient requests. Educational requirements to be a patient care technician are a high school diploma plus completion of a training program from a community or career college. Skills needed to perform this job are time management skills, empathy, compassion, organizational skills, friendliness, physical stamina, documentation skills, attention to detail, and excellent reading skills.
A good resume is well-written and concise. It should be neat and easy to read, listing previous experience in a logical order.
Our resume samples will provide you with multiple examples of what you can include when writing your resume.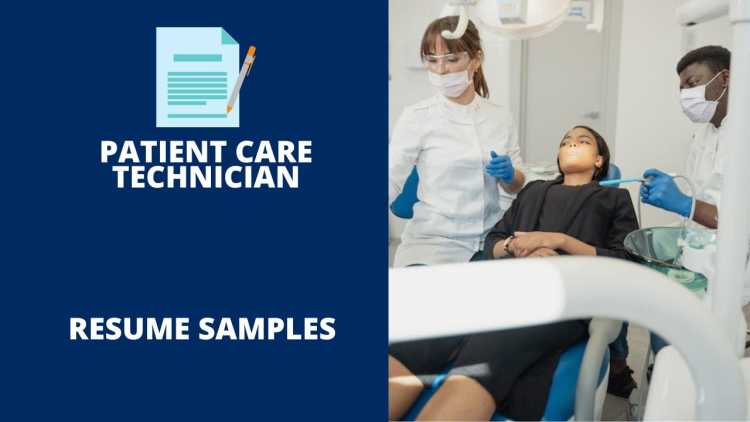 The Best Patient Care Technician Resume Samples
These are some examples of accomplishments we have handpicked from real Patient Care Technician resumes for your reference.
Patient Care Technician
I started as a patient care technician and worked towards becoming certified as a CCHT (clinical certified hemodialysis technician).
In 2016 I was promoted to PCT in which I was responsible for training and mentorship of new staff.
I was responsible to open and closer the clinic for operation.
I mixed essential chemicals needed for safe dialysis treatment.
Attended a two-week intensive training class for patient care technicians; successfully received and gave instructions to an elderly woman with Alzheimer's disease.
Patient Care Technician
A year and a half experience at Fresenius as a Patient Care Technician helping patients receive regular dialysis treatments.
Continuously making patients feel comfortable while monitoring for any medical complications and technical problems.
Ensure that the dialysis machine is working properly and that blood is moving through the tubes.
Discovered the need for medication administration, procedures, treatment options, and safety precautions in an emergency situation.
Trained an intravenous nurse and assisted in administering medication for a severely ill elderly individual.
Patient Care Technician
Disinfect dialysis equipment and prepare the fluid used for each patient during dialysis.
Insert dialysis needles into a patient's arm veins and start the equipment.
Inject patients with anticoagulants and change the speed or rate of dialysis as necessary during the procedure.
Disconnect the patient from the equipment and apply dressings to the puncture area.
Recovered a lost incontinent patient by guiding him through a dressing change to avoid infections and emergency room visits.
Patient Care Technician
Answered patient call signals, signal lights, bells, or intercom systems to determine patients' needs.
Provided physical support to assist patients to perform daily living activities, such as getting out of bed, bathing, dressing, using the toilet, standing, walking, or exercising.
Reviewed patients' dietary restrictions, food allergies, and preferences to ensure patient receives appropriate diet.
Measured and recorded food and liquid intake or urinary and fecal output, reporting changes to medical or nursing staff.
Recognized as an outstanding staff member; approached supervisor with concerns regarding patient care technician workloads and opportunities for promotion.
Patient Care Technician
Engage residents in recreational activities, ADL's (activities of daily living), and behavioral management.
Participate in multidisciplinary meetings and coordinate discharge planning.
Routinely work one-on-one patients suffering traumatic brain injuries, developmentally disabled and dementia patients.
Met and exceeded quota for office visits, while maintaining a high quality of care and patient satisfaction.
Trained with supervisor towards certification as an Emergency Medical Technician (EMT).
Patient Care Technician
Ensures that necessary equipment and supplies are present in the patient rooms and on the unit.
Assists in keeping patient environment, patient equipment and patient care areas/units clean, safe and orderly.
Uses a clear, caring and respectful communication style with patients and families, nurses and other members of the health care team.
Demonstrated knowledge, skills, and behaviors in roles as a Nursing Assistant/Health Aide and a Personal Care Aide/Home Health Aide.
Assisted patients with walking and ambulation, toileting assistance, personal hygiene tasks including eating assistance for those who are ill or disabled.
Patient Care Technician
Monitoring residents comfort and safety while enhancing their stability to return to the community.
Recording vital signs and reporting any new discolorations of the residents skin.
Assisting 40 to 50 residents with daily living, personal hygiene, wound care, range of motion and walking, game activities, arts and crafts.
Collaborated with health care team members to develop custom care plans for residents of nursing home settings.
Monitored blood pressure and pulse rates of individual patients during hands-on patient care.
Patient Care Technician
Maintain accurate records of patient care, condition, progress and concerns.
Observe and document patient status and reported patient complaints to the RN.
Read and record temperature, pulse and respiration.
Respond appropriately to the physical, emotional and developmental needs of patients.
Verified accuracy of administration dates and times of various medications.
Patient Care Technician
Implement behavioral interventions and modifications to adults, adolescents and children as per the treatment plan under the guidance of professional multidisciplinary treatment team.
Teach independent living and self-help skills to individuals with serious mental disorders.
When necessary, de-escalate crisis situations through appropriate therapeutic interventions.
Monitored vital signs, administered prescribed medications, and assisted with dressing procedures.
Checked patient's vital signs by cardiogram, pulse oximetry check, temperature reading in-ear with Thermodilter II probe, capillary refill time before administering medication and after giving medication to ensure the correct dose is given.
Patient Care Technician
Complete physical checks and monitor patients to detect unusual or harmful behavior and report observations to professional staff.
Record and maintain patient information, such as vital signs, eating habits, behavior, progress notes, treatments, or discharge plans.
Worked as part of a team that may include psychiatrists, psychologists, psychiatric nurses, or social workers.
Provided mentally impaired or emotionally disturbed patients with routine physical, emotional, psychological, or rehabilitation care under the direction of nursing or medical staff.
Verified patient responses to questions, checking verbal interaction and eye contact.
Patient Care Technician
Assisted nurses and physicians in all aspects of patient care, within four emergency room units comprised of trauma, critical care, and fast track.
Assess patients' needs on the basis of available data, observations and interviewing of patients, and document all chart data.
Conduct patient assessments, obtain and record vital signs, perform phlebotomy, administer EKG's and conduct glucose testing.
Pick up and transport patient medications, solutions, syringes, gloves, gowns, masks, respiratory and ambu bags as per nurses' and physicians' request.
Assisted in the daily activities of over fifty patients, documented the progress of all procedures.
Patient Care Technician
The most important role was to provide patient care and patient safety to the patient population I was assigned.
I have become very skilled in venipuncture and very efficient in EKG performance.
I do vital signs and understand my role as a patient care technician, alongside the other healthcare professionals, under different protocols.
Kept accurate and detailed records on all patient records during my time at Adventist Medical Center.
Completed projects in a timely manner, on schedule, and to specifications.
Wrap Up
You need to make sure your resume stands out amongst the other candidates. It is the first impression that employers have of your work experience and skills. Use the samples above to put together a resume that best suits your needs and helps you get the job you want.