Process engineers design, organize, implement, and oversee the chemical manufacturing of products made in factories. Their duties include researching and developing new equipment, installing equipment, maintaining old equipment, monitoring, troubleshooting, optimizing the production line, collecting data, and building budgets. To work as a process engineer you need a bachelor's degree in engineering, chemistry, or any similar field. Process engineers must demonstrate chemical, mathematical, and engineering knowledge, problem-solving, critical thinking, computer and negotiation skills.
A good resume is well-written and concise. It should be neat and easy to read, listing previous experience in a logical order.
Our resume samples will provide you with multiple examples of what you can include when writing your resume.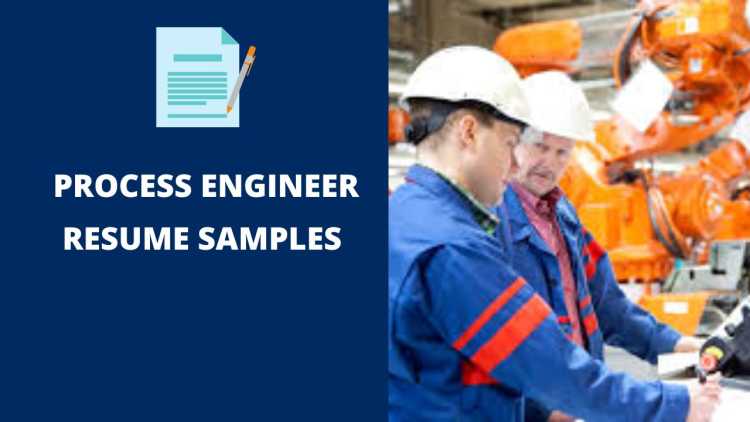 The Best Process Engineer Resume Samples
These are some examples of accomplishments we have handpicked from real Process Engineer resumes for your reference.
Process Engineer
Developed Operator Training Curriculum addressing key control processes, characteristics, and limitations for successful plant operation.
Coursework explained control theory behind processes, interlocks of systems, and reviewed normal and abnormal operations allowing for important concepts to be engrained in operators for correct response to process changes.
Combustion Tuning of Utility Boilers, adjusted Fuel to Air Ratio to obtain safe and efficient combustion while maintaining environmental compliancy.
Assisted in leading Control Room Operators during Demonstrated Maximum Net Capability testing of generation units for Consolidated Edison.
Compiled historical data for identification of unit limitations to obtain or surpass previous benchmarks safely.
Process Engineer
Liaised with technical teams and end users during work-in-progress meetings to identify their requirements and executed action plans accordingly, meeting project deadlines and achieving over 99% efficiency in multiple projects.
Managed relationship with the vendors and tool owners to maintain stocks of consumables and facilitate delivery of out of stock chemicals.
Optimized Si back-end CMP process designed to expose and characterize Through-Silicon-Via (TSV) and achieving over 98 % uniformity in wafer thickness, critical for System-on-a-Chip (SoC) and lab-on-a-chip applications.
Developed CMP processes at FEOL and MOL for oxide, nitride, and Tungsten materials, applied to Quantum processors and ReRAM devices.
Brought continuous improvement of company-wide productivity in the areas of cost, schedule, quality and safety.
Process Engineer
Characterized and implemented new processes for efficiency improvement by back surface passivation of Chalcogenide solar cells.
Maximized equipment up time by performing weekly and daily calibrations on RIE and Electroplating baths.
Worked with cross functional team of researchers to meet customer specifications and project deadlines.
Managed project team to ensure successful and innovative implementation of value stream analysis systems.
Applied lean manufacturing principles and root cause problem solving (FMEA) methods to reduce cost and improve manufacturing quality.
Process Engineer
Worked in Plumbing/Process group on a few major ongoing pharmaceutical and lab projects.
Set up sheets/drafting views/title blocks in REVIT and learned basic commands necessary to draw diagrams.
Coordinated Risers, Plans, and P&ID diagrams (Placement of valves and instrumentation, tagging lines and valves, etc.).
Calculated Oxygen Concentrations for worst case gas leak scenarios to lab spaces.
Achieved ISO-9002 certification by meeting all requirements in time specified by the standards; demonstrated leadership as a project manager for achieving certification goals on time.
Process Engineer
Planning, control and manage daily operations and optimum use of Equipment, Material and Man power for production and other projects.
Developed and executed commissioning test plans/protocols, and coordinated design, Preventive Maintenance and machine efficiency reviews.
Provides Engineering support in Startup, Commissioning and Validation of Lyophilizer, Autoclave and Filling Machine and follow regulatory agencies guidelines.
Delivered film coating process improvements that received two top awards from customer; recognized with employee award for outstanding technical performance.
Was responsible for removing the following process malfunctions: clogging, steam pressure, and mechanical wear and tear.
Process Engineer
Updated and generated P&IDs of utilities such as Plant Steam, Clean Steam, HVAC, Boiler and Chiller.
Handled and monitored Building Management System (BMS) for plant utilities and HVAC system.
Prepared equipment and instrument datasheets based on the requirement and reviewed functional requirement specification(FRS) for CIP cycle development and skid validation.
Provides engineering support in startup, commissioning and validation of Biopharma processes and manufacturing equipment.
Found the following leaks: a fuel pressure regulator, a fuel pump, a leaking through-deck water tank, and a leaking gas pressure switch.
Process Engineer
Performed preliminary design for equipment acquisition and processes while coordinating with vendors.
Responsible for the management of schedules and timelines for the implementation of projects.
Provided engineering solutions, validation and on-site support as required from the clients.
Repaired dozens of faulty pipelines in the electrical systems by disconnecting/connecting affected pipes in correct order.
Aided in locating the source of mild depressurization problems.
Process Engineer
Facilitated cross functional regulatory collaboration to ensure transactional SLAs for $100 MM in volume.
Managed Key User teams through business specific knowledge and driving weekly meetings to expedite multi category purchasing.
Engaged buyers and operations through VBA tools implement supplier strategy, cutting $150K in processing costs.
Escorted engineers to their designated tasks by creating the necessary paperwork for them to complete; aided in completing field maintenance on two different vehicles.
Expedited production of a B24 bomber engine that was critical to the success of World War II.
Process Engineer
Assisted the Senior Process Engineer by helping design, operate, or optimize the current operations for donated bone and tissue processing to be transplanted into a viable patient.
Individually execute protocol for an installation and operation qualification of clean room scales and an on/off timer.
Compile all relevant documentation and created final report for equipment.
Led a study on improving the Automated Demineralization System through all steps of the design; gathering a team, creating a cost analysis, testing for viability, and implementing the project.
Remanufactured a C-130 aircraft engine; shortened the assembly time from 14 days to 8 hours and increased the parts quality by over 90%.
Process Engineer
I was originally brought on as an intern to measure, document, and prepare shop drawings detailing the manufacturing processes that go into creating high end lighting fixtures.
After my internship period ended, I was brought on as a full time design engineer.
My main duty was to bring to life the designs of light fixtures thought up by architects and interior designers.
Wrote specifications for all automated production and process control systems, ensuring a superior outcome for product technical integrity.
Streamlined assembly processes for wheelchairs; decreased cycle time from 3 hours to 1 hour, saving the company $100,000 in annual revenues.
Process Engineer
Administrator of development and implementation of production assembly instructions into Microsoft SharePoint website.
Administrator/IT Troubleshoot contact of Thin Client network and SharePoint maintenance within the facility.
Continue to research and develop new processes to improve process efficiency and decrease cost.
Developed new methods for tightening retort rings; reduced cost per ring by $5 after implementation.
Planned, directed, managed, and organized activities and individuals in the operations department.
Process Engineer
Re-engineered existing process flow of moth-balled facility to function with same proprietary technology.
Commissioned plant to 35,000 gallon per day capacity capable of handling multiple feedstocks.
Conducted interviews with local candidates for operator and plant manager positions.
Corresponded with environmental consultants to arrange operating permits as required by South Carolina DHEC.
Requested additional funds for multiple projects as need arose and coordinated with other departments to realize goals.
Wrap Up
You need to make sure your resume stands out amongst the other candidates. It is the first impression that employers have of your work experience and skills. Use the samples above to put together a resume that best suits your needs and helps you get the job you want.