Purchasing Managers manage all purchasing activities for a company. Their duties include creating and maintaining relationships with vendors, negotiating contracts for purchases, researching and evaluating trends in prices and products, reporting to a senior manager, managing budgets, conducting personnel actions and management. To work as a Purchasing Manager you will need a Bachelor's degree in business, supply chain management or a related field. Purchasing Managers must demonstrate communication, negotiation, cost management and analytical skills as well as project management, resourcing and presentation skills.
A good resume is well-written and concise. It should be neat and easy to read, listing previous experience in a logical order.
Our resume samples will provide you with multiple examples of what you can include when writing your resume.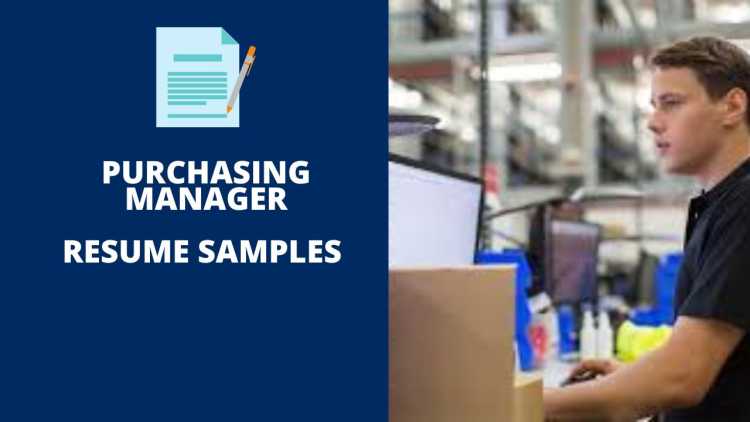 The Best Purchasing Manager Resume Samples
These are some examples of accomplishments we have handpicked from real Purchasing Manager resumes for your reference.
Purchasing Manager
Purchased consumable, technical and navigational supplies for the safe and efficient operation of company tugs and barges.
Developed strategies to supply spare parts for emergency repairs and dry dock requirements.
Participated in the development of an Oracle based I-Procurement purchasing system.
Minimized consumption of supplies used for facility operations in accordance with company environmental impact policies.
Analyzed requests for quotes and solicitations to determine potential contract opportunities; secured $250K in vendor contracts in first year.
Purchasing Manager
Overall management of Purchasing Department staff, budget, vendors and systems for leading manufacturer of tissue products for away from home, private label and retail customers.
Responsible for purchasing of equipment for manufacturing operations as well as internal office supplies for $200MM company.
Proficient in ERP (Enterprise Resource Planning – AS 400) Software Purchasing Module.
Reduced the average time to place an order from 6 days to under 2 with the implementation of a new purchasing software program.
Negotiated profit sharing arrangements with product vendors that collectively generated a $600,000 profit; increased company profitability by more than 15%.
Purchasing Manager
Solely responsible for all procurement, both direct and indirect across multiple lines of business.
Worked closely with estimating, sales, production, and manufacturing to ensure job materials and services are obtained in a manner that supports customer schedules and financial objectives.
Worked with distributors to ensure core items are available next day or same day if needed.
Realize cost savings and reduced lead time by consolidating vendors and shipments.
Improved vendor relations with shift in focus to deliveries on time, quality-first.
Purchasing Manager
Decreased cost of goods sold for company by effectively negotiating contracts while developing relationships with suppliers around the globe.
Cut average lead time for clients by over a week through better inventory analysis and communications with the COO, shipping manager, and engineers.
Maintained positive cash flow and reduced overstock through successful inventory forecasting and effective supply chain management.
Reduced errors for inventory, invoices, and RMAs significantly by utilizing excel and oracle SQL to provide quality data assurance and reports.
Increased procurement by 2.2 f/t of goods, 5.3 f/t of services, 8.3 f/t of maintenance and construction
Purchasing Manager
Appointed as the head of purchasing for a manufacturer of baked goods servicing national retail chains and distributors, with gross sales North of $20,000,000.
Assumed sole responsibility and management of a purchasing department with an estimated budget of $7,000,000.
Obtained significantly lower costs on materials via improved negotiation tactics and optimal sourcing, simultaneously forming ideal vendor relations.
Constantly researches packaging and ingredient solutions, coordinating with and advising production, so as to improve efficiency, fulfill customer requests or else maximize marketability and profitability of COGS on a general level.
Purchased and procured expanded inventory for increased reliability, availability, and accuracy in work
Purchasing Manager
Purchased material, equipment, and office supplies companywide while competitively bidding out all purchases to maximize the best cost saving levels.
Processed warranty claims, charge back procedures along with expediting shipment of materials and equipment for emergency installs.
Streamlined the inventory process by selling outdated materials, ordering accurately and moving products to balance inventory levels.
Developed and coordinated new policies and procedures regarding procurement processes.
Reduced the percentage of returned goods by 3%.
Purchasing Manager
Communicate and work closely with other departments to better understand their needs and develop more efficient processes to reach targeted objectives more easily and cost effectively.
Continually consolidate items and vendors in multiple categories to reduce similar SKUs and increase margin by working closely with sales and their customers to move to one agreed upon item.
Constantly develop knowledge of a wide variety of product categories in order to better negotiate with vendors, understand customers' needs and find alternative items when needed.
Enhanced supply chain systems through preventive maintenance and damage control procedures.
Increased accuracy capacity through a new computerized data base system (VICOPREP).
Purchasing Manager
Processed all master service agreements, statement of work, request for proposals, request for information documentation for hardware, software, licensing, telecom, contracts and warranties.
Managed hardware, software, telecom, licensing products and services inventories.
Gathered supportive information for quotes/bids, solicit written quotes, price list and catalogs.
Supervised purchasing projects to ensure accountability, ownership and project completion.
Managed the flow of ordering, receiving, and shipping parts for a $4.5 million dollar repair facility.
Purchasing Manager
Sets up the purchasing order if the cost is over $2000.00 in order to satisfy the requirement of initial public offering (IPO).
Researched the potential vendors or suppliers and understands the existed vendors previous transaction records and the quality of the materials.
Performed research, comparing, and negotiation to a big purchasing amount or the existed leases are getting to be gone.
Documents each purchasing order numbers and monitors the process of materials delivery.
Secured one-million-dollar contract to equip three supply depots with spare parts.
Purchasing Manager
Works closely with warehouse managers on Procurement project implementation and management throughout the U.S.
Supports the Distribution Director and Finance Director with specific information and analysis, looking for ways to consolidate warehouse purchasing to use economies of scale.
Supports Transportation department with various freight analyses and reporting including cash flow analysis and cost savings.
Met production demand during peak season by negotiating two vendor contracts with delivery dates of 72 hours.
Negotiated to ensure on-time delivery of parts needed for 800 trucks and other equipment after hurricane disaster shut down scheduled deliveries.
Purchasing Manager
Provided and analyze vendor imports vs direct sales from company inventory for all nationwide customers.
Solely manage a profitable and specialized product team (extrusion) from inception to culmination.
Evaluate business ebbs and flows by product and season to provide business recommendations.
Liaised with the Rabobank to open business lines of credit for suppliers, managing up to 10 million dollars per transaction, approximately 5-10 lines of credit per month.
Raised 10% corporate profits by increasing buying power for each dollar spent on inventory compared to the industry standard 5%.
Purchasing Manager
Managed multiple quotation projects daily for large shipping vessels including RFQ's for stationary, technology, marine safety items, tools, batteries and spare parts.
Handle increasing responsibilities including logistical incoming and outgoing of shipments.
Oversee a team of three marine engineers handling TPS Wallem quotation system.
Increased sales by more than $1.8 million dollars in six months; recognized by CEO as one of the top performing employees.
Effectively created, implemented, and managed new business opportunities and strategic initiatives to drive growth.
Wrap Up
You need to make sure your resume stands out amongst the other candidates. It is the first impression that employers have of your work experience and skills. Use the samples above to put together a resume that best suits your needs and helps you get the job you want.