Apartment Leasing Agents rent apartments. Their duties include telling the customers how great the neighborhood is, showing the complex to the customers, showing them the apartment, processing their application, working out the lease, and doing a background check. Education required is a high school diploma or equivalent. Skills needed are to be comfortable with people, able to make sales, cheerfulness, attention to detail, interest in local real estate, high energy level, and excellent listening skills.
A good resume is well-written and concise. It should be neat and easy to read, listing previous experience in a logical order.
Our resume samples will provide you with multiple examples of what you can include when writing your resume.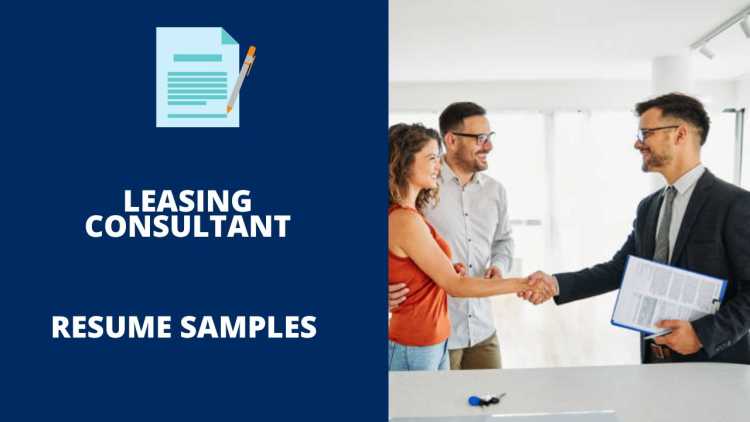 The Best Leasing Consultant Resume Samples
These are some examples of accomplishments we have handpicked from real Leasing Consultant resumes for your reference.
Leasing Consultant
Experienced with multitasking that comes along with lease ups, and stable buildings.
70% of my last 294 unit building was leased primarily by me as the only leasing consultant two months ahead of schedule.
Closing ratio 45% averaging nearly one lease per day, Often multiple leases per day.
Proficient in YARDI, Pop Card, Onsite, ENTRATA, & all other administration related duties.
Achieved recognition as Sales Associate of the Month.
Leasing Consultant
Created virtual tours, providing prospects with additional exposure to properties.
Developed full knowledge of application information required, screening process and policies regarding rentals.
Advertised client properties on website, though, social media and real estate guides.
Won award for Leasing Excellence by receiving the highest average number of referrals, which led to leasing four apartments in a six-month period.
Earned award as Apartment Referral Specialist of the Year through leasing seven apartments in the first nine months of the year.
Leasing Consultant
Greet prospects and qualify by covering all criteria (ask questions; utilize completed guest cards, etc.).
Immediately record all telephone and in-person visits on appropriate reports.
Inspected models and available "market ready", communicate related service needs to Property Manager.
Demonstrated community and apartment/model and apply product knowledge to clients needs by communicating the features and benefits; close the sale.
Recognized as Apartment Referral Superstar for increasing yearly job referrals to a total of twenty-five from fifteen in previous years.
Leasing Consultant
Conducted apartment tours, answered questions and highlighted selling features and benefit of the property.
Processed and verified applications in a timely manner which increase the likelihood of successful rentals.
Collected application fees and deposits and kept accurate records of all financial transactions.
Received award for exceeding referrals in three consecutive quarters; generated an average of four qualified leads per month and set a company record for monthly leases completed.
Prepared purchase and sale agreements.
Leasing Consultant
Schedules appointments with prospective tenants to view property and/or model apartment.
Inspects unit once tenant moves out, checks for damages, and determines what portion of security deposit will be returned to previous tenant.
Responsible for ordering maintenance and/or vendors to complete tenants reported repairs in a timely manner.
Reviewed, investigated, and approved each offer for the sale of the property.
Prepared all required documents as requested by the buyers' attorney.
Leasing Consultant
Analyze and prepare income documents and projections for city housing program.
Managed administrative functions that include guiding new residents through the application and move-in process, performing background / credit checks, writing up leasing contracts.
Maintain lease files and application documents including entering and lease documents and addendums.
Worked closely with vendors and contractors for accurate completion of projects and maintenance.
Foreclosed properties after reviewing by an attorney.
Leasing Consultant
Completes lease form or agreement and collects rental deposit.
Thorough knowledge of lease terms, specifications and all community polices.
Fully informed of current rental rates, sizes, locations and all amenities on the property.
Maintain contact with all apartment locator services and local businesses to provide informational material.
Rescued properties from auction, prevented foreclosures and lawsuits under unfortunate circumstances, referred clients to reputable attorneys, and negotiated legal settlements on behalf of clients during a difficult time in their lives.
Leasing Consultant
Part of a hardworking management team that provides customer service and sales support for 201 unfurnished and corporate apartments.
Oversee the daily operation including resident relation and retention, auditing move in and move outs, and monitoring the office.
Developing departmental reorganization strategy resulting in order to improve workflow, accountability, customer response.
Researched and generated leasing proposals for over $3 million in commercial property.
Prepared marketing material for every property I handled that was rated #1 by the company.
Leasing Consultant
Qualify prospective residence, completing application process; explain policies and procedures of community.
Managed high volume of inbound and outbound call from current and prospective residence in regards to community.
Promoted positive resident relations, working to make the living experience, the first and last impression, of the highest quality.
Achieved a high rating from the company as an overall leasing consultant and sales counselor.
Nurtured relationships with high-profile clients through knowledge of my profession, integrity, and work ethics.
Leasing Consultant
Maintain communications with residents, applicants and representatives of other companies.
Walk tour paths, vacant units and make readies on a daily basis in awareness of "curb appeal" of properties.
Review unit availability and record all traffic in the computer on a daily basis.
Electronic review of applications, verify qualifications of applicants and confirm approval/denial of application within 24 hours.
Successfully completed negotiations on all tasks assigned to me, including a condo apartment lease for more than $4,000 per month for five years.
Leasing Consultant
Ran daily reports for rental insurance, property occupancy, and past due work orders.
Welcomed prospective residents, by giving them a full descriptive tour of the property, showing them available units in their budget and complient with their move in date, ended it by always asking for the sale.
Process and complete new move in and renewal paperwork by confirming residents rental history, credit scans and employment.
Coordinated, negotiated, and presented numerous lease terms on behalf of clients with building management.
Negotiated and kept rental rates competitive as apartment turnover increased.
Leasing Consultant
Greeted prospects in person and by taking telephone inquiries, helped applicant with the application process.
Interviewed and ran credit and background checks, verifying all documents and information be true.
Very knowledgeable working with diverse community and handling extreme situations.
Constructively guided clients in the realization of financial goals; counseled potential tenants concerning the benefits of the leasing process.
Nurtured positive working relationships with all personnel involved in the leasing process.
Wrap Up
You need to make sure your resume stands out amongst the other candidates. It is the first impression that employers have of your work experience and skills. Use the samples above to put together a resume that best suits your needs and helps you get the job you want.