Assistant Property Managers facilitate the daily operations of a property through administrative tasks and management duties. They handle service requests, accept move-out notices, assist with lease renewal, evaluate the property for violations, analyze leasing reports and manage rent collection and occupancy issues. A high school diploma or equivalent and some relevant experience is required. Assistant property managers must be communicative, organized, interpersonal, flexible and able to work weekends, give tours and use Microsoft office.
A good resume is well-written and concise. It should be neat and easy to read, listing previous experience in a logical order.
Our resume samples will provide you with multiple examples of what you can include when writing your resume.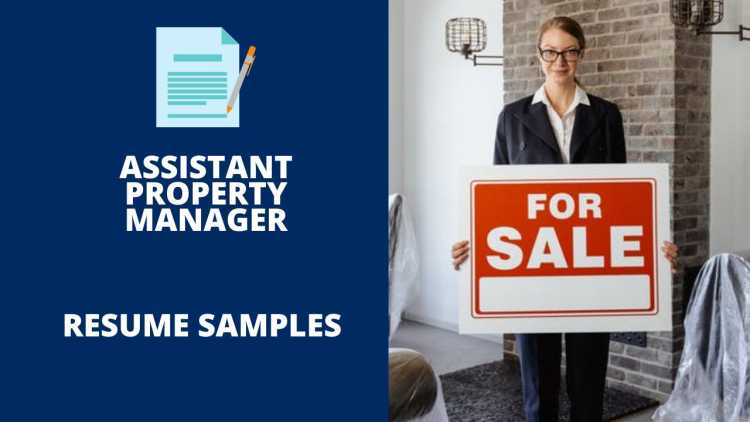 The Best Assistant Property Manager Resume Samples
These are some examples of accomplishments we have handpicked from real Assistant Property Manager resumes for your reference.
Assistant Property Manager
Responsible for the response to customer and staff needs, problem solving, resources and administration.
Coordinate inspections, turnovers, building maintenance, custodial, operations and grounds needs.
Monitor work order control, scheduling and completion between customer, vendor and/or staff.
Assign maintenance and repair projects with vendors or staff and track its progress.
Document and close all inspections, work orders, purchases, and maintenance completed.
Assistant Property Manager
Assisted Property Manager with the day to day operations of a 260 unit property including maintenance and training.
Prepared and reviewed monthly asset management report, and financial reports for meetings with the property director and executive director.
Handled all tenant inquiries, scheduled contractor appointments, showed and rented units, processed move-in paperwork, including lease preparation, executed renewals and processed move-outs.
Coordinated with public adjusters in a timely and accurate manner.
Regularly scheduled and conducted seminars to educate tenants on handicap laws, fire safety, and radon testing.
Assistant Property Manager
Assisted property manager with a mixed portfolio of residential and commercial properties.
Managed maintenance requests in a timely manner and delegate to third parties or use in house technicians.
Photograph properties and created marketing content and materials, both in print and online.
Arranged for "Kids Day" participation by local children's social service organizations by contributing prizes and time.
Completed all required paperwork in a timely manner; recognized by the manager for exceptional performance.
Assistant Property Manager
Works with Property Manager to prepare annual budgets and tenant CAM reconciliations.
Monthly rent roll and OPE comparisons and submitting change forms to square footage changes, bill backs and rent/OPE changes.
Code and submit weekly invoices, compare to monthly budget and prepare a budget variance report as needed.
Vendor oversight including preparation of cost comparison summary for service contract documentation, property inspections, insurance compliance and new vendor introductions.
Resolved all resident complaints within 24 hours; received employee award for outstanding service.
Assistant Property Manager
Coordinate and monitored contractor's performances to ensure it meets agreed upon task.
Provided walking tours of vacant spaces as requested to prospective tenants in order to obtain new leases and/or renewals of existing tenants.
Investigated tenant delinquencies by contacting the tenant in order to ensure prompt payment or status of payment.
Completed daily tasks in a professional yet caring manner; earned awards from 250+ residents and managers alike.
Established standards and procedures relating to tenant relations, marketing, and maintenance of assigned properties.
Assistant Property Manager
Coordinate repairs with vendors and follow-up to make sure requests were completed.
Review and code all monthly invoices and input into accounting software for processing.
Follow-up with delinquent tenants to ensure we received monthly rent payments.
Supervised a cleaning crew of five and maintained established standards of cleanliness, including thorough professional deep cleaning with disinfectants on a regular basis.
Trained, directed, and mentored seven new employees to become proficient in cleaning services.
Assistant Property Manager
Process a high volume of invoices, vendor services and material charges to issue payments for over 90 units.
Handle property showings, maintenance issues, lease signings, move-in/move-out and annual inspections and maintaining 100% occupancy.
Serve 3-day notices, balance due notices, 24-hour notices to enter the premises.
Ensured apartments were properly inspected for maintenance problems, including broken equipment and furniture, and filed orders that required service; reported any conditions that would be hazardous or dangerous to the occupant.
Reduced turnover rate by 75% by effectively training crew members in time management skills and following through with required changes in work routines.
Assistant Property Manager
Attend regular meeting with consultants, architects, construction contractors, mechanical engineers for discussion of remodeling the commercial property to a medical property.
Meet with 3 construction contractors for site visit for the cost estimation and budgeting processes before developing a bid for the remodeling project.
Performed periodic inspections (inside and outside) on a predefined schedule looking for repair needs, safety hazards, code violations, lease violations, etc.
Streamlined access to information and coordination between business and residential tenants; screened daily incoming calls and responded to inquiries in a timely manner.
Established a new revenue stream through the expansion of property maintenance services.
Assistant Property Manager
Accomplishes financial objectives by: collecting rents; paying bills; retention of 85% or higher and delinquencies of .25% or lower.
Maintain financial management responsibilities including preparation of budgets, accruals, re-forecasts and reporting budget variances, along with scheduling expenditures; analyzing variances; initiating corrective action.
Maintains property by investigating and resolving tenant complaints; enforcing rules of occupancy; inspecting vacant units and completing repairs; planning renovations; contracting with landscaping and snow removal services.
Trained, motivated, and inspired the property staff by utilizing motivational techniques for success.
Coordinated with maintenance team for the purpose of identifying, ordering, installing, repairing, and maintaining commercial building equipment; kept business equipment inventory current.
Assistant Property Manager
Complete all application screenings with customers and secure deposit in accordance with federal housing requirements.
Provides customer solutions by providing seamless delivery of service, and fulfillment requests by answering calls or emails.
Answer all incoming calls and ensure work orders are completed within 24 hour time frame.
Persuaded 20% increase in rent collections through landlord/tenant garnishments; oversaw legal aspects of garnishments as related to landlord/tenant law.
Assisted the property manager in overseeing day-to-day activities, such as leasing office equipment, coordinating repairs and maintenance, and handling cleaning services.
Assistant Property Manager
Follow-up on tenant requests to assure satisfaction; log-in completed work orders and compile monthly reports.
Receive, code, acquire appropriate approvals, allocate invoices and distribute to accounting for payment in a timely manner.
Prepared monthly financial reports, budget input and operating expense/rent escalations.
Administer parking garage activities with tenants; assign parking spaces and maintain parking records.
Supervised office personnel through daily scheduling, managing absenteeism totals, and directing staff to properly maintain county property.
Assistant Property Manager
Maintained working knowledge of laws, rules, and regulations concerning apartment leasing and management.
Prepared accurate and complete reports in a timely manner.
Handled and assisted in the receiving, recording, preparation and follow-up of work orders to facilitate residents' service requests.
Assisted in the inspections of vacant apartments and took appropriate action to prepare them for market-ready status.
Handled all aspects of routine correspondence with customers, vendors, mortgage companies, and title companies.
Wrap Up
You need to make sure your resume stands out amongst the other candidates. It is the first impression that employers have of your work experience and skills. Use the samples above to put together a resume that best suits your needs and helps you get the job you want.