Assistant store managers supervise store operations. They carry out the orders of the store manager, train and instruct employees, assist employees, respond to customer complaints, and supervise the opening and closing of their store. This position requires significant experience in the retail sector, and some companies require a college degree. They must have knowledge of their store's operations, leadership, communication, and problem-solving skills, patience, the ability to work on their feet, and the ability to safely lift heavy objects.
A good resume is well-written and concise. It should be neat and easy to read, listing previous experience in a logical order.
Our resume samples will provide you with multiple examples of what you can include when writing your resume.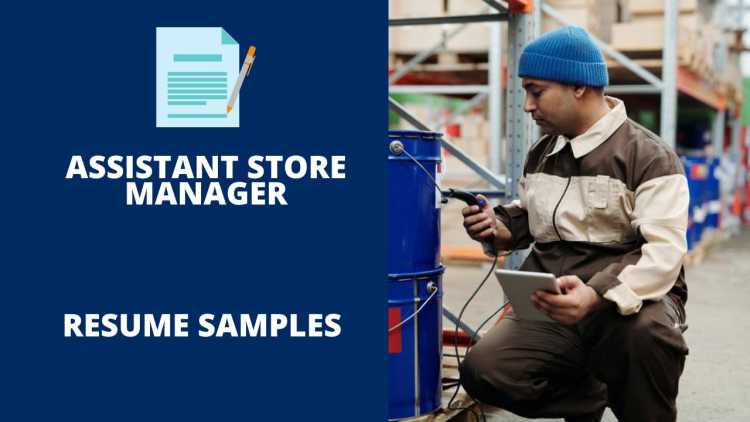 The Best Assistant Store Manager Resume Samples
These are some examples of accomplishments we have handpicked from real Assistant Store Manager resumes for your reference.
Assistant Store Manager
Oversee daily store operations. Ensure daily and monthly sales goals are met.
Maintain Profit/Loss and Inventory Control goals set fort by corporate management.
Assisted in all areas necessary to ensure assigned departments are running efficiently.
Responsible for making sure employees adhered to scheduled work hours, lunch and break schedules.
Assisted Store Manager in hiring, training, and supervising all store employees.
Assistant Store Manager
Effectively schedule and manage 50-75 people weekly for success of front end operations.
Responsible for all cash handling within the store to ensure we are properly in line with Walmart's expectations.
Compliance Champion for location which entails a weekly inspection for food safety, hazardous materials audit, fire safety and proper execution within TLE (tire lube express) for all safety expectations.
Leading my team of customer service managers to become leaders versus mangers in daily operations.
Bought, sold, and applied merchandise techniques to increase sales on a weekly basis. Effectively managed this area of the store using a sales optimum concept.
Assistant Store Manager
Experienced in navigating teams through changing business environments.
Strong Background in marketing, business development, and project management.
Experienced in creating and submitting sales reports on a periodic basis, ensuring that all set goals and targets are achieved.
Effectively organized, controlled, and coordinated inventory turnover.
Achieved award for most improved store sales in the region.
Assistant Store Manager
Daily inventory control and shipping, receiving, processing inventory for recalls and transfers, ensuring all new product gets entered accurately into store sales system.
Store product knowledge specialist for new and current staff, testing on a monthly basis to ensure all sales associates product knowledge is up to date as well as training new associates on properly opening and closing the store.
Assisted store manager tracking daily and monthly store budget and penetration.
An employee of the quarter; received the award for exceeding all sales goals.
Finished top five out of twelve managers nationwide; recognized by the CEO for outstanding performance.
Assistant Store Manager
Assessing a customer's needs and finding the right garment for them.
Showing customer how to maximize value and versatility of garment by adding accessories.
Processing incoming and outgoing orders, training others on store policies and procedures and handling customer service issues when they arise.
Visual merchandising, setting up fixtures and displays and dressing mannequins.
Maintained safety standards while completing a forty percent decrease in accident rates between stores.
Assistant Store Manager
Daily store operating procedures including opening, closing, and POS operations.
Visual merchandising involving planning, shipment processing, floor plan mapping, and execution of all floorsets.
Inventory processes such as shipment receiving and processing, replenishment, supply orders, and merchandise orders.
Led staff through the adoption of a new computer system; integrated into a financial software program used by all stores nationwide.
Bought, sold, and applied merchandise techniques to increase sales on a weekly basis. Effectively managed this area of the store using a sales optimum concept.
Assistant Store Manager
Directed sales floor activities ensuring excellence in customer service and resolving store level problems.
Oversaw personnel management interviewing hiring training mentoring/coaching and evaluating.
Applied strategies that improved shrink percentages.
Supported sales floor by implementing process improvements.
Reduced overhead costs through reduced merchandise expenses, sales volume, and the number of items held in inventory.
Assistant Store Manager
Gain business insight and created action plans that improve execution and results.
Possesses a working knowledge and support optimization of labor scheduling; may include writing, editing and / or reviewing weekly schedule, while maintaining payroll budget.
Communicate effectively with Supervisor, management team, associates and peers.
Execute monthly floor set changes and make shopkeeper decisions based on customer.
Increased overall sales by promoting customer service, loyalty, consistency, and efficiency during an ongoing cash-strapped environment.
Assistant Store Manager
Focus on merchandise presentation/ordering & developing subject areas to meet sales expectations.
Visual Merchandising and maintaining of book-floor changes to meet company standards.
Leadership and Management roles including Payroll, Staffing, Loss Prevention & Inventory.
Efficiently utilized promotional strategies to generate new customers while effectively utilizing existing customer bases.
Conceptualized and implemented diverse, successive promotional campaigns that significantly increased sales revenues.
Assistant Store Manager
Strong interpersonal skills resulting in exceptional rapport with people.
Proven success in initiating, promoting and maintaining strong interpersonal relations.
Able to deal courteously, professionally, and tactfully with the general public in a variety of circumstances.
  Ensured service excellence and met or exceeded customer satisfaction standards.
Led a staff of 12, who were collectively awarded two best departmental awards.
Assistant Store Manager
I started a year ago as an associate and within six months I proved my self and became assistant manager.
My position as an associate and assistant manager is cashiering, cleaning the store, front facing all shelves, assisting with shipments, stocking, working on plan-o-guides, taking deposit to bank, and doing paperwork.
Also building a relationship with customers, learning what they like and recommending new items.
Won acclaim for consistently exceeding the sales, production, and profit goals set by management with a staff of four employees, including one employee with limited skills in English.
Consistently promoted a positive shopping atmosphere; maintained 92.3% customer satisfaction rating, twice receiving the store's monthly award.
Assistant Store Manager
Responsible for opening of the store which includes register count and backup change funds.
Managed receiving of merchandise as well as placing orders to keep up with store demand.
In charge of taking / preparing of catering orders, gift orders, and in store delivery orders and meeting customer's needs.
Employee management while maintaining a positive and productive work environment.
Established and trained a young, motivated customer service team.
Wrap Up
You need to make sure your resume stands out amongst the other candidates. It is the first impression that employers have of your work experience and skills. Use the samples above to put together a resume that best suits your needs and helps you get the job you want.