Bakers created and sell baked goods. They follow recipes, prepare ingredients, decorate, order supplies, keep the kitchen clean, follow health regulations, created new combinations, and arrange their goods in an aesthetically pleasing way. There are no education requirements. Bakers must be able to do well under pressure, be on their feet for long periods of time, and have excellent scratch baking, organizational, and time management skills. They must also be creative thinkers with an eye for detail and design.
A good resume is well-written and concise. It should be neat and easy to read, listing previous experience in a logical order.
Our resume samples will provide you with multiple examples of what you can include when writing your resume.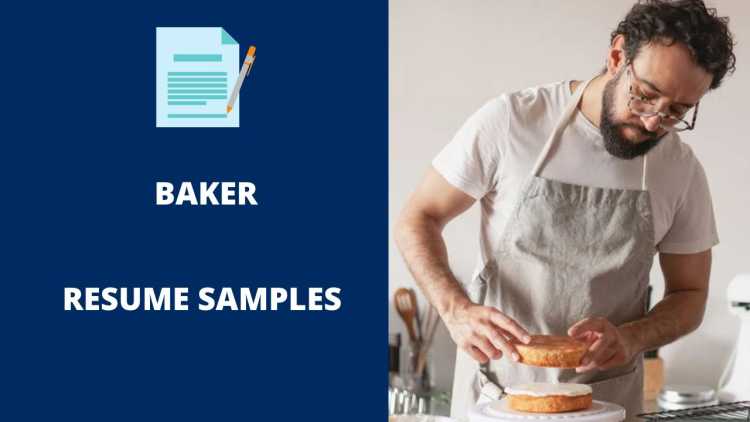 The Best Baker Resume Samples
These are some examples of accomplishments we have handpicked from real Baker resumes for your reference.
Baker
Consistently kept a clean and safe environment by adhering to all federal, state and local sanitation and safety requirements.
Quickly and courteously resolved all guest problems and complaints while working Front of House.
Properly frosted and decorated cakes, cupcakes, doughnuts, sweet rolls, pastries or cookies for the café on a weekly basis.
Correctly operated all bakery equipment, including ovens, proofers, fryers, scales, and mixers.
Wrote and published three articles in the Culinary Arts Journal.
Baker
Opening shift, baking off all proofed pastries, making muffins, as well as decoration of cakes, and tarts to Champagne standards.
Solely in charge of preparing all fillings, icings, and batters according to Champagne recipes.
Making creme brûlée using Champagne recipes, fill Éclairs, make chocolate dipped strawberries, baking off cookies, apple tarts, jésuites, making, filling, and baking off almond and raspberry almond croissants.
Independently making specialized cake orders and personalized marzipan signs for customers.
Researched, developed, and created new products for our company bakery.
Baker
Checked production schedule to determine variety and quantity of goods to bake.
Proof/bake goods, bag them and print out sale by dates to place on the breads and pastries.
Bake donuts, ice them with different flavors of icing. fill up donut case on time every day.
Utilized a wide variety of ingredients to create fresh and nutritious baked goods from a variety of cuisines.
Participated in the creation of unique entrees that were exhibited at a trade show.
Baker
Worked as a baker measuring, mixing ingredients to make breads, pizzas, pastries and cakes.
Weighed ingredients to ensure correct quantity according to recipes.
Molded dough into appropriate shapes and ensured that the oven temperature was in accordance to type of product being baked.
Ensured correct amount of batches being made according to recipes, placed pans in oven, removed baked goods from oven and decorated them accordingly.
Cooperated with members of the organization to ensure a quality product for daily consumption by our guests.
Baker
As a baker I complete a line clearance to ensure the machine and line is ready to run.
I operate a wire-cut cookie machine and monitor an automated dough feeder line to produce cookies.
During the shift I check the product for weight and quality and record this information every fifteen minutes.
I troubleshoot the machine and some areas of the line if problems arise.
Yearly completed one hundred and fifty (150) man-hours of volunteer work at local soup kitchens, shelters, drug rehabilitation centers, charities, schools & churches.
Baker
Observe color of products being baked, and adjust oven temperatures, humidity, and conveyor speeds accordingly.
Set oven temperatures and place items into hot ovens for baking.
Combine measured ingredients in bowls of mixing, blending, or cooking machinery.
Measure and weigh flour and other ingredients to prepare batters, doughs, fillings, and icings, using scales and graduated containers.
Delivered exceptional customer service to all patrons and employees through promptness, accuracy, courtesy, and efficiency.
Baker
I am employed as a baker, my jobs include wrapping the baked goods, making sweets from scratch, and other tasks depending upon what needs to be done.
Communication skills and teamwork are needed in this environment to get things done in a swift matter.
Costumers arrive on a daily norm for everything ranging to ordering a cake or asking about any goods located in the bakery.
Baked biscuits daily, cookies weekly, and bread daily. Assisted bakers at other bakeries as assigned by managers.
Conformed to the standard of quality for all bread baked in-house; accurately followed ingredient standards and procedures for ingredients, tracking, and storing.
Baker
Bake and prepare all baked goods from scratch: cookies, cakes, pies, dessert bars, and fillings.
Worked with heavy equipment such as: fully equipped floor stand mixers, cookie pressers, and walk-in ovens.
Make from scratch baked goods for the remainder of the week and store in transits for refrigeration.
Observed proper sanitary procedures regarding storage containers, equipment, and cleanliness of the work area; developed a cleaning schedule on a timely basis to maintain high standards in sanitation.
Consistently observed sanitation procedures during all stages of production so that the bakery would be able to produce good quality products on a regular basis.
Baker
A Baker is high volume position that prepares and bakes breads, rolls, breakfast pastries and desserts according to standard recipes.
Prepares and bakes all breakfast pastries, breads, rolls and some desserts for restaurants and banquets.
Maintains adequate supply of all prepared products on hand and ensures the proper storage and refrigeration.
Ensures spoilage and waste are kept to a minimum by ordering and utilizing proper quantities and rotating products.
Baked cakes, cookies, and pies to perfection.
Baker
Responsible for the scones,biscuits,biscotti,quiche,palmier,cinnamon twist and several kinds of mini cookies such as chocolate cookie, thumb print cookie,peanut butter sandwich cookie.
I am also the one who is responsible for all of the prep for all of these cookies and also the prep for the quiche.
Granola bar and other vegan bar such as chocolate dates vegan bar and peanut cherry vegan bar is also included in my responsibility.
Received awards for presentation during evaluation periods.
Prepare creative seasonal displays for customers.
Baker
Primarily prepare donuts and other baked goods for crewmembers to sell throughout the day.
Mainly work in kitchen environments and regularly operate ovens and other equipment as well as handle various utensils.
Keeping work areas, equipment, and dishes clean makes up an important part of baker jobs, as well.
Bakers often work irregular hours to ensure the complete preparation of baked goods before the restaurant opens or becomes busy.
Noted by management as an employee of the month in March 2001.
Baker
Oversaw baker operations and provided assistance for high volume orders as needed.
Developed production methods to maximize efficiency in coordination with staff and management.
Adhered to highest customer service standards for all performed tasks.
Prepared, baked, and sold bread, pastries, and desserts.
Incorporated a variety of ingredients into bread to increase the nutritional value of typical bread.
Wrap Up
You need to make sure your resume stands out amongst the other candidates. It is the first impression that employers have of your work experience and skills. Use the samples above to put together a resume that best suits your needs and helps you get the job you want.