Barbacks serve drinks and food from a bar in a restaurant, club, bar or hotel. Their duties include taking orders for food and drinks, mixing drinks, serving food, cleaning the bar tops and glasses, communicating with customers, providing recommendations for customers. To work as a barback you are not required any degree but you normally are twenty-one years old to serve alcohol. Barbacks must demonstrate quick thinking, communication, interpersonal skills, motivation, confidence, integrity and physical ability.
A good resume is well-written and concise. It should be neat and easy to read, listing previous experience in a logical order.
Our resume samples will provide you with multiple examples of what you can include when writing your resume.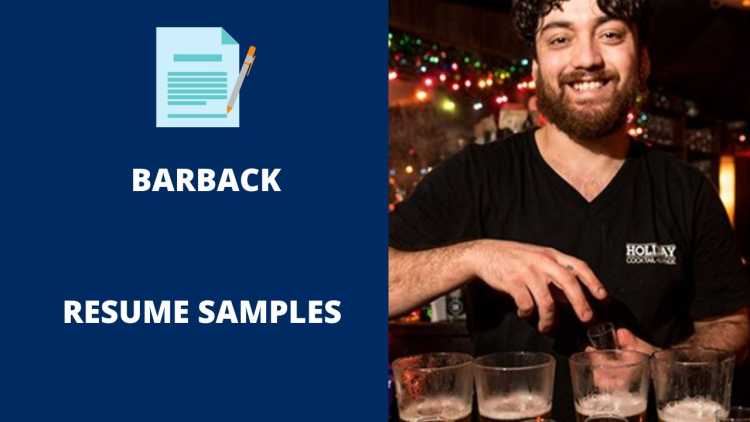 The Best Barback Resume Samples
These are some examples of accomplishments we have handpicked from real Barback resumes for your reference.
Barback
Ensure that the assigned bar area is fully equipt with tools and products needed for serving guests, prepare inventory or purpose requisitions as needed to replenish supplies.
Handle assigned cash bank and follow all cash handling procedures.
Demonstrated thorough knowledge on beverages and promotional events.
Maintain a clean work area by sweeping, vacuuming, dusting, cleaning of glass doors and windows, etc. as needed.
Assisted restaurant management in recognizing and accepting exceptional service.
Barback
Stocked and rotated coolers, maintained liquor room, prepared for the next day's shift.
Consistently collected, washed, sanitized and restocked all glass and barware for repeated bartender use.
Performed general duties such as taking out trash, stocking restrooms, and complying with special requests set forth by management.
Stocked bar with beer, wine, liquor, and related supplies such as ice, glassware, napkins and straws.
Ensured maximum guest satisfaction by providing prompt, friendly, and courteous service at the bar as asked.
Barback
In charge of overseeing and maintaining a goof knowledge of keg room.
Assisting behind bar and helping bartenders continue to serve guests efficiently.
Assisting customers with information of our 99+ varieties of craft and independently own beer, wine and liquor.
Participated in team meetings regarding guest satisfaction issues.
Masterminded "happy hour" sales during evening hours; earned $500 bonus for over 3 months of successful service.
Barback
Assisted bartenders by stocking and restocking the bar with glasses, ice, liquor, and other supplies.
Checked customers ID to make sure they met the legal age requirement.
Put away inventory and maintained the cleanliness of the bar, collecting empty glasses.
Performed chores according to kitchen schedule; acquired a recognition plaque for the highest annual sales volume in the department.
Served drinks, appetizers, and desserts to customers at restaurants, nightclubs, and pubs.
Barback
Taking care of the bar with tasks such as cleaning, refilling beer kegs and replacing beer mugs.
I also replaced fruit and any 20 oz beer the girls might have ran out of.
We kept our beer mugs at 30 degrees or lower so with that in mind you would have to let the mugs sit out a brief time before you put them in the freezer.
Learned each job quickly and demonstrated strong interpersonal skills by maintaining good relationships with both staff and patrons.
Handled a large volume of cash transactions efficiently, accurately counted money accurately, split checks correctly, deposited checks correctly into petty cash account; shown interest in the general ledger.
Barback
Worked my way up to the 2nd name on the schedule meaning i got better shifts for concerts.
I also helped with all inventory which consisted of everything for a full bar.
I was in charge of keeping track of a third of all liquor in the club which was about $7000 worth.
Handled all customer relations and cashier duties; performed nightly beverage service, wine, and liquor inventory, serving at various bars.
Responsible for accurate inventory of wine, liquor, and glassware; equipped with proper supplies of the beverage line.
Barback
Ensured there was always enough backup liquor and run to the storage area to get alcohol if any bartender run out and changed kegs when required.
Picked up empty glasses and bottles from the tables and at the bar (bussed).
Wiped down tables, bar tops and maintained clean rags in each bartender's station.
Achieved award for outstanding customer service; presented with outstanding customer satisfaction award at the annual convention.
Provided efficient service as a barback in a large restaurant during the busy lunch hour.
Barback
Restocking the bar before and after hours, assisting with the glasses and other fresh fruits.
Monitoring the bar during concerts and bar hours to keep violence at a minimum.
Any tasks delegated by the manager or other superior such as, taking the trash out or cleaning the bar up.
Performed tasks such as carrying drinks, opening, and closing bottles, taking orders, and entertaining customers.
Achieved awards for being an outstanding hostess, outstanding bartender, and outstanding waitress.
Barback
I was one of the first employee's at SDL Entertainment and helped to make it into a very successful establishment through great customer service and attention to detail.
We have been very successful and have even opened a second location.
I have established great relationships with our patrons to keep them coming back year after year.
Assisted in the serving of food and drinks in a busy restaurant setting.
Ordered supplies for employees when necessary.
Barback
Maintaining cleanliness in and behind the bar, clearing empty glasses, and cleaning empty tables.
Greeting guests, refilling waters, assisting the bartender with drinks.
Stocking necessary items behind the bar during and after the shift as needed.
Was responsible for cleaning the bar area, including all floors, walls, tables, chairs.
Assisted with maintenance tasks including filling empty water bottles and making ice cubes.
Barback
Kept a well-stocked and organized bar while working in tandem with bartenders to ensure quick, communicative, and quality service.
Stocked and rotated kegs, maintained liquor room, prepared bar for the next day's shift.
Prepared mixed drinks, cocktails, and beer serving a local customer base in a fast-paced, high-volume, team-oriented environment.
Strong family values are practiced at our establishment. A strong positive impact on customers and staff added to the great atmosphere of our bar.
Worked hard to develop a personal rapport with customers and associates.
Barback
Supervised a team of 5 personnel, delegated tasks and assigned teammates to specific duties.
Trained 5 individuals for over 160 hours that led to increased teamwork collaboration and minimized manning issues.
Directed the process of cleaning, ensured the correct positioning of equipment, proper use and operation of machines.
Assisted in all types of cleaning and trained the entire team to complete all tasks in half the duration time.
Received exceptional service award from a coworker.
Wrap Up
You need to make sure your resume stands out amongst the other candidates. It is the first impression that employers have of your work experience and skills. Use the samples above to put together a resume that best suits your needs and helps you get the job you want.