IT Support Technicians provide technical support for an organization's computer systems. Their duties include diagnosing hardware and software problems, installing operating systems, testing systems for potential security issues, creating back-ups of important files, setting up email clients, troubleshooting printers, configuring printers to connect to wireless networks, training employees on new technology products or programs, updating an organization's software applications with the latest updates and patches. To become an IT Support Technician you must have a minimum of 2 years of experience in an IT customer service role working with both individual users and company-wide technology issues. You must possess strong communication skills (verbal and written), problem-solving abilities, and good analytical/critical thinking skills.
A good resume is well-written and concise. It should be neat and easy to read, listing previous experience in a logical order.
Our resume samples will provide you with multiple examples of what you can include when writing your resume.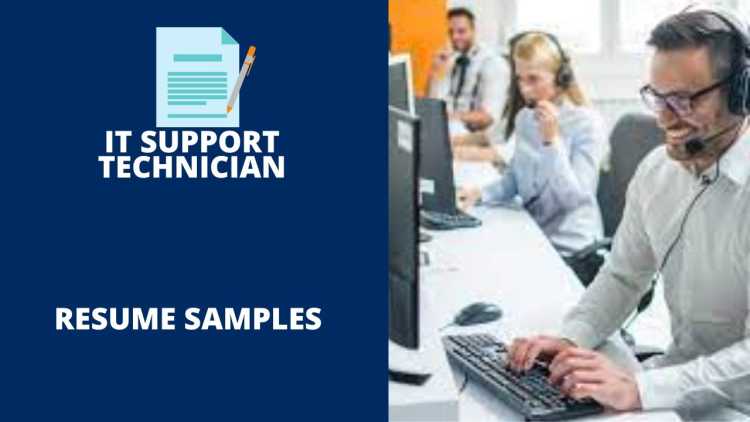 The Best IT Support Technician Resume Samples
These are some examples of accomplishments we have handpicked from real IT Support Technician resumes for your reference.
IT Support Technician
Setup networks and IP camera systems with local and remote access for security and employee monitoring.
Built PCs for use in both Home and Office environments and provided support for problems with the various hardware configurations.
Enabled the setup of various devices (desktop, server and mobile) running various OSes (Windows client and server, Linux, Apple, ChromeOS, Android and iOS) for use in production environments.
Followed up with support to various problems both local and remotely.
Installed and provided support for virtual test environments (vmware and virtualbox) used in IT training schools.
IT Support Technician
Installation and support of hardware, software, peripheral equipment and cabling.
Installations, maintenance and troubleshooting of security monitors and camera systems, telephones and printers.
User support for computer systems and software to investigate and resolve problems, email issues, viruses & passwords.
Maintain daily performance of computer systems and servers and system backups.
Confer with staff, users and management to establish requirements for new systems or modification.
IT Support Technician
Provided tier 1 desktop support via phone, email, and remote connection to over 300 employees in 7 offices.
Handle the tasks of creating and maintaining user accounts, printer configurations, and security rights.
Installed operating systems, software, antiviruses and patches.
Maintained entire inventory of on site and remote equipment using SysAid.
Installed and maintained a network infrastructure for fifty users, providing technical support and training to ensure system efficiency.
IT Support Technician
Set up/support presentations and video calls for meetings or trainings with zoom/join me.
Set up TVs around the office for event or presentations through the network.
Keep track of all maintenance performed by providers to equipment under warranty.
Taught new employees to use software programs, increasing productivity in work areas.
Coordinated installation of all hardware upgrades for equipment in a two-year period.
IT Support Technician
Provided technical support to day-to-day IT needs including troubleshooting, diagnosing problems and initiating corrective actions in a MS Windows environment.
Required to be on-call during off-hours to provide phone support with the diagnosis of technical issues for colleagues.
Tasked with configuring, testing, and troubleshooting wireless network issues with Net gear wireless routers.
Redirected database information from outdated systems to a new database, creating accurate and current records.
Researched the latest technology for specifications, providing recommendations for upgrading equipment.
IT Support Technician
First line of defense and responsible for fixing any technical issues.
Monitors ticket queues for incidents and change requests and maintains documentation of all activities in support of the ticket.
Configuring and troubleshooting any issue with Citrix and other peripherals virtual machine.
Troubleshooting and fix issue with Microsoft Office Suite, Outlooks, Office 365 and calendar applications.
Determine the quickest, most effective means of resolving an issue and communicate with staff, clients, and vendors according to guidelines.
IT Support Technician
Event staff for large fundraising charity events that include Galas, Dinners and Sports Events.
Provided support for event guests with step by step instructions on using our software and devices.
Setting up secure Wi-Fi networks, remote access and wire connectivity before the start of events.
Communication with clients before, during and after events, face to face, email and phone.
Worked effectively within the framework of a manager/supervisor role to resolve problems from start to finish.
IT Support Technician
Configured and updated a Cisco 3560G Switch to be used as an imaging workstation.
Assisted with migration of Exchange to Office 365 by identifying mailboxes to be migrated and software to be updated.
Deployed images for laptops by creating OSD task sequences in SCCM 2016.
Troubleshoot virtual machines by using VMWare vSphere to restart VM's, monitor CPU usage, and check event logs.
Provided assistance to groups of users ranging from 5-to 15 individuals in resolving common computer issues.
IT Support Technician
Installed software, modified and repaired hardware and resolved network issues.
Properly backed up and restored data, operating systems, files, documents and drivers.
Set up equipment for 20 employees, including cabling and installing operating systems.
Resolved client issues in a clear, courteous and straightforward manner.
Completely revamped existing workflow system in pursuit of success ratio.
IT Support Technician
Corporate client (current position) – desktop support technician for a large investment group.
Sole onsite technician for a two-building site, remote support for other locations through Bomgar and Remote Desktop.
Active Directory support-password resets, unlocking accounts, etc.
Documented issues with hardware and software, researched issues, and solved problems for over 300 users.
Mounted a network using Windows Server 2003, Microsoft Exchange Server 2003 for over 200 users; instructed subordinates on use of the network.
IT Support Technician
Assisted in the configuration and rollout of Active Directory to meet security compliance standards set by our clients.
Configured and deployed automated backup system to all corporate machines.
Helped coordinate teardown and redeployment of office infrastructure, as well as configuration of new conference rooms and offices.
Troubleshoot router and switch issues with the helpdesk to ensure faultless operation of the network; answered questions from helpdesk personnel.
Serviced render farms to maintain 100% uptime in a data center consisting of Dell and HP servers; trained employees on workings of render farm.
IT Support Technician
Analyzing hardware and software problems causing operational delays in order to successfully identify and resolve the cause of service interruptions.
Extending the service life of legacy systems with minimal increase in overhead and negative impact on users.
Reacting to increased in-house support of out-of-warranty systems by improving inventory controls, increasing staff training and available workspace.
Performed diagnostics and troubleshooting of system issues, documented help desk tickets/resolutions, and maintained equipment inventory lists.
Qualified for a technician role by completing minimum training.
Wrap Up
You need to make sure your resume stands out amongst the other candidates. It is the first impression that employers have of your work experience and skills. Use the samples above to put together a resume that best suits your needs and helps you get the job you want.