Accountant Assistants handle basic accounting tasks. Their duties include: writing reports, preparing financial records, creating financial documents, money management, assisting with budgets, preparing bank reconciliations, and performing office administration tasks. At least a high school diploma is needed. Accountant Assistants must have strong communication, analytical, and numerical skills, and be able to enter data. They must be self-motivated, efficient, and accurate.
A good resume is well-written and concise. It should be neat and easy to read, listing previous experience in a logical order.
Our resume samples will provide you with multiple examples of what you can include when writing your resume.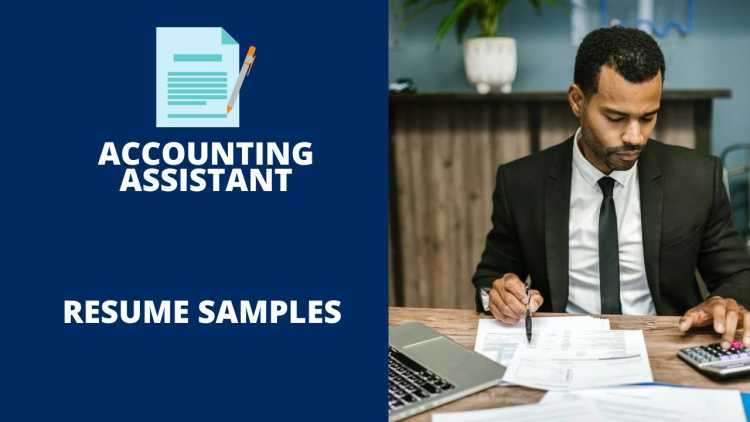 The Best Accounting Assistant Resume Samples
These are some examples of accomplishments we have handpicked from real Accounting Assistant resumes for your reference.
Accounting Assistant
Assisted with daily routine accounting affairs to ensure all data was accurately input and analyzed.
Developed monthly closing statements and developed policies and procedures to improve the efficiency of accounts receivable, accounts payable, and other accounting functions.
Produced financial statements to illustrate the financial situations and business performances of each department, permitting accurate internal analysis and business optimization.
Effectively performed daily financial accounting and financial cost control functions.
Analyzed and interpreted complex data and provided detailed financial reporting for the executive team.
Accounting Assistant
Managed accounting operations, accounting close, account reporting and reconciliations for one of the top insurance companies in the country.
Performed debit, credit and total accounts on computers spreadsheets/database, using specialized accounting software.
Administered receipt, recording, and banking of cash, checks, and vouchers.
Quickly and accurately reconciled company bank accounts. Trained new employees, including junior bookkeeper, in preparation for CPA firm's regulatory audit.
Performed all accounting duties as a stand-in for official auditors and as member of IRS-certified tax preparation team.
Accounting Assistant
Set up new accounts in general leger; reconcile selected accounts; write journal entries for reclassification of expenses as needed; prepare and insure timely billing and receipt of payment.
Updating and maintaining accounting journals, ledgers and other records detailing financial business transactions (e.g., disbursements, receipts, accounts payable).
Handle all of the accounting needs of the companies, including the preparation of financial statements, quarterly and monthly taxes, year-end tax returns.
Exceeded annual sales goals by 50%.
Achieved full knowledge of the accounting software package within three weeks.
Accounting Assistant
Composed effective accounting reports summarizing accounts payable data.
Monitored payments due from clients and promptly contacted clients with past due payments.
Balanced monthly general ledger accounts to accurately record cost and month end accruals.
Coded and entered at least 20 invoices each day into the in-house accounting software.
Supervised invoice processing, purchase orders, expense reports, credit memos and payment transactions.
Accounting Assistant
Record daily sales transactions so they could be traced and verified in accounting system.
Performed accounts payable function for restaurant expenses.
Review and reconcile budget variances in actual versus projected revenue and expenditures.
Managed relationship with suppliers and vendors regarding open purchases and orders.
Recruited to perform duties of an accountant due to high performance and knowledgeability in cross-training.
Accounting Assistant
Created invoices, issued credit memo, received payments in QuickBooks and monitored monthly open balance.
Managed bills with vendors, verified transactions for agents and posted transactions in QuickBooks.
Recorded bank transactions, reconciled monthly bank and credit card statements.
Collaborated with other departments, confirmed bill and payments, prepared payment and handled issues with vendors and customers.
Educated team members on customer service standards, customer privacy policy, and employee rights.
Accounting Assistant
Checked data input or verify totals on forms prepared by others to detect errors in data entry, and procedures.
Interview clients to obtain additional information on taxable income and deductible expenses, and allowances.
Review financial records such as income statements and documentation of expenditures in order to determine forms needed to prepare tax returns.
Prepared and assist in preparing simple to complex tax returns for individuals or small businesses.
Developed intra-office purchasing procedures for same day ordering to ensure customer satisfaction was achieved with fast delivery of product.
Accounting Assistant
Managed account receivable, including invoicing, cash applying customer payments and weekly reporting.
Took care of accounts payable, including processing vendor invoices and weekly reporting.
Reconciled financial discrepancies by collecting and analyzing account information.
Realized that data files did not include new enterprise software package information; researched required information and documented the information into a downloadable manual accessible via the internet.
Assisted in the preparation of corporate reports, spreadsheets, and budgets.
Accounting Assistant
Prepared, clear and concise audit work papers for internal and external auditors.
Interacted with external auditors to provide procedures and effectiveness of an evolving internal controls company.
Performed bank reconciliations, process journal entries, refunds and checks voids monthly.
Created schedules, and expedited payment to clients, resurgent and remit accounts.
Posted payments daily from seven states of debtors and clients, and ensure payments were posted in the correct account and state.
Accounting Assistant
Responsible for tracking the customers' open invoices base on the terms, and track all transactions of bank account.
Schedule and prepare all payments and expenditures, like statements, checks, and payroll.
Conduct all accounts receivable, like receiving the check from customers, and organize the petit cash.
Prepared and managed monthly and quarterly reports.
Converted raw data into formatted reports.
Accounting Assistant
Created checks in Quickbooks for expense incurred within the company and mail out to appropriate vendors.
Ordered and distributed office supplies while adhering to a fixed office budget.
Receive phone calls and answers questions and/or resolve issues of managers/vendors/employees /colleagues.
Enter bank deposits, match amounts with the closing report and highlight the amount received in the Sales Journal.
Drafted reports, spreadsheets, budgets, letters, and final statements for closure.
Accounting Assistant
Manually enter large quantities of financial transactions in both QuickBooks and Excel.
Input & verify that fees and credits have been applied accurately to individual farmer accounts.
Review daily market reports and enter pertinent data into the database.
Assisted as needed on various additional tasks including data entry & reporting, year-end close, and annual financial audit.
Completed 8-hour introductory course in computerized accounting to function as a fully effective and productive member of the accounting department.
Wrap Up
You need to make sure your resume stands out amongst the other candidates. It is the first impression that employers have of your work experience and skills. Use the samples above to put together a resume that best suits your needs and helps you get the job you want.