Accounting managers coordinate activities for an entire organization's accounting function. Their duties include evaluating the work of their subordinates, developing policies and procedures to follow, setting standards to achieve company goals, analyzing results, providing guidance and direction for others, hiring new employees, training staff members, coordinating payroll activities including benefits administration, maintaining relationships with clients and vendors, preparing budgets, making financial forecasts, balancing cash flows, monitoring departmental spending, reviewing reports generated by accountants in their team or other teams within the organization, checking documents for accuracy, filing documents with tax authorities as needed, drafting contracts dealing with finance issues between organizations.
A good resume is well-written and concise. It should be neat and easy to read, listing previous experience in a logical order.
Our resume samples will provide you with multiple examples of what you can include when writing your resume.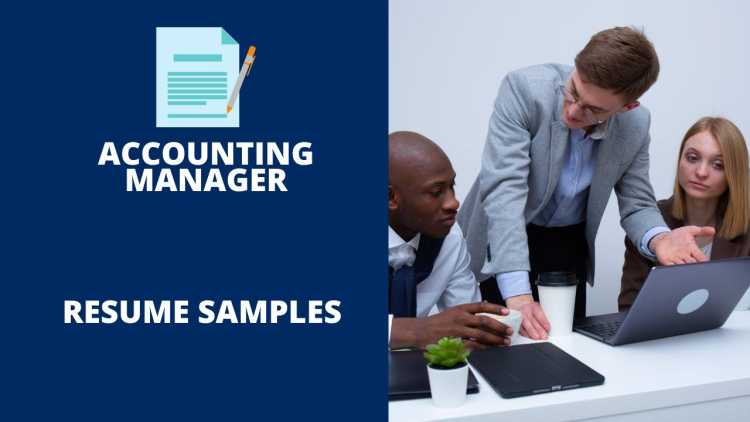 The Best Accounting Manager Resume Samples
These are some examples of accomplishments we have handpicked from real Accounting Manager resumes for your reference.
Accounting Manager
Performed Accounting monthly / quarterly / yearly close, account reporting and reconciliations, record fixed assets and amortizations.
Prepared financial statements – balance sheet reconciliation, income statement, profit & loss, net & marginal profit report.
Budgeting and forecasting: undertaking effective budgeting, clearly evaluating performance, and efficiently managing costs and assets.
Documented and directed all fiscal aspects of operations for a $5 million industry-leading semiconductor manufacturer.
Located, recommended, and allocated monies to resolve cash flow issues.
Accounting Manager
Performed accounts receivable, accounts payable of over $10 million in Sales for The Sliding Door (7 showrooms), job costing accounting, and work on the month end close.
Prepared GL entries, reconciled bank statements, conducted monthly and quarterly financial reports for owners. Worked with CPA for year-end financials and tax returns.
Post payments, resolved payment discrepancies, as well as follow-up on past due payments to achieve the goal of below 5% outstanding payment.
Reviewed property tax payments, reviewed sales tax returns in 5 States, cost calculations and other tax related work.
Managed all aspects of financial reporting and analysis; generated audit plans, pre-audit reports, and profit and loss statements.
Accounting Manager
Managed accounting processes and ensured compliance to new and existing processes.
Prepared financial statements for company such as cash flow reports and profit and loss statements and Balance sheet.
Coordinated with different department and prepared monthly journal entries and documented business transactions.
Branded each department to quantify financial effectiveness; fulfilled responsibilities under Bank's profit/loss personnel policies.
Achieved award for developing a system to support the continuous improvement process for the Accountant's Department in accordance with the Bank's corporate goals.
Accounting Manager
Oversee month end close process to provide executives with timely, accurate financial statements.
Led monthly meetings with administrators and executives reviewing financials explaining variance from budget.
Prepared and analyze quarterly consolidating balance sheet, profit and loss, and cash flow.
Implemented account reconciliation and journal entry approval process.
Review monthly account reconciliations between subsidiary ledger and general ledger.
Accounting Manager
Monitor client unfunded commitments and Investment Unfunded Commitment review and approve capital calls.
Review distribution analysis and notices to investors based on proceeds received from the underlying funds.
Managed the funds' cash balances to determine the need for capital calls, distributions.
Prepared, reviewed and maintained all financial records for the accounting department.
Performed monthly reconciliations, performed quarterly audits and numerous special projects.
Accounting Manager
Led and develop two trade accounting departments (Metals and Living Essentials).
Prepared annual budgets for both departments with total sales of $1 billion, and present to the company President and senior management.
Produce monthly and quarterly accounts for consolidation according to both GAAP and IFRS.
Supervised small staff of two accounting staff to accomplish goals in a timely manner.
Responsible for the completion of 1-1/2 million dollars in invoices per quarter.
Accounting Manager
Reconcile complex fixed accounts and provide reports to upper management regarding significant expenditure fluctuation.
Provided support for accountants and external department in general accounting related areas and resolve financial variances.
Review and analyze guest general ledger accounts and city ledger accounts on a monthly, quarterly and annual basis.
Responsible for 10+ employees; managed staff to meet company goals regarding payroll, taxes, and reporting.
Created projects, designed systems and reports, trained employees; handled large amounts of confidential information.
Accounting Manager
Responsible for the daily management of accounts payable and accounts receivable, including: payroll processing for 100+ employees for 16 property locations.
Prepared monthly bank reconciliations: month-end financials statements including designing and maintaining access databases for operations.
Prepared and entered the corresponding general ledger journal entries and monthly accruals.
Assisted property managers with developing long-term relationships with clients as well as communicate regularly with the company controller to ensure timeliness and accuracy according to objectives.
Analyzed, charted and balanced all cash flow statements, balance sheets and income statements with the exception of VAT.
Accounting Manager
Oversee the daily accounting and treasury functions of a consulting company and a risk purchasing group.
Prepared monthly reports for parent company including income statement, balance sheet, cash flow and actual versus budget variance analysis.
Supervise the accounts receivable and accounts payable functions of the company.
Prepared and submitted quarterly financial reports to the CEO's office to ensure compliance with the company's policies.
Researched, analyzed, summarized and explained financial information to clients.
Accounting Manager
Managed the daily operations of the Accounting Department – A/P, A/R, and Collections including intercompany billings with parent company.
Responsible for monthly reporting package to senior management, including account reconciliations and analytical review of results using Deltek software.
Responsible for issuing the financial reporting package to the parent company that includes the review of all intercompany entries and fee eliminations transactions.
Maintained computerized accounting records in accordance with established standards of accounting principles.
Brought together accounting, budgeting and control departments for a total integrated approach to management areas at KAFR (Kuwait Air Force).
Accounting Manager
Started in the company as a Night Auditor, transfered as a AP manager, then promoted to Asst Director of Finance.
Task forced and trained on AP module at various properties during management contract takeovers.
Proficient in Accounts Payable – three way match, AP payments, statement reconciliation , 1099 preparation.
Ensured all accounting functions operated within company guidelines and local, state, and federal regulations.
Identified cash flow problems and adjusted forecasting procedures to conquer those problems.
Accounting Manager
Review and reconciliation of balance sheet, general ledger, accounts receivables and accounts payables.
Review and coding of invoices, road checks, cash receipts, p-card transactions and expenses.
Responsible for monthly accounting entries in general ledger including accruals, invoicing, petty cash, T&E, Corporate credit cards, royalties and insurance.
Paid all bills on time, with the exception of reimbursement for the cost of a trip home to see a sick relative.
Maintained AAA rated investment portfolio by using my own money, conservative investing recommendations from my superiors, and a steady supply of company funding.
Wrap Up
You need to make sure your resume stands out amongst the other candidates. It is the first impression that employers have of your work experience and skills. Use the samples above to put together a resume that best suits your needs and helps you get the job you want.