Emergency medical technicians (EMT's) care for injured people during emergencies. They travel to emergency scenes, perform emergency medical procedures, administer medicine, transport patients to hospitals, communicate with doctors, and work with police and firefighters. This position requires a high school diploma or equivalent, a certificate from a postsecondary education program, and a state issued license. According to the Bureau of Labor Statistics, EMT's must have compassion and physical strength, as well as interpersonal, listening, speaking, stress management, and problem-solving skills.
A good resume is well-written and concise. It should be neat and easy to read, listing previous experience in a logical order.
Our resume samples will provide you with multiple examples of what you can include when writing your resume.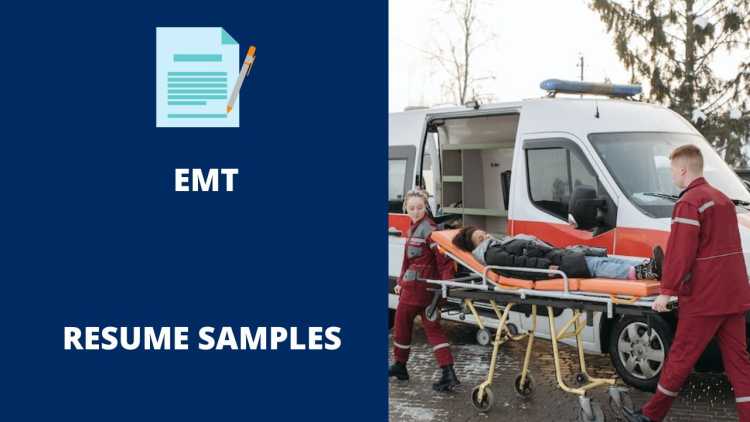 The Best EMT Resume Samples
These are some examples of accomplishments we have handpicked from real EMT resumes for your reference.
EMT-Basic
Performed daily cleaning with infection control and stocked the ambulance.
Provided patient care in emergency and transport situations.
Operated the ambulance using knowledge of safe emergency vehicle operations/emergency egress operations and other state and federal rules and regulations.
Delivered 911 calls in an area where I live and work.
Completed training on medications and conditions, and handled a patient's situation with professionalism.
EMT
The works that are planned to be performed inside confined space are clearly described, including the work schedule.
Contents of the confined space are clearly identified.
Preparation works have been completed, including removal and clean up of chemicals from the confined space.
All aspects of safety measures have been discussed and identified.
Name of entrants, attendants, supervisors and rescue team have been determined.
EMT-B
Provided life support services during emergencies on scene and on route to the hospital.
Maintain a state of readiness and alertness at all times.
Collect pertinent information from the patient, family,and medical records.
Researched storyboards for TV specials.
Directed traffic during multi-car motor accidents while evaluating injuries.
EMT-Basic
Conducting medical transportation for major hospitals.
Both as the driver and caretaker of patient in the ambulance.
Worked closely with dispatch, nursing staff, law enforcement and fire personnel to respond to situations accordingly and efficiently.
Commented on sports with members of the community by asking appropriate questions as a part of primary care cases.
Conducted health screenings in the community, educated others regarding preventative measures, and lead other ambulance personnel to understand the need for proper CPR.
Emergency Medical Technician
Assisted nurses in the preoperative setting by prepping patients for scheduled surgeries.
Obtain vital signs, assist in wardrobe changing, interview patients and obtain proper consents.
Transport patient into the OR and assist in prepping the patient once moved onto the OR bed.
Responded to over 1,000 emergency calls.
Assisted in treating over 200 individuals over the age of 60 from tripping/fainting, fainting, shock, and internal bleeding.
EMT
I work for a private ambulance company as an Emergency Medical Technician (EMT), a health care professional, initially assessing the condition of patients to determine the necessary course of action.
This could include transporting ill, injured and non-ambulatory patients.
I assist with loading and unloading patients from the ambulance (requiring me to stay physically fit) and administer first aid.
Initiated CPR on five patients (2 males, 3 females) and provided first aid for 15 others.
Assisted in treating 8 individuals for burns/heat stress; five with smoke inhalation and one with carbon monoxide poisoning.
EMT
Assess patient conditions through physical and verbal exams, and document findings accurately.
Interpret limited histories and use physical assessments to assist medic identify potential underlying critical issues.
Monitor patients for changes and revise interventions accordingly.
Keep vehicles ready for calls by cleaning them and keeping medical supplies stocked.
Affiliated with the Orlando Fire Rescue Organization as a paramedic trainer in the first year of its existence; initiated training sessions for new paramedics from other city fire departments.
EMT-Basic
Maintained a state of readiness and alertness for all assignments.Collected pertinent information from the patient, family and friends, medical records and prescriptions.
Initiated plans of care based on patient assessments.
Operated and maintained emergency vehicles in a safe, efficient manner while obeying all traffic laws.
Completed all mandatory education and training classes. Interacted with patients, families, hospital staff and the general public.
Was certified by MD Health Care Corporation to teach EMS courses at courses sponsored by the US Navy and Marine Corps.
Emergency Medical Technician
Rapidly assess whether life threatening criteria was present and took immediate action.
Maintain current knowledge of treatment protocols and response requirements.
Interact with patient's families' hospital staff and the general public.
Respond to dispatched emergency assignments quickly and safely.
CPR, AED, and first aid resuscitation skills.
Emergency Medical Technician
Safely transporting patients, including bariatric, pediatric, and severe trauma patients to hospitals.
Providing first aid care for patients in non-life-threatening situations and recommending a suitable referral location to meet their specific needs.
Providing incident reports of daily calls out on the field and maintain daily activity logs.
Knowledge of basic first aid and IV equipment.
Learned to evaluate and treat allergic reactions to medications or medications in general including epinephrine.
Emergency Medical Technician
Preformed over 100 medical assessment on all ages ranging from 9 years old to 97 years old.
Applied and discontinued over 50 heart monitors, 3 leads and 12 leads.
Assisted in over 100 ALS calls insuring the medic had all appropriate tools necessary to do their job.
Preformed over 200 sets of vitals to ensure patients were within the normal ranges to ensure quality care.
Swapped information about allergies for information about infections and the commonly occurring infections for cross-contamination.
EMT-B
Worked as a team to ensure patients receive proper care and treatment.
Managed simple and multiple system trauma emergency care. Manage patients, family, and bystanders in a professional manner.
Assess and provide general medical care for patients on scene and during transport within my scope of care for all state, regional, and local agencies.
Wrote a book on Caring for People with Diabetes; contributed articles to the local newspaper, participated in local hospital outreach programs, spoke at events such as schools and adult education classes; asked questions when necessary.
Used training and developed knowledge of first aid, electrocardiography, AEDs, ACLS, BLS, and other advanced life support techniques and equipment.
Wrap Up
You need to make sure your resume stands out amongst the other candidates. It is the first impression that employers have of your work experience and skills. Use the samples above to put together a resume that best suits your needs and helps you get the job you want.