A secretary provides clerical and office management functions to an organization. They are responsible for coordinating calendars, scheduling meetings, setting up meeting spaces, answering phones, filing documents and booking travel. There are no specific educational requirements for secretaries. Successful secretaries have skills such as time management, interpersonal communication, organization, data entry, computer applications, phone etiquette and discretion.
A good resume is well-written and concise. It should be neat and easy to read, listing previous experience in a logical order.
Our resume samples will provide you with multiple examples of what you can include when writing your resume.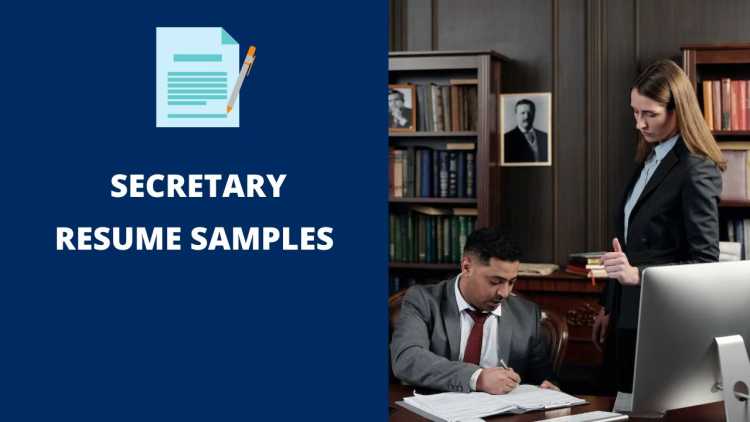 The Best Secretary Resume Samples
These are some examples of accomplishments we have handpicked from real Secretary resumes for your reference.
Secretary
I take part in many events that occur in my community with the time I spend with the Junior Optimist.
I enjoy volunteer work and I try to be involved as much as possible.
My position as Secretary of the Junior Optimist includes skills such as keeping records of meeting we have and being responsible for member contact communication.
Secretary to the CEO (Director of Sales).
Expert in managing and maintaining a highly active email mailbox with over 1,000 messages.
Secretary
Assistant and secretary to the pastors and leaders of a 500-member church.
Communication and planning of church fundraising events calendar and office management including answering phone calls, customer service and handling office mail.
Aid in the logistics of programming community events serving low-income families in the surrounding area.
Highly knowledgeable of Word, Excel, PowerPoint, Outlook & Google Apps for Business. Demonstrated knowledge of Cloud Computing and its relevance for business continuity.
Senior member of the team that grew revenue from $800K to $1.2B within a three-year period through sales processing for direct and indirect revenue sources.
Secretary
I provided professional support to department/central office staff by serving as a resource person, participated in departmental meetings, workshops and projects, and collaborated with and supported other secretaries in my office and assisted with their responsibilities during absences.
I facilitated the coordination of workshops and other training.
I prepared handouts for physicians and made arrangements with caterers, coordinated room set-up, and arranged for audio visual equipment, etc.
Enhanced executive relationships by utilizing interpersonal skills; developed self as a leading contributor by creating self-study groups through study clubs and online communities using emerging technologies such as LinkedIn.
Researched and analyzed top five companies exhibiting corporate responsibility; drafted plan of action and presented it to the senior management team.
Secretary
Collaborated with other cabinet members to plan weekly events.
Represented the organization to increase public relations within the community.
Helped establish and deliver the mission and goals of the organization.
Created weekly agenda and minutes, sent out mass text messages and weekly email updates to alumni.
Developed transition plan for the transition of operations from a manual to an automated system; established time-saving workflow procedures.
Secretary
Generate quarterly audit reports to include hospital-specific patient charts, expense reports for nurses and doctors, and credentialing for nurses.
Properly utilize MS Office, Google, and other web-based applications to created forms, charts, notices, and correspondences.
Performed clerical duties including, but not limited to, answering phone calls, setting up meetings, assisting management in creating effective office procedures, greeting clients, and notifying staff of visitors.
Worked closely with approximately 200 team members on productivity, profitability, and customer service goals; quarterly contests rewarded outstanding team members for their success.
Educated people about products, policies, procedures and activities related to office life. Introduced new software applications to save time, increase productivity, and improve effectiveness of staff.
Secretary
Responsible for maintaining the firm's heavy calendar, scheduling meetings, conferences, appointments and coordinating activities. Scheduling and prepping for deposition, including prepping conference room, placing catering orders as needed.
Taking and distributing staff meeting notes.
Tracking client's payment plans and billing them as necessary.
Providing weekly reports to the partners of our active client's list, payment plans and ensuring all information is up to date.
Listened attentively to the needs and desires of my manager and coworkers; recognized opportunities for streamlining business processes.
Secretary
Organize and maintain law libraries, documents, and case files.
Make photocopies of correspondence, documents, and other printed matter.
Assisted attorneys in collecting information such as employment, medical, and other records.
Created weekly workflow schedules for ten members of our office to become more efficient.
Determined ways to accurately record and process daily transactions with minimal error; developed a quota system for accounting work.
Secretary
Complete daily office duties including answering phone calls, filing and scanning student paperwork, and attend to walk in clients.
Assisted students, parents, and faculty with questions regarding class courses, class registration, and scholarship opportunities.
Use Microsoft Office frequently to update tutor and visitor logs, campus flyers, and file labels.
Kept meeting rooms well-stocked, along with the entire office area; used good judgment in ordering supplies from wholesalers at discount.
Identified new sources of revenue by consulting corporate clients regarding the potential use of their products, then negotiated agreements on behalf of my employer.
Secretary
Answered and managed incoming and outgoing calls while recording accurate messages.
Opened and properly distributed incoming mail.
Greeted numerous visitors, including VIPs, vendors and interview candidates.
Established and maintained a successful daily work environment.
Stood up to harassing phone calls; motivated a diverse staff of over 100; and handled heavy workload without complaint.
Secretary
Assisted in the preparation of financial statements in compliance with official guidelines and requirements.
Managed journal entries, invoices etc. and reconcile accounts for the monthly or annual closing.
Utilized accounting IT system to facilitate processes and maintain records.
Answer telephones and give information to callers, take messages, or transfer calls to appropriate individuals.
Facilitated the introduction of an administrative assistant training program for new employees.
Secretary
Answer a multiple-line phone; direct phone calls to appropriate staff, answer questions/provide information, take messages.
Answer a multiple-line phone; direct phone calls to appropriate staff, answer questions/provide information, take messages, etc.
Schedule appointments, meetings, etc. when needed.
Provided secretarial support for the Huntsville Center such as filing, organizing, etc.
Handled personal errands; faxed outgoing documents, telephoned customers inquiring about service, and reviewed letterhead stationery.
Secretary
Greet all visitors, potential customers, and current customers. Answer incoming calls and make outgoing calls as needed.
Ensure all employees are on task and provide assistance to complete weekly tasks.
Obtain weekly payments, make sure all accounts were balanced and make deposits.
Demonstrated proficiency in Microsoft Office Suite products.
Proofread, edited, and proofread again, thousands of pages of correspondence.
Wrap Up
You need to make sure your resume stands out amongst the other candidates. It is the first impression that employers have of your work experience and skills. Use the samples above to put together a resume that best suits your needs and helps you get the job you want.