Private Tutors provide one on one instruction in a specific area that someone requires knowledge. Their duties include teaching, creating a curriculum, testing the student, providing their expertise and knowledge and giving feedback. To work as a private tutor you need to have expertise in what you are teaching and some have bachelor's or master's degrees in the field they are teaching. Private Tutors must demonstrate the ability to teach, patience, passion, common sense, expertise in their field, good communication skills and good hygiene.
A good resume is well-written and concise. It should be neat and easy to read, listing previous experience in a logical order.
Our resume samples will provide you with multiple examples of what you can include when writing your resume.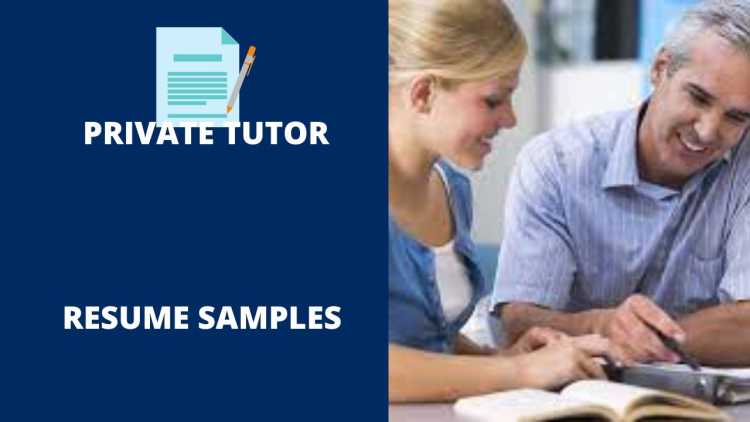 The Best Private Tutor Resume Samples
These are some examples of accomplishments we have handpicked from real Private Tutor resumes for your reference.
Private Tutor
Prepared lesson plans for High School students for Physics, Pre-Calculus Regents and SAT exams.
Emphasized the core fundamentals of the subject and motivated the students for critical thinking.
Prepared students by conducting preparatory exams for the subjects.
Trained 35 students in mathematics, science, and interpersonal communication.
Recognized for outstanding teaching skills; received a select number of invitations from the district principal to conduct educational seminars at the high school level.
Private Tutor
Plan and develop content that directly maps back to Common Core State Standards.
Devise and organize teaching materials, lesson plans, learning modules and activities.
Monitor and assess performance while determining areas of improvement.
Identify and modify resources to meet diverse needs and literacy levels.
Kept up with updated research in education, counseling psychology, and counseling methods; provided intellectual stimulation and guidance to over 20 of my students.
Private Tutor
Tutor in Pre-Algebra, Algebra I and II, Living Environment, A.P Biology, A.P Chemistry, College Statistics.
Use visual aids, worksheets, molecular kit, anatomical models and posters, progress reports.
Implement CVP and an orderly dynamic approach to engage students.
Encouraged time management, organization, topic exploration with practical applications.
Statistical analyses reveal students had at least increased 11.3% in scores, 15.6% in confidence.
Private Tutor
Strengthen student skills and customize learning materials to address their specific needs in multiple academic areas.
Use student outcomes analysis as a baseline for continuous improvement.
Maintain an ongoing dialogue with parents (emails and phone calls) to keep them fully apprised of students' performance on a real-time basis.
Recognize student struggles and take time to nurture and develop their skills, while building self-esteem and confidence.
Developed a new tutoring curriculum to meet the challenges of the new standardized social studies test; designed a strategy to pass it on my first attempt.
Private Tutor
Created customized learning methodologies for prodigy students in college level Logic, Proof Writing, Basic Real Analysis, Trigonometry, and Chemistry.
Instructed high school honor students in Physics, Algebra II, Trigonometry, Pre-Calculus and Calculus.
Instructed students age 8-14 in all subjects, with a specialization in mathematics.
Presented an exciting and innovative approach for learning grammar and punctuation skills by applying its rules in real-world situations.
Educated, stimulated, and supported over 400 young students of all ages in mathematics, reading, writing, and foreign language.
Private Tutor
Highly experienced private tutor with diverse subject expertise and test prep pedigree.
Develop and implement comprehensive lesson tailored to students' needs identified by statistical analysis of timed responses to discern content deficiencies.
Specialized in SAT, ACT, GED, Wonderlic, and AP subject test prep aimed at improving percentile ranking to increase competitiveness for college admission to elite universities.
Assisted one student with overcoming a learning disability by identifying the problem; parent was satisfied with grades after my suggestions.
Trained to the full completion of the program from White to Black Belt in one-half of time without the aid of a master instructor or closed-door training in martial arts.
Private Tutor
Tutored at least 5-10 students per week and on average, tutored at minimum 20 hours a week.
Classes taught include, but not limited to: functional and organismal biology, general chemistry, college algebra up to linear algebra, and differential equations.
Often had returning students request me to teach them for more advanced courses in the following semesters.
Fostered interpersonal skills and knowledge of international business during six months of travel across eleven nations as an English teacher for an English as a Second Language Program.
Facilitated a learning environment for several adult and child students by advising and encouraging them to achieve their academic goals.
Private Tutor
Average a 20% score increase on test scores by using strategies and techniques I have developed.
Assisted students with preparation of applications, including revision of Personal Statements and Addenda.
Consistently receive excellent evaluations from students.
Achieved recognition for outstanding private tutoring; referred several paying customers to my tutoring services.
Enjoyed reputation and success as a professional private tutor; recalled fondly by my former clients.
Private Tutor
Tutored at least 5-10 students per week and on average, tutored at minimum 20 hours a week.
Classes taught include, but not limited to: functional and organismal biology, general chemistry, college algebra up to linear algebra, and differential equations.
Often had returning students request me to teach them for more advanced courses in the following semesters.
Was awarded cost-free tutoring lessons; gained referrals through marketing, classified postings, flyers, and word of mouth.
Relished accolades as an exceptionally gifted teacher; complimented on my ability to teach, demonstrate, and simplify complex subjects with plain English.
Private Tutor
Tutored children from the ages of 5-10 on math, English, and reading comprehension.
Helped with homework assignments and conducted end of week reviews to make sure the child comprehended the work.
Provided parents with weekly progress reports on how their child is succeeding and offered activities and helpful websites to further accomplish their desired results.
Served as the Most Valuable Graduate Assistant of Psychology Department; concentrated in child and adolescent psychology.
Tutored middle school, high school, and college students in Mathematics and English as a part-time job tutor for four years.
Private Tutor
Qualified through the company to tutor in multiple subjects, including but not limited to: Algebra II, Precalculus, Calculus, Biology, Chemistry, History, Geometry, etc.
Works one on one with individuals in these subjects, varying in ages from 8 to 30 years old.
Requires excellent interpersonal skills, patience, and the ability to translate material to a simple sense to allow the student to effectively understand the material.
Achieved outstanding score on SAT; served as tutor for three students who achieved scores of over 1,000.
Charted an innovative method to increase reading skills; developed creative techniques to help over 20 children with learning disabilities read to the level they desire.
Private Tutor
Determine areas of assistance through individual sessions with a student with autism.
Improve and implement structured learning activities after observing the student's reactions.
Provided feedback to student using positive reinforcement techniques to build confidence.
Raised caring consciousness of children by promoting cooperation between siblings, mutual sharing, and respect for all living beings.
Tutored an undergraduate student in Latin, literature, and grammar.
Wrap Up
You need to make sure your resume stands out amongst the other candidates. It is the first impression that employers have of your work experience and skills. Use the samples above to put together a resume that best suits your needs and helps you get the job you want.