Art directors created the overall appearance of a brand or campaign. They are responsible for evaluating needs, supervising designers, developing plans, offering feedback, providing status updates and ensuring brand compliance. Art directors must have a bachelor's degree and several years of experience in design. To be successful in this role, you must be collaborative, creative, analytical, versatile, an excellent communicator, a strong leader and able to work well under pressure.
A good resume is well-written and concise. It should be neat and easy to read, listing previous experience in a logical order.
Our resume samples will provide you with multiple examples of what you can include when writing your resume.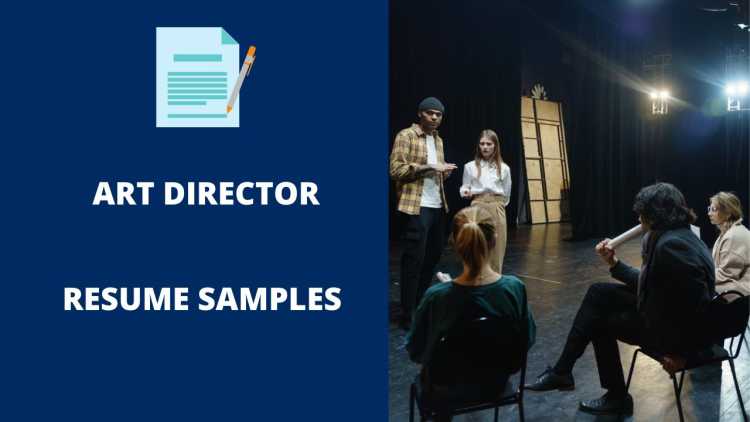 The Best Art Director Resume Samples
These are some examples of accomplishments we have handpicked from real Art Director resumes for your reference.
Art Director
Worked within branding guidelines for clients in automotive, food service and healthcare industries to created custom visuals for print and web.
Led development and execution of design projects, including preparing files for production.
Art director and designer of collateral for various clients such as Becton Dickinson, BMW Motorrad USA, Land Rover, Jaguar, RMA of Connecticut and SRS Health.
Art director and in-house photographer for social media brands such as Bahlsan NA, Eight O'Clock Coffee, Good Earth, Tetley Tea and the Turtle Back Zoo.
Produced artistic designs, layouts, and images for teacher and student use in teaching grammar, literature, poetry, and drama.
Art Director
Art director delivering marketing initiatives for consumer facing campaigns at midtown digital agency.
Designed microsites, direct mail, promotional e-mails and print collateral for American Express merchant, small business, and travel brands.
Illustrated assets and directed animated videos for newly accepted card members.
Aided in publication of twenty-three instructional books and development of related curriculum for grades 3 through 12.
Arranged and designed all print, graphics, and electronic media used by educational institutions.
Art Director
Helped reinvent the firm from strictly servicing financial clients to a broader branding firm with a strong emphasis on digital media.
We became our own client and re-branded Baseline Design to BaselineGroupNY with a new business strategy to target markets outside of the financial world to offer a greater scope of service.
My role as Art Director spanned all aspects of projects from conceptual stages through final delivery, including overseeing designers, freelancers, vendors and programmers.
Kept up to date on all academic record changes to ensure proper representations were made.
Developed a marketing campaign surrounding "healthy living" for a private high school.
Art Director
Worked on graphic designs for boy, girl, infant, young men's and women's apparel.
Created artwork that fit the needs of our clients and customers, that stayed on trend within the current market.
Responsible for shopping the market for current trends as well as introduce new ideas and concepts to our clients.
Implemented procedures for managing the quality of records for a three-school district.
Established new customer service management system with checklists and flow charts that helped reduce phone calls by 10% in the office of Registrar.
Art Director
Created packaging solutions that are on brand and add freshness to the overall brand look and feel.
Designed sell sheets and collateral materials to support the Sales Department efforts to ensure a comprehensive sales tool kit.
Oversee outside creative agencies and photographers to keep all creative initiatives on brand, meet critical path deliverables and bring project to completion.
Managed outside pre-press services to make sure that the all brand color guidelines are being matched to brand specifications so final color approvals can be given.
Awarded State Art Award for design of print media
Art Director
Increased efficiency in workflow by initiating face-to-face interaction with the client on a regular basis preventing delays and miscommunication.
Worked on multiple projects simultaneously from initial design to final production.
Prepared final files to be efficient and production ready for mass production and automation.
Evaluated, designed, and developed curriculum for training students in computer-aided photo/video illustration.
Taught and was affiliated with each level of the graphic arts curriculum at a university level.
Art Director
Managed any and all art needs for the company, including but not limited to product proofs, brochures, logo design, newspaper ads, catalogs, posters, and apparel.
Updated various homepages for the company's websites on a weekly basis utilizing Adobe Dreamweaver.
Collaborate with a diverse clientele on a daily basis to ensure all customer needs are met, and a high quality product is produced.
Order all print materials for the client; which includes open communication with various vendors, to ensure our products are completed accurately and delivered to our customers on time.
Worked as an art director for two years to develop a prototype program for preparing students to enter a graduate school program in art education.
Art Director
Art direction and design of digital experiences and custom content for Wall Street Journal advertisers.
Collaborating with sales in campaign brainstorm, project ideation, and RFP visual prototypes.
Working with writers, designers and programmers to iterate and refine visual and user experience for sold projects, and performing design QA to ensure design integrity of content for launch.
Received two awards for advertisement design; recognized for creativity, accuracy, and technical expertise.
Developed portfolios and creative work for a variety of clients, including local college students, small businesses, and other educational institutions.
Art Director
Developed design deliverables that elevated, differentiated and functioned on-brand and on-strategy.
Designed visual elements to effectively convey concepts for mens/ladies fashion and home goods.
Maintained consistent use of graphic imagery in materials and other marketing outreach.
Designed layouts and executed the production for direct mail advertising materials.
Ensured that each project received the artistic attention it required.
Art Director
Concepted, collaborated, pitched and executed multiple campaigns often simultaneously.
Coordinated with VaynerStudios and client on developing and executing photo and video shoots.
Oversaw photo shoots and video shoots for all social and digital content.
Collaborated with platform strategist to execute ideas that acknowledging latest trends and best practices.
Achieved award for outstanding quality; effectively demonstrated mastery of skills for small projects such as publishing a magazine or preparing artwork for posters.
Art Director
Directed and execute creative for itsasicknessproductions.com, FatPlant.com and Macys.com including social media and web design.
Photography, oversee sets, retouching, editing, casting and financial planning.
Provided support and clear communication to creative teams while ensuring work is creatively outstanding and meets all proposed objectives.
Created, maintained and updated a school catalog for one year. Designed, directed and participated in an exhibition of 3D projects.
Designed and directed public relations presentations for the school's annual fundraisers and also captivated the attention of the media through critical thinking skills by writing, editing, and submitting articles for publication to various publications.
Art Director
Creative, production and consulting services for Good2bsocial, In The House, HMH, PIMS, Mod Media and various other companies.
Collaboration with company managers to created and deliver projects on time, budget with maximum visual impact.
Involved in all facets of projects, including concept, photography, illustration, layout, email bast, animation, production.
Projects include but not limited to creation of whitepapers, web assets, banners ads, leave behinds, brochures, advertorials, infographics and other promotion and marketing products.
Developed a theme and produced print pieces for the Annual Spring Wildflower Exhibit at the Desert Museum; received approval of coordinated marketing materials.
Wrap Up
You need to make sure your resume stands out amongst the other candidates. It is the first impression that employers have of your work experience and skills. Use the samples above to put together a resume that best suits your needs and helps you get the job you want.