Technical Support Specialists provide troubleshooting and resolution services for system problems, software issues, network concerns, Web site errors, e-mail issues, equipment malfunctions with hardware or software. Technical Support Specialists are known for being great problem solvers who are committed to helping customers. To become a Technical Support Specialist, you must have excellent communication skills, know your way around computers and be passionate about technology.
A good resume is well-written and concise. It should be neat and easy to read, listing previous experience in a logical order.
Our resume samples will provide you with multiple examples of what you can include when writing your resume.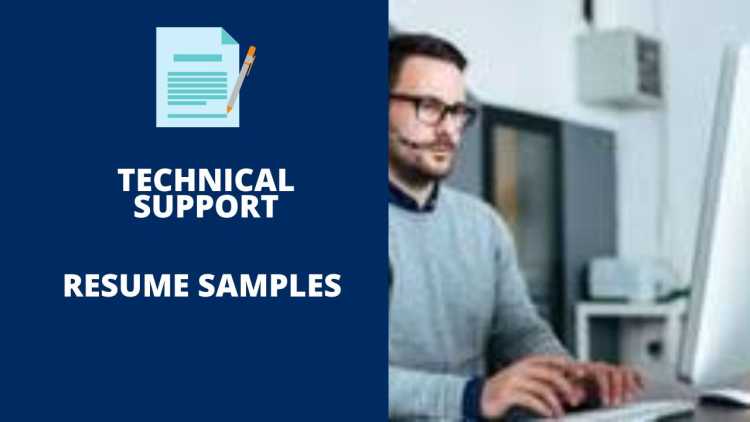 The Best Technical Support Resume Samples
These are some examples of accomplishments we have handpicked from real Technical Support resumes for your reference.
Technical Support
Worked as the liaison between business groups and the technical teams at UPS Information Technology to created solutions that are the most efficient and cost effective product to meet the needs of the business.
Responsible for implementation and maintenance of customer set-up to support EMT shipping system solutions and meet the needs of customers, vendors and the company.
Analyzes business processes and customer requirements, determines impacts, escalates issues, and follows progress to ensure resolution prior to deployment.
Resolve risks and issues in a timely fashion that allows for critical paths not to be impacted.
Managed and developed software for several clients including a full-service Web Design and Development company, two accounting firms, a veterinary clinic, and a retail establishment.
Technical Support
Responsible for gathering the correct team members (application support, technical support, and vendor support)that will help in the restoration process.
Conduct post incidents reviews, provide lessons learned, and give suggestions to optimize the work processes.
Participant on multiple projects including CMDB configurations and operational readiness.
Created four websites for clients including one dedicated to martial arts instruction and training.
Developed creative layouts for Web applications using CGI scripts that include upload of images, flash animation, streaming video playback, movie sound effects, and the ability to customize menus.
Technical Support
Data extraction and reporting from LIS (Laboratory Information System) to analyze them for business and technical specifications.
Participate in strategic planning, quality assurance and staff recognition.
Direct, edit and shoot corporate and creative films for event documentation and marketing purposes.
Conducted walk-through and assisted with the coordination of hardware and software installation, testing and routing of computers and printers.
Managed an internal group of computer enthusiasts developing new innovative software applications including an online auction system that accepts credit card payments.
Technical Support
Provided accurate information about rate plan, monthly payments and assisted customer to choose the right plan according to their needs.
Document customer's issues and actions performed through the customer care tool.
Report issues to supervisor as necessary and participated in special projects.
Resolve issues resetting voicemail and assisting customer to navigate in their online account.
Assisted in audit and analysis of data processing infrastructure infrastructures; implemented new applications.
Technical Support
Assisted customers with technical support related issues and questions over the phone.
Ensured that before the end of a call customers were completely satisfied and all mentions issues or questions during time of call were answered and resolved.
Properly documented all incoming and outbound calls to ensure customers kept a clean and easy to find and read call history with detailed notes on the issue presented during call and steps taken to resolve said issues for other technical support representatives in the event customer was to call back about the same or similar problem.
Actively assisted in resolving technical problems for over twelve users at all times of the day.
Provided first-line assistance to users that allowed for full use of customized systems.
Technical Support
Setup up laptop and projector for a yearly Asbestos Conference for the maintenance workers.
In charge of ordering The Peddie School stickers and labels for technology equipment.
Led a team of student workers (5) that helped us, over the summer, in building and configuring desktops and cleaning laptops.
I also taught and supervised them how to install a fresh OS & configure the software on a large volume of laptops.
Assisted with specialized service, technical support, and quality assurance functions relevant to assigned products and services.
Technical Support
Responsible for making sure all work stations are operational and constantly connected to the server.
Responsible for remotely restarting our work station servers and online store server when server issues are present.
Responsible for troubleshooting server and using other available resources when needed.
Installing Windows, adjusting partitions, Windows updates and updating/installing other software on workstations.
Through efficient use of time and prioritization of tasks, the team's performance was a key factor in meeting revenue goals while maintaining a high level of customer satisfaction.
Technical Support
Troubleshoot circuitry down to component level for all models of gas and flame detectors.
Professional repair of units received from customers, upgraded when required. A few trips to the customer's facility.
Advised customers on proper operation and full utilization of detectors and associated gear.
Explained the finer points to technicians, fixed production units with problems, maintained equipment (mechanical and electrical).
Documented software applications used by internal groups on six servers, allowing for easier access and better tracking of licenses within the company network infrastructure.
Technical Support
I lead the Graveyard Customer service technical support team in customer service goals and expectations.
I provided unparalleled support to our customers and received exceptional customer service reviews.
I repeatedly improved and exceeded goals set forth for our team.
Responded to customer inquiries regarding computer-related technical problems and helped to resolve over 20 support tickets per day.
Executed system maintenance, troubleshooting, and repair actions in accordance with corporate guidelines.
Technical Support
Respond to outbound calls regarding LRS equipment technical support, customer service follow-ups, customer satisfaction calls and notify/sign up out-of-warranty customers.
Resolve service, pricing and technical problems for customers by asking clear and specific questions.
Managed high call volume with tact and professionalism, when assisting customer via telephone, email or chat.
Reconfigured computer configuration in the network operations center as part of disaster recovery plan during power failure.
Demonstrated a high level of competence during performance reviews by consistently exceeding established standards.
Technical Support
Diagnose, troubleshoot and resolve a range of software, hardware and connectivity issues.
Excel in asking probing questions and researching, analyzing and rectifying problems.
Provided technical support for 200+ users and ensure proper maintenance of workstations, printers, and peripherals.
Ensured quick resolution of user concerns and escalated more complicated support issues to senior helpdesk representatives and field service engineers.
Enhanced productivity by monitoring equipment status effectively; identified potential issues before they become problematic and reactivated equipment more efficiently than peers.
Technical Support
Deliver service and support to end-users using and operating automated call distribution phone software, via remote connection or over the Internet.
Interact with customers to provide and process information in response to inquiries, concerns, and requests about products and services.
Gather customer's information and determine the issue by evaluating and analyzing the symptoms.
Diagnose and resolve technical hardware and software issues involving internet connectivity, email clients, IPTV, VOIP and more.
Performed consumer, system, and technical helpdesk support for small and large computer hardware and software.
Wrap Up
You need to make sure your resume stands out amongst the other candidates. It is the first impression that employers have of your work experience and skills. Use the samples above to put together a resume that best suits your needs and helps you get the job you want.