An elementary school principal oversees a school's educational program, its staff, and the students. The principal is responsible for establishing long-term goals and objectives for the school's curriculum, implementing plans to meet those goals, evaluating progress toward those goals, and making modifications in light of that progress. Elementary School Principals must have at least a bachelor's degree in education or administration along with 5-10 years of experience as an assistant principal or teacher. Education administrators must be able to make decisions decisively when necessary, multitask effectively across various tasks (administrative tasks & academic), work well with others; act professionally both inside and outside the school environment; work independently and show empathy to all stakeholders of the organization.
A good resume is well-written and concise. It should be neat and easy to read, listing previous experience in a logical order.
Our resume samples will provide you with multiple examples of what you can include when writing your resume.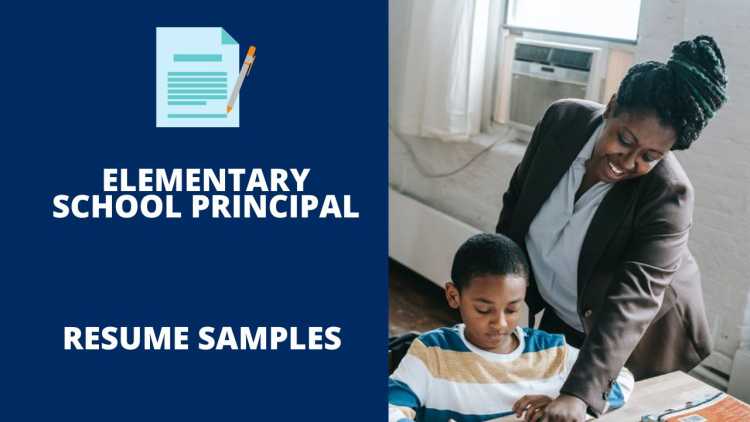 The Best Elementary School Principal Resume Samples
These are some examples of accomplishments we have handpicked from real Elementary School Principal resumes for your reference.
Elementary School Principal
Handled understaffed, disputes, terminating employees and administering disciplinary procedures.
Represented organization at personnel-related hearings and investigations.
Conducted background checks on candidates by obtaining information from law enforcement officials, previous employers and references.
Supported human resources staff with new hire orientations and monthly departmental meetings.
Influenced steadfastness, self-esteem, and attitude of students from preschool to 8th grade.
Principal
Dynamic, innovative, leader who excels in cultivating and maintaining positive and productive relationships with all educational stakeholders including students, faculty, staff, families, administrators, and the community.
Strong instructional leader with significant education experience and a solid foundation in best practices for all learners.
Effectively motivate, supervise and evaluate all faculty to ensure quality of instruction.
Coordinate the effective alignment of all budgets to ensure a safe environment and support learning initiatives within our school.
Passionately motivated over 60 volunteers each year.
Elementary School Principal
Successfully managed a diverse population of k-6 graders learning Arabic as either their second or third language.
Formed teacher-teams to ensure curriculum alignment, collaboration and student monitoring systems; and analyzed instructional strengths and weaknesses to personalize blended learning Professional Developments.
Training and program implementation included GATE Identification and Instruction, blended learning in the classroom, Diagnostic assessment in Reading and Math, CAASPP Interim Assessment, Mastery Connect (for formative/summative assessment, and Differentiated Instruction (for centers, regrouping and ability grouping).
Expressed deep gratitude for the opportunity to have had an impact on such a unique community.
Received letter of appreciation from parents who had noticed improved behavior in their children after participating in school activities.
Elementary School Principal
Established routines and procedures to ensure students received a full and meaningful instructional day which resulted in improved test scores.
Facilitated and modeled the implementation of a reading intervention program for struggling students.
Provided resources for professional development opportunities for faculty.
Achieved award for being a teacher/school administrator who displayed courage and initiative in taking on a new challenge and who was an outstanding role model for students, staff, and community members alike.
Strongly represented the mission, values, and history of our school district by implementing a unified vision of excellence.
Elementary School Principal
Develop learning aids and materials for the purpose of teaching concepts in class.
Use a wide array of instructional strategies such as lectures, group discussions and inquiry to facilitate understanding.
Ensure that each lesson plan is translated into learning experiences so that instruction time is used effectively.
Establish and maintain standards of student behavior and ensure that it is adhered to.
Created effective environment for students by employing learning tactic through functional and attractive classroom displays.
Elementary School Principal
Provided leadership for parents, students and staff and served on the school advisory council.
Implemented successful budget saving measures, rallying the support of staff and parents.
Developed a program to foster student interaction between grade levels and establish a sense of unity and family at the school which involved students from Kindergarten through 6th grade interacting and doing an activity together.
Taught schools in martial arts self-defense and taught children to use the power of observation in deciding whether or not to fight (self-defense).
Teamed with parents and community leaders to implement a program that included social service, health education, and physical fitness components.
Elementary School Principal
Responsible for all school operations for Elementary grades and implementation of Middle School.
Responsible for $4 million budget for rapidly growing, independent for-profit private school.
Fiscally responsible and continually look for cost-saving measures within the organization.
Possess strong organizational, communication, and mentoring skills.
A clear vision allows me to focus my energy on important priorities of the organization.
Elementary School Principal
Mentored three Vice Principals in developing a teacher evaluation system that supported and clearly delineated teaching outcomes.
Created a master program that allowed all students to meet UC/CSU A-G requirements.
Developed a professional development program focused on department goals and teacher lesson plans using state standards as a framework.
Received an award for exceeding student achievement levels; identified specific needs for learning disabled students.
Achieved recognition from school board for the formation of a School Conduct Committee that highlighted successful disciplinary techniques and their effects on student learning.
Elementary School Principal
Provided activities which promotes school spirit, community participation and parent involvement.
Organize and oversee the supplies, material and equipment needed to carry out the school program.
Designed intervention plans for students needing extra support in academics or behavior using MTSS.
Overcame objections of school board members and parents to implement a multi-faceted program for improving the educational capabilities of students with learning disabilities.
Ensured prompt payments for all accounts and maintained accurate payroll records.
Elementary School Principal
Provided consistent and open communication with parents, students, staff, and administration.
Maintain a safe, healthy, positive, and effective educational environment for students, parents, and staff.
Implemented a Consultative School Board with focus on strategic development and marketing.
Prepared and implement an annual operating budget preschool through eighth grade.
Supervised the daily operation of an elementary school, including an enrollment populace of nearly 200 students in grades one through eight, a staff population of approximately 35, and a budget of over $1.5 million dollars.
Elementary School Principal
Developed Test-Prep workshops to prepare students and parents to move into Secondary School.
Provided on- going professional development workshops for teachers and staff.
Supervised, recruited and trained high school students to tutor elementary students for Literacy Program.
Monitored common practice for analyzing and tracking student recruitment and achieving data.
Examined data collected, and discussed with other team members and charted results for improvements.
Elementary School Principal
Primary leader, decision maker, and disciplinarian in the school setting, having a hand in the day to day activities, stepping in to fill any role as needed.
Motivate both educators and staff to provide successful instructional programs and efficient school operations management.
Evaluating performance and areas of growth and development for teachers and staff.
Analyze student data to determine educational needs and develop proper intervention plans to meet those needs.
Ensured that students were provided with adequate clothing and supplies, and provided the best possible learning environment for students to prepare themselves for future success.
Wrap Up
You need to make sure your resume stands out amongst the other candidates. It is the first impression that employers have of your work experience and skills. Use the samples above to put together a resume that best suits your needs and helps you get the job you want.