Customer Service Managers take care of making sure all the customers of a business are satisfied. Their duties include listening to customers, resolving customer complaints, working out contracts with customers, designing new customer rewards programs, and supervising a team of customer service agents. Educational requirements are a BS/BA in a customer service field. Skills needed are ability to listen to angry customers, excellent listening skills, sales skills, innovative thinking, and mathematical skills.
A good resume is well-written and concise. It should be neat and easy to read, listing previous experience in a logical order.
Our resume samples will provide you with multiple examples of what you can include when writing your resume.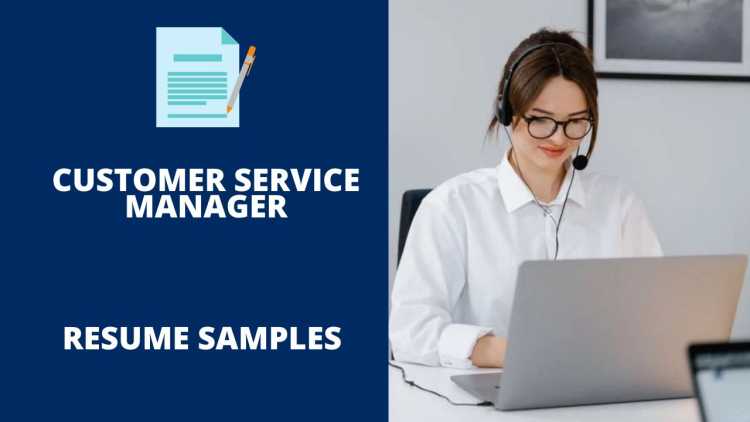 The Best Customer Service Manager Resume Samples
These are some examples of accomplishments we have handpicked from real Customer Service Manager resumes for your reference.
Customer Service Manager
I orchestrate the Customer Service Department to ensure that team members provide the highest level of assistance to all accounts.
By establishing consistent Customer Service Manager access and a close working relationship with our clients, I have been able to instill a feeling of extreme confidence in our client base, and an additional benefit to the company has been releasing the Sales staff to concentrate on new business, thereby increasing company revenues/profitability.
Ensure customer retention by maintaining detail oriented, forward thinking relationships with all clients.
Outsourced international customer service calls; monitored the status of customer orders and satisfaction.
Brought orders to international customers whose product shipments were delayed or unfulfilled.
Customer Service Manager
Delivered excellent customer service by greeting and assisting each customer.
Addressed customer inquiries and resolved complaints.
Stocked and restocked inventory when shipments were received.
Reorganized the sales floor to meet company demands.
Directed and supervised employees engaged in sales, inventory-taking and reconciling cash receipts.
Customer Service Manager
Currently manage customer service representatives and provide quality control reviews.
Listen to calls and review customer interactions to confirm quality standards and HIPPA regulations are followed.
Complete weekly, monthly and quarterly reports detailing call and communication volume and interaction statistics.
Provided monthly OSHA training and provide continuing customer service training.
Recovered lost trust between clientele and company quickly by identifying errors, making corrections, apologizing, and requesting feedback from upset customers.
Customer Service Manager
Provided information, direction, and options on all aspects of the University's parking and transportation programs.
Engage and deliver exceptional customer service to patrons and clients.
Resolve parking and transportation issues with visitors, students, faculty and staff members.
 Supported co-workers and other departments for continual communication with overseas clients to prevent future problems.
Maintained the highest level of accuracy in tracking customer orders for the purpose of cost control, efficiency, and timely resolution of issues.
Customer Service Manager
Daily supervision, coordination and assigning of 37 retail associates.
Overseeing schedule changes and monitoring breaks.
Adhering to store policy and federal mandates as it relates to employees and their fundamental rights.
Drafting correspondence for employees that were repeatedly insubordinate or noncompliant with company standards.
Assisting in a myriad of positions such as cashier, maintenance worker, stocker and retail associate when need be and to constantly set a good example of My Walmart policies.
Customer Service Manager
Provided cross training for 15 plus cashiers, addressed all customer complaints and issues, effective communication with team member to maintain expectations.
Successfully managed the activities of 30 team members daily in different departments, maintained all knowledge of all store policies including (payment, returns, and exchanges).
Reconciled all cash drawers at the end of each work night.
Ability to cultivate and promote a positive work environment, and cultivate and continue on-going relationships with management, co-workers, and team members.
Handled the daily details of 12-hour shifts.
Customer Service Manager
Developed an online comparison platform for the sale of insurance products as well as oversaw front end and back end quality assurance and testing.
Managed the product life cycle from planning to activities.
Provided technical support to website developers on content and visualization to assist end users with easy navigation and customer retention.
Created survey instruments, sales and marketing trends which increased efficiency and service deliveries to clients.
Achieved a 99% accuracy rating for processing requests for FMLA and Federal Payment Due notices.
Customer Service Manager
Ensure the safety and security of the aircraft and passengers in order to comply with FAA and DOT regulations.
Created and revise procedures to improve performance and safety ratings.
Initiate training programs with senior and new staff to increase top notch customer service.
Monitored staff performance and recommended and coached for positive changes.
Implemented standard procedures during overbooked, irregular flights and denied boarding situations.
Customer Service Manager
Managed over $250k remediation of sprinkler damage in a four story occupied condo building.
Managed complex projects and hold sub-contractors financially accountable for incomplete or poor work.
Responsible for coordinating with sales, construction and land departments to resolve escalated conflicts.
Issue and track back charges and purchase orders to stay under budget and report to upper management.
Received high marks on customer satisfaction survey from employees who had applied for a loan.
Customer Service Manager
Primary point of contact for clients, providing exemplary customer service and performing administrative tasks which includes receiving telephone & email correspondence, answering product/service inquiries as well as booking/confirming appointments, checking in customers upon arrival, and processing payments upon departure.
Manages/maintains inventory levels and modifies product information within point-of-sale system.
Streamlined retail and back-bar product tracking and inventory re-ordering system for maximum efficiency.
Improved front desk operations by refining daily tasks and methods of locating vital company information.
Commented positively on employee/employer partnership in an internal company newsletter.
Customer Service Manager
Managed online and in-store call center operations to assure all orders are properly received, processed, and shipped.
Performed routine checks of inventory and prepare summary inventory reports for senior management in addition to routinely updating e-commerce website.
Provided quality assurance checks for order, billing, and shipping departments and troubleshoot call center problems.
Respond to both online and in-store customer inquiries and complaints and perform follow-up calls to further assist customers.
Developed a strong work ethic for excellence in customer service; overcame performance limitations by mastering new skills and resources.
Customer Service Manager
Responsible to build a teamwork environment that encouraged hard work and collaboration.
Motivated employees to achieve personal goals and to consistently meet expected quotas.
Ensured workflow efficiencies, customer service excellence, and quality assurance.
An instructed team of 25 agents to uphold uncompromised customer service and integrity.
The ensured success of assigned projects and daily operations.
Wrap Up
You need to make sure your resume stands out amongst the other candidates. It is the first impression that employers have of your work experience and skills. Use the samples above to put together a resume that best suits your needs and helps you get the job you want.