Customer Service Cashiers build rapport with customers, answer questions about products and services, process cash transactions from the customers, accept payment from a variety of sources, and provide change to customers. To be a Customer Service Cashier you usually need a high school diploma or equivalent certificate. You must have strong interpersonal skills and be able professional in dealings with others. Customer Service Cashiers must have good math skills, attention to detail, good communication skills, a track record of customer service experience (preferably retail), and the ability to work well under pressure.
A good resume is well-written and concise. It should be neat and easy to read, listing previous experience in a logical order.
Our resume samples will provide you with multiple examples of what you can include when writing your resume.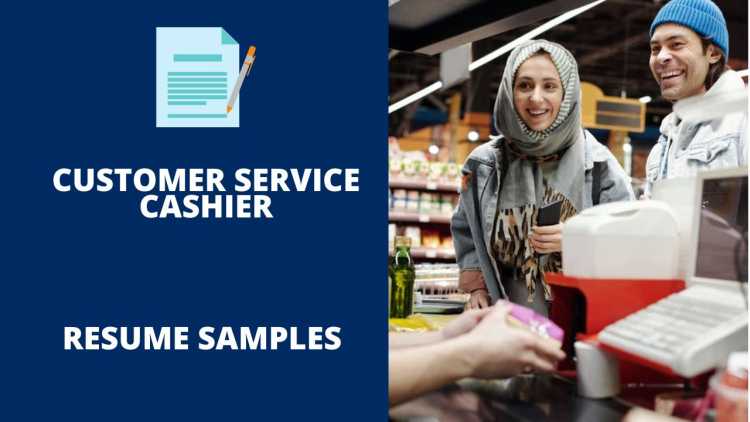 The Best Customer Service Cashier Resume Samples
These are some examples of accomplishments we have handpicked from real Customer Service Cashier resumes for your reference.
Cashier/Customer Service
Here, I served a purpose as customer service representative.
I was an cashier, but I was hired particularly for my Outstanding customer service skills.
I greeted every customer, helping them choose meals from our upscale choices as well as cash and debit/credit transactions.
I also prepared meals for customers upon request, if they were allergic, I would personally prepare them a sandwich.
Received an Outstanding Employee Award from the U.S. Army for meeting customer service goals and quotas on assigned duties, achieving a high level of performance, and maintaining a clean appearance.
Cashier And Customer Service
Greet customers as they coming in the store, having a good customer service skills was a major key.
Take their order and offer our product that will be on sale & always try to up sale everything if possible.
In charged of handling money making sure the register isn't short or over, as well as giving back the right change.
Other then cashier we also had the responsibility of keeping everything cleaned and stock up.
Hired, trained, supervised, and mentored fourteen employees in the areas of customer orientation, cash handling, and software use, inventory management and security, production management, and telephone operations.
Customer Service
Strong communication skills to handle customers problems and questions, listen to them carefully and appropriately answer them in a professional way.
Proper face to face and over the phone skills.
I began working at Walmart as a cashier got promoted to a customer service manager within 5 months.
Incorporated updated cash handling procedures into a computerized system; faultlessly used new system to accurately complete payroll schedules as designated by each employee's pay rate.
Developed a work schedule that ensured attendance of all shift workers while accommodating shift changes on-site.
Cashier/Customer Service
Provided excellent customer service by assisting customers with their shopping needs, answering customer inquiries, and resolving customer complaints.
Complete customer transactions on the cash register and reconcile cash register drawers at the end of the shift.
Ensure the appearance of the store is pleasing to the customer and meets the requirements of the corporate office, including all housekeeping tasks.
Ambition to help disenfranchised and neglected children from the inner city.
Motivated by customer service and understanding the complexities of life's challenges.
Customer Service
Full-Time Customer Service Rep managing customer accounts over the phone, issuing out service orders for customer homes and businesses.
Helping customers with escalated issues concerning power outages and account issues while providing excellent customer service and keeping customers' private information confidential at all times.
Left the company for better work opportunities and trade school to better my knowledge.
Organized and distributed basic level food and clothing to over 2400 needy children in underserved areas, with a means-tested budget of $900 per month.
Successfully completed 12 months of study at the State University studying for a degree in Human Services.
Customer Service
Operate cash register, maintain items on shelves as needed while ensuring professional customer service.
Process customers' orders by scanning product or punching price into register, finalize sale and collect payment by totaling order, deduct for coupons, and accept tender from customer.
Bag grocery orders into the appropriate bags and then into customer's carts.
Keep parking area and surrounding ground areas clean by sweeping when necessary and organize shopping carts.
Demonstrated exceptional leadership capabilities to overcome hardship caused by natural disasters and enemy conflicts; successfully prepared for assignment as an effective team leader.
Customer Service Representative
Ensure that each customer receives outstanding service by providing a friendly environment, which includes greeting and acknowledging every customer, maintaining.
Outstanding standards, solid product knowledge and all other aspects of customer service.
Drive the delivery of exceptional customer service by insisting on friendliness and creating a heads up mentality on the part of all store associates.
Expedite front lines, direct flow of customers, and ensure that each customer receives outstanding customer service.
Improve sales results through greeting and assisting customers on the sales floor; communicating customer requests to management.
Customer Service Representative
Provided outstanding customer service by helping customers understand their needs, recommend storage solutions and assist customers with their product solutions.
Assisted with reservation and walk-in customers in renting storage units, understanding the leasing terms, fees, and insurance policy.
Effectively managed, verified, and balanced cash drawer at the end of the business day.
Conducted a daily physical storage unit inspection confirming inventory availability and ensuring each unit is secure and ready to rent.
Empathized with the needs of customers in order to create an environment of trust and confidence.
Customer Service Representative
Greet and acknowledge all customers in a friendly, professional manner and provide quick, responsive customer service.
Responsible for opening and closing of gate entrance/exit.
Directed visitors and truckers to various parts of grounds.
Inspects outgoing traffic to prevent unauthorized removal of company property or products.
Assists with checkout and other customer services as needed , also making that we get all of our Product.
Customer Service Representative
Strategic relationship/partnership building skills – listen attentively, solve problems creatively, and use tact and diplomacy to find common ground and achieve win-win outcomes.
Able to multitask and function in a high volume/busy environment.
Able to work calmly under pressure and appropriately plan, prioritize, organize and carry out tasks and responsibilities.
Performed a wide range of Customer Service duties, for several lines of business, to include: gathering of appeals & grievance data, eligibility and payment verification, conduct member satisfaction surveys, and call documentation and handling.
Able to relate and calmly communicate with customers in sometimes difficult situations (agitated or irate callers).
Customer Service Representative
Maintain excellent and professional relationships with fellow employees while displaying friendliness and courtesy at all times.
Receive and accurately post participant account updates; inquires and other related CRM actions.
Provided assist to other Customer Service Representative's in answering phones; opening mail.
Demonstrated a strong proficiency to address and resolve participant's requests and complaints as needed.
Provided quick and accurate service to customers through my ability to establish a relationship of accountability.
Customer Service Representative
Works in the Operations Center as a Contact Center Agent, answering inbound customer calls while also responding to electronic communications/requests.
Responsible for receiving client communications, issue evaluation and resolution or escalation as needed.
Ensures that client issues are resolved in an efficient and satisfactory manner.
Performs Card Administration, Work Order creation as well as follow, Data Updates, Report Requests and various other requests for information or actions.
Maintained a cooperative work atmosphere by effectively dealing with difficult customers.
Wrap Up
You need to make sure your resume stands out amongst the other candidates. It is the first impression that employers have of your work experience and skills. Use the samples above to put together a resume that best suits your needs and helps you get the job you want.