A quality engineer is responsible for ensuring the engineering and manufacturing involved in a job are performed correctly. Their responsibilities include inspecting goods, developing methods of quality control, ensuring systems meet technical standards, safety documentation and more. To become a quality engineer, you need an associate degree in the area. Quality engineers must demonstrate the ability to communicate, perform math, have attention to detail, good ethics, critical thinking skills, problem-solving skills, and analysis skills.
A good resume is well-written and concise. It should be neat and easy to read, listing previous experience in a logical order.
Our resume samples will provide you with multiple examples of what you can include when writing your resume.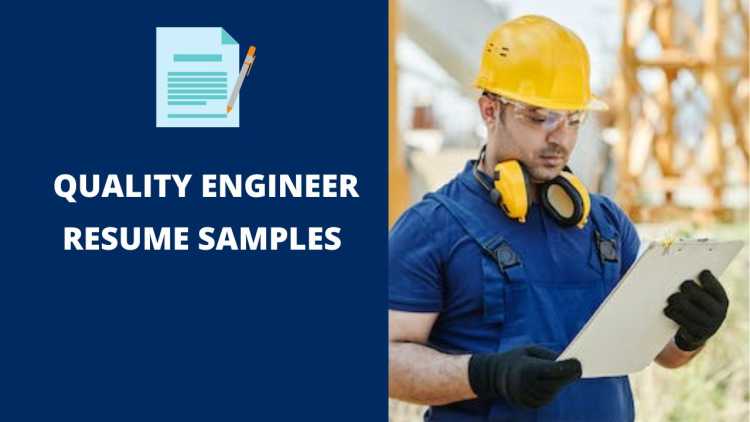 The Best Quality Engineer Resume Samples
These are some examples of accomplishments we have handpicked from real Quality Engineer resumes for your reference.
Quality Engineer
In charge of writing, reviewing, approval and implementation of the company's Quality Control (QC) standard operating procedures.
Scheduled and oversaw all laboratory operations for testing, review and release of raw materials, intermediates and finished products to ensure compliance with company and FDA guidelines.
Managed and oversaw the company's approval process for suppliers and manufacturers of raw ingredients.
Revised specifications to ensure quality products while minimizing cost.
Led a team of engineers to create a computerized, automated testing platform and test plan for a national distributor of the finest wine.
Quality Engineer
Experienced with localizing a supply chain to an overseas contract manufacturer's supply chain.
Interfaced daily with contract manufacturer on production and quality issues.
Led weekly meetings with contract manufacturer to review KPI's, additional goals, and issue tracking.
Played a key role in awarding business to new suppliers. Conducted on-site audits of potential suppliers.
Reported audit findings to management and provided recommendations for awarding business.
Quality Engineer
Provided on-site consulting services to Zimmer Biomet in Warsaw, Indiana to help improve the quality system.
Developed and maintained product verification and testing documentation that consist with Zimmer Biomet system Regulation and compliant with both ISO 9000 and ISO 13485.
Performed detailed analysis to ensure quality process and implement Corrective and Preventative Action (CAPA) for improvements if needed.
Discovered the root cause of the majority of bottle breakage in the third shift production line, thereby saving HACC's client over $49,000 in warranty costs.
Assisted in developing quality tools and plans for improving product quality for a large automobile manufacturer.
Quality Engineer
Developed quality training manual and certification process.
Trained operators in two separate facilities on these standards.
Worked with vendors to set quality standards and secure refunds for substandard work.
Instituted lean manufacturing principles to reduce waste on production floor.
Developed an under-the-hood quality rating system for one of the largest food distributors in America by using statistical analysis and Quality Function Deployment (QFD).
Quality Engineer
Reviewed testing protocols and reports and provided advisement during product verification and validation.
Used established standard operating procedures (SOP's) and work instructions (WI's) to carry out the product inspection and analysis.
Provided inputs for regulatory certification, standards compliance, product performance verification and testing.
Advisor to the Quality Department, Capital Improvement Project Manager for the City of Houston; provided technical review and analysis for Projects costing more than $40,000.
Reviewed design drawings and specifications and performed quality control inspections of capital improvement projects in areas such as public works, sanitation, engineering, and community development.
Quality Engineer
Develop Selenium automated test scripts in C# for Liazon's application, dealing with providing Health Insurance benefits.
Develop Test Cases based on Business Requirement Documents using Microsoft Test Manager (MTM).
Performed functional testing, smoke testing, regression testing and UAT for different features of the application.
Instructed classes in automotive body repair as well as work on a vehicle restoration project.
Developed computerized processes to monitor cost projections against actuals on a daily basis; maintain all project status reports including timelines.
Quality Engineer
Conducted Material Review Board in order to evaluate and disposition $300,000 of hold material through conducting root cause analysis.
Reviewed and processed internal, and external NCRs, and ECOs to ensure accuracy, effectiveness, and full cycle closure in Oracle's Agile Product Lifecycle Management.
Increased First Pass Quality metric from 96% to 98% by analyzing reports to identify key process failures.
Developed site internal audit program to monitor effectiveness of procedures and trainings, GMPs, Hazard Analysis Critical Control Points, and coordinate with Production team to support closure of findings.
Served on entrepreneurial team that developed an alternative energy power generation system.
Quality Engineer
Worked close with product managers to review product requirement documents, wireframes and design documents to identify user stories.
Identified test objectives, wrote test plans and test cases based on requirements to ensure maximum coverage of business requirements and user stories.
Worked closely with product managers to review product requirement documents, user stories, wireframes.
Collected, collated, and analyzed data for over 700 continuous quality improvement projects.
Developed and implemented a procedure for monitoring change in quality, cost, and productivity.
Quality Engineer
Analyze the business Requirements and closely work with the Business Team to get the clarifications addressed.
Developed automated tests in partnership with developers for continuous regression testing and reducing manual testing using Selenium, TestNG, and Maven.
Performed Regression tests to verify whether modification made in the application have not cause unintended adverse side effects.
Wrote Automation test scripts using Java implementing Selenium WebDriver to test Web Application.
Performed work assignments in accordance with established policies and procedures.
Quality Engineer
Achieved an overall 5% reduction in COGS by implementing lean production system in the manufacturing unit.
Recommended actions to improve workflow efficiency by analyzing personnel work load and their work instructions.
Increased overall output by 15% using visual stream mapping and reducing takt time.
Provided efficient support to Production to improve the processes and the productivity – through implementation of lean manufacturing principles, identified 120+ hours of process improvements.
Demonstrated a high degree of responsibility, accountability, initiative, and initiative within a team environment.
Quality Engineer
Worked in conjunction with developers to ensure bugs are correctly identified and fixed.
Performed design-time and run-time system tests designed in various software applications.
Performed regression, integration, and performance testing of existing systems and/or features.
Evaluated plant design for future potential for improvement based on current process equipment layout & effects on cost efficiency; reduced production costs by 20%.
Presented statistical & quality data to upper-level management to improve both product & process development.
Quality Engineer
Worked along with the supervisor of the sterilization area, ensuring appropriate product sterilization.
Collaborated with sterilization personnel, validation professionals and microbiology team in the non-conformance material investigations and risk assessment related to the sterilization process deviations.
Assisted on the planning, execution and documentation of the sterilization recipes requalification.
Responsible of approvals for the sterilization area equipment validations and change control.
Designed, tested, and improved product quality protocols and systems to insure higher standards.
Wrap Up
You need to make sure your resume stands out amongst the other candidates. It is the first impression that employers have of your work experience and skills. Use the samples above to put together a resume that best suits your needs and helps you get the job you want.