Quality Assurance Engineers make sure that software works. Their duties include developing tests for software, carrying out tests, troubleshooting to find causes of glitches, finding solutions to problems, and writing computer code to fix problems. Educational requirements would include a high school diploma or equivalent, and some college courses in IT. Skills needed would be an ability to solve problems, to work in various computer languages and computer networks, technical support skills, and ability to work independently.
A good resume is well-written and concise. It should be neat and easy to read, listing previous experience in a logical order.
Our resume samples will provide you with multiple examples of what you can include when writing your resume.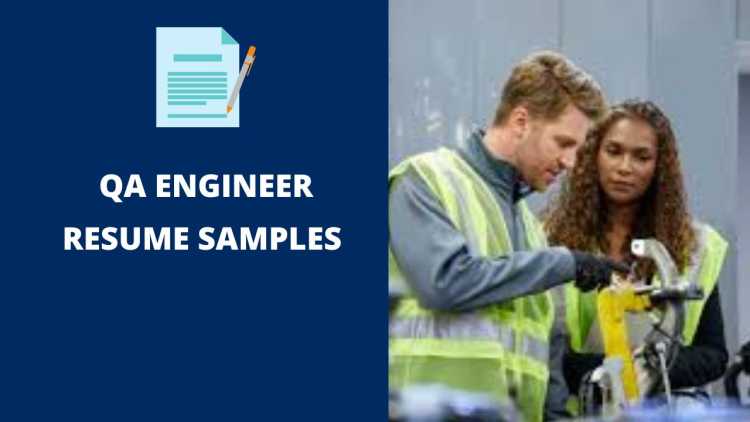 The Best QA Engineer Resume Samples
These are some examples of accomplishments we have handpicked from real QA Engineer resumes for your reference.
QA Engineer
Attended Sprint Planning, Sprint Kick off, Sprint Review and Sprint Retrospective meetings.
Worked collaboratively with On-Site and Off-Shore resources to ensure entire application is tested.
Performed UAT testing on release build and supported Production launch Testing during off hours.
Developed and Implemented Test Strategy and Test Coverage to ensure Master Test Plan (Regression Suite) is updated.
Acquired expertise in software, hardware, and network troubleshooting.
QA Engineer
Implement Selenium Page Object Model framework with Selenium WebDriver using Object Oriented Programming Java and open source test framework TestNG.
Used Apache Maven to manage Project's build and reporting like Extent report, TestNG HTML report.
Involved in performing functional, application, integration, system, and regression tests.
Investigated, noted and collected information on software bugs and reported the same to developers using Rally as part of agile development.
Evaluated new software tools to enhance competitive advantage.
QA Engineer
Analyzed the system requirements and developed detailed test plans and test cases and provided the documentation.
Collaborated with product management teams in an Agile environment to develop a comprehensive set of tests for web-based applications.
Participated in Sprint planning, Daily standup, Retrospective meeting and ensured QA team engagement with Developers and Product team.
Mentored junior testing professionals in Quality Assurance best practices.
Assisted in streamlining overall quality control processes to ensure efficient resolution of quality problems.
QA Engineer
Analyzed business requirement documents and functional requirement documents and was involved in all phases of the project lifecycle.
Involved in implementation of entire Testing life cycle. Followed the Agile/Scrum process.
Used TestNG to run multiple test cases in parallel, reported issues using JIRA tracking tool.
Conducted Functional, Integration, System, Regression, UAT, Smoke and Operational Testing.
Presented workshops related to web accessibility for disabled users.
QA Engineer
Monitor and update regular activities to the Scrum Master in the Agile Scrum environment.
Created and documented the test designs for each functional area mentioned in the Test Plan and created test data set needed for test execution.
Created and executed the SQL queries to test for the data validations in the reports and other business functionalities.
Log the defects through Application Lifecycle Management for Report management and enhancement of Testing.
Achieved an award for the outstanding quality of engineering design during several years' work at Hughes Aircraft Company.
QA Engineer
Worked on the appliance team to provide thorough testing of integration between all the applications such as Nessus, PVS, and Security Center with over 1.6 million global users.
Design, implement, review, execute and maintain test cases based on product requirements and functional specifications.
Worked in an Agile SDLC workflow and interacted with the team in daily stand-ups, bi-weekly retrospectives and sprint kickoffs.
Involve in whole life cycle of QA Methodologies starting from Test Planning, Test Design, Executing, Reporting and Tracking the defects.
Received a commendation from the Vice President of Engineering for notable proactivity in the analysis and design of a new computer system.
QA Engineer
Managing major aspects of QA Processes with in the team and work hands on with stakeholders to implement necessary product/business requirements.
Analyzed available business document and design and develop Test Plan, identify test scenarios, collect test data, created Test Cases and Test Scripts for Manual and Automation testing.
Performed End-to-End testing on frontend and backend plus considering all interfaces and subsystem for functional and non-functional testing.
Assembled and coordinated work assignments for a large staff of engineers for over 36 months.
Received a commendation from the Vice President of Engineering for exceptional contributions to management planning and development.
QA Engineer
Involved in analyzing Business Requirement Documents and Technical Specification document and developed test plan and test cases for testing the application.
Participated in requirement reviews and analyzed Modification requests and Enhancement requests.
Tested independent and dependent modules individually. Prepared Test Matrix to keep track of the requirements and the test cases.
Define, develop, and execute automation test scripts using Java that leverage black and white box testing across functional, non-functional and performance testing.
Managed engineering projects to completion while remaining on time, within budget, and with technical excellence consistent with company objectives.
QA Engineer
Preparing test scope and performing field testing in GSM, UMTS, and LTE networks (Drive test).
Basic knowledge in UMTS, LTE, VoLTE/SIP log analysis (Qxdm/Qcat & Wireshark) and 3gpp standards.
Executing test cases, creating test reports, maintaining logs (Qxdm, Adb) for each execution. Tracking bugs in Bugzilla/JIRA.
Preforming carrier requirement test, regression test cases cycles for new software version.
Maintained integrity and quality control in testing, debugging, and documenting.
QA Engineer
Analyzed requirements and developed test plans, test scenarios and test cases in Testia Tarantula for manual and automation testing.
Conducted regression testing using Selenium and Katalon framework for Native mobile applications, CED devices, Web applications, UI Framework, IPTV Management System and Web Admin system (CMS) and analyzed errors on applications, escalate issues to developers and verified fixes.
Used JMeter for testing API, HTTP, HTTPS protocols, SOAP/REST Web services by extracting data from JSON, HTML and XML objects and used for load testing functional behavior and measured performance.
Built multiple test cases based on video parameters (bit rate, frame rate), various audio and video formats, brightness, contrast, subtitles track, embedded player functionality.
Collaborated with software developers to quickly and effectively complete projects.
QA Engineer
Generate Home & Auto Policy using ISCS SurePower Innovation modern enterprise suite for property and casualty insurance organizations, which is highly scalable and configurable.
Responsible for creating UI and API automation testing for scalable web and mobile application using Java, Selenium, TestNG, Maven, Appium, Android SDK and GitHub.
Designed data driven framework using TestNG Data Provider & Apache POI concept and driven test data from Excel Sheets to automation scripts.
Write, execute, and monitor automated tests during the development process and regularly meet with selenium automation tech to review code for web and mobile apps.
Wrote detailed specifications for programs, subsystems, systems integration, and delivered high-quality work within tight deadlines.
QA Engineer
Analyzed the test results, tracked the defects and generated reports using Quality Center.
Involved in testing the new functionalities based on test cases and coordinated with development team in fixing the issues.
Traced defects and worked with Project Manager and development team to resolve defects and effectively mitigate risks.
Provided a daily test execution report that Analyzed the requirement assessment to ensure testability and to prevent ambiguity.
Performed complex technical research, analysis, and problem-solving for complex systems that are not well understood.
Wrap Up
You need to make sure your resume stands out amongst the other candidates. It is the first impression that employers have of your work experience and skills. Use the samples above to put together a resume that best suits your needs and helps you get the job you want.