Public Accountants analyze and record financial data for individuals, organizations, and other types of businesses. Their duties include preparing tax returns, auditing business, and personal accounts, tracking financial data, and managing client relationships. Public Accountants need a bachelor's degree in accounting or a related field along with 2-5 years of experience as an accountant. They must also be proficient at Microsoft Office applications, know Tax Preparation Software (e.g., TurboTax), work well as part of a team as well as independently, and have strong communication skills.
A good resume is well-written and concise. It should be neat and easy to read, listing previous experience in a logical order.
Our resume samples will provide you with multiple examples of what you can include when writing your resume.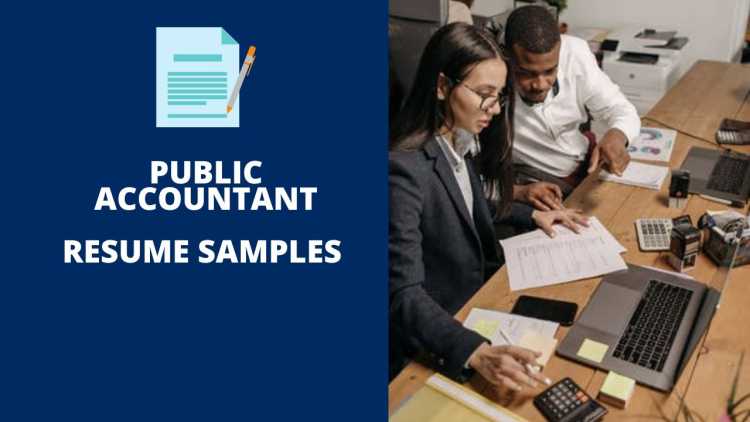 The Best Public Accountant Resume Samples
These are some examples of accomplishments we have handpicked from real Public Accountant resumes for your reference.
Certified Public Accountant
Tracing and locating assets and discovering undisclosed sources of income.
Ascertaining amounts of misappropriated funds and the methods by which various misappropriations and irregularities took place.
Valued closely held entities in connection with shareholder disputes, Internal Revenue Service issues, and marital dissolution.
Recognized by the President of the firm for my "exceptional contributions to the growth and profitability of the company."
Received a monetary award for exceeding expectations for income, number of clients, and new accounts.
Certified Public Accountant
Performed monthly accounting and financial statement preparation for business clients.
Prepared individual, corporate and partnership tax returns including high net worth and multistate.
Acted as hedge fund controller with review of administrator NAV's, redemptions, distributions, investor statements, contract notes.
Implement new general ledger accounting systems and upgrades with troubleshooting as needed.
Promoted to Auditor-in-Charge based on my proven skills in auditing, accounting information systems, and leadership.
Certified Public Accountant
Participated in a special project with a team to record fixed assets transactions such as capitalization, transfers, retirements, and impairments in the Assets Sub-ledger and General Ledger.
Researched, obtained authorization for and booked 200 complex Authorizations for Expenditures (AFEs) in two months. Many AFEs represented multiple assets.
Worked closely with corporate procurement to ensure complex fixed asset expenditures were properly accounted for.
Created account and project reconciliations associated with capital projects.
Recognized by management as the "most improved employee" because I raised both office production and sales by 25% over two years.
Certified Public Accountant
Assisted with the implementation of new accounting standards for revenue and lease recognition. This entails providing transition guidance, implementation, and disclosure guidance.
Provided contract based internal audit and internal review services to clients.
Recently completed an internal audit assignment for a large engineering construction company's Mexico based shipyard fabrication to assess field operations and financial reporting.
Provided analysis to assist management and those charged with governance and oversight in using the information to improve program performance and operations, reduce costs, facilitate decision making.
Met monthly revenue goals with a net profit increase of 20% through sales planning, forecasting, and analysis.
Certified Public Accountant
Local CPA firm providing various types of professional services to its clients.
Provided various levels of accounting, bookkeeping and tax return preparation services to various types of clients, including: commercial farming and ranching entities, oil and gas and production entities and real estate investment entities.
Preparation of tax returns for individuals, partnerships incorporated and not for profit entities.
Exceeded expectations by providing accurate and timely accounting audit services to 4 clients.
Recognized by the CPA firm as one of the most valuable team members, who is proactive in managing clients and strives to meet or exceed their expectations.
Certified Public Accountant
Managed approximately 200 clients; includes individuals, businesses, non-profits, and fiduciaries.
Experienced in preparing 1040, 1065, 1041, 1120, 1120S, 990, 941, 940, 1099,1096, W-2, efile.
Offered small to medium-size businesses assistance with full-cycle accounting, to varying degrees.
Prepared and/or review client entries on every platform of QuickBooks, desktop, online or remote.
Recognized as a Certified Public Accountant for professional demeanor, good judgement and ethical standards in all business dealings.
Certified Public Accountant
Controller of a manufacturer of vascular stents focusing on increasing the accuracy and efficiency of the inventory build system in work flow and accounting through continuous process improvement techniques.
The improvements resulted in a precise bill of materials, an accurate cost of goods sold and a reliable perpetual inventory system.
Managed the audit examination and due diligence process for the company leading to the successful sale for $35.3 million.
Demonstrated expertise in preparing income tax returns for individuals and small businesses, including preparing W-2s and 1099 forms.
Accounted for remarkable success after performing financial statement analysis on numerous businesses and individuals' tax returns, which resulted in thousands of dollars of increased income.
Certified Public Accountant
Preparing reconciliations, closing general journal entries, and summarizing current financial status by preparing balance sheet, profit and loss statement, and other reports.
Maintaining client accounting records by filing necessary documents with different agencies, (including state,county, and city) while preparing and recommending policies and procedures to the client.
Completing compilations, reviews, SBOE audits for individual and corporate clients as required.
Audited financial statements for companies seeking monthly leasing services. Calculated monthly payments, made appropriate journal entries, and prepared financial reports.
Worked with the Internal Audit Department to conduct independent testing of internal controls over transactions.
Certified Public Accountant
Prepared accounting and tax returns; analyzed financial reports and documents for organizations, in addition to providing consultant services regarding the development and achievement of financial objectives and goals; audited and maintained company financials to ensure compliance and reviewed financial status to ensure accuracy, utilizing forensic accounting skills to investigate discrepancies.
Oversaw strategic planning and fraud prevention, providing recommendations to ensure financial success and business growth.
Provided advisory services; effectively analyzed financial reports and documents to provide consultative services to organizations, implementing strategic plans to achieve financial goals.
Shifted from Internal Audit to a tax audit department; performed tax audits of multiple business entities.
Evaluated clients' internal controls, risk management programs, and related policies and procedures during an on-site IRS examination of business structures and operations in accordance with GAAP.
Certified Public Accountant
Interviewed clients and reviewed clients work papers and financial statements for accuracy and support.
Prepared book adjusted journal entries in accordance with GAAP and Federal Tax basis of accounting.
Close contact with clients, partners, managers and staff to answer any tax related questions.
Drafted a one hundred eighty page audit report that warranted no adjustments due to thorough analysis of data in eighty areas identified by IRS rules governing taxpayer treatment.
Achieved award for outstanding performance regarding management of bankruptcy estate; empowered reorganization and reporting of financials.
Certified Public Accountant
Prepare, analyze, review, and approve Bank Reconciliations, Investment Analysis, General Ledger Account Reconciliations and ensure appropriate accounting principles are utilized including in high risk accounting areas.
Performed month-end close procedures such as preparing journal entries and reconciling schedules.
Researched and analyze technical guidance such as FASB and Generally Accepted Accounting Principles literature.
Analyze financial information detailing assets and liabilities, and prepare explanations for balance sheet/profit and loss statement variance fluctuations.
Managed properties and personnel, including the coordination of budgets, meetings, and special projects within an environment that fostered advanced education.
Certified Public Accountant
Learned about court-appointed forensic accountants and the case work involved.
Updated and organized financial paperwork for company budget, payroll, accounts payable and accounts receivable.
Worked side by side with the owner to prepare business valuations for civil litigation matters.
Scored in the 95th percentile for cost segregation studies completed; assisted in documentation preparation to support depreciation deductions.
Received superior audit rating for taxes to reflect full compliance with documented accounting principles as well as state regulation.
Wrap Up
You need to make sure your resume stands out amongst the other candidates. It is the first impression that employers have of your work experience and skills. Use the samples above to put together a resume that best suits your needs and helps you get the job you want.