Mechanical Engineer Interns assist Mechanical Engineers in designing and building all manner of machinery. Their duties include recognizing requirements in the industry, overseeing production of machinery, designing or redesigning systems, testing for design faults, analyzing finished products and developing future plans. To work as a Mechanical Engineer Intern you must have, or be working toward, a Bachelor's degree in mechanical engineering. Mechanical Engineer Interns must demonstrate creativity, attention to detail, problem-solving ability, math, mechanical, written and verbal skills.
A good resume is well-written and concise. It should be neat and easy to read, listing previous experience in a logical order.
Our resume samples will provide you with multiple examples of what you can include when writing your resume.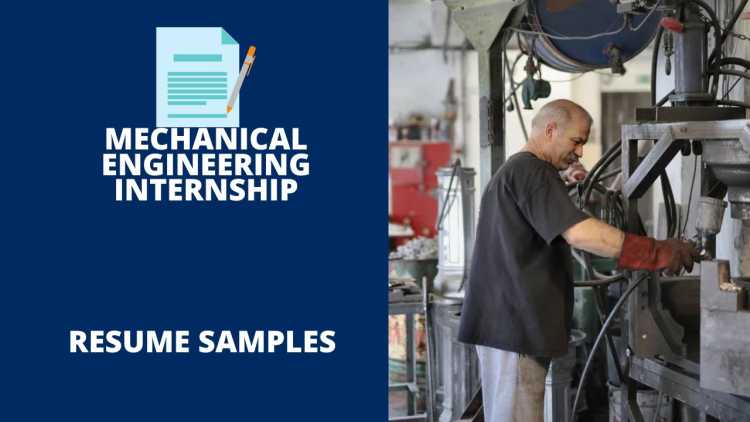 The Best Mechanical Engineering Internship Resume Samples
These are some examples of accomplishments we have handpicked from real Mechanical Engineering Internship resumes for your reference.
Mechanical Engineering Intern
Responsibilities included sizing solar panels, inverters, and adding optimizers to each panel for monitoring the system.
Utilized solar design software, SAM, PVsyst, PVsol to calculate component needed for our system.
Contributed to The Futran System from South Africa, by designing a structure for solar panels to rest on.
Proven ability to conceptualize mechanical concepts through comprehensive engineering design.
Achieved the highest score three of four times during weekly team meetings; led the group in brainstorming mechanical solutions.
Mechanical Engineering Intern
Assisted in managing and overseeing the production of custom designed products, providing technical drawings and assembling mock-ups as needed.
Prepared prototypes by designing components in SolidWorks and 3D printing the parts.
Assisted in consulting with clients to evaluate needs and make designs accordingly.
Render images and animations of company products in Key shot for marketing team.
Selected competitively for a position designing a prototype for the President's Design Award.
Mechanical Engineering Intern
Created efficient and effective documentation to allow for the successful exchange of information throughout the company.
Learned new techniques and skills to handle the high variety of tasks.
Engaged in clear and concise communication with various departments throughout the company as well as with outside entities.
Collaborated with three other engineers to design and build an autonomous robot for use in industrial environments.
Presentation of work at an international conference on robotics resulted in 1st Place Engineering Student Achievement Award from college dean.
Mechanical Engineering Intern
Experimented and designed the company's second medical device, appropriate for resource-limited hospitals in Africa.
Undertook product validation and failure mode analysis through environmental testing of the oxygen filling station.
Supported product documentation adhering to ISO regulatory requirements; Reached out to vendors and OEMs.
Studied human engineering model for the development of ergonomic products.
Evaluated and analyzed standards for product design.
Mechanical Engineering Intern
Designing a universal magnetic "breakaway kickstand" that can be attached to a range of tablet rear housings and tablet cases. Kickstand rotates 360 degrees to allow for portrait or landscape viewing.
Working with a rapid prototyping company to produce a high quality "looks-like" prototype using PolyJet Technology.
Rapidly conducted feasibility studies using Creo/ProEngineer CAD and FDM machine.
Effectively presented prototypes and articulated engineering decisions to Mechanical Engineering, Industrial Engineering, and Marketing teams to gain feedback and to determine if we should move forward with the product.
Developed advanced process controls for precision machining.
Mechanical Engineering Intern
Visited manufacturing shop to develop an accurate Pressure Monitoring System model.
Constructed work aids/manuals to assist engineering department.
Used Ansys Workbench to produce an informative presentation on Finite Element Analysis.
Participated in product testing and evaluation with manufacturing engineers.
Assisted project engineers with the product review process, meeting deadlines, and quality requirements.
Mechanical Engineering Intern
Assisted in developing a standard project management model for future construction projects.
Obtained quotes from equipment manufacturers and prepared project budget estimates.
Contacted and collaborated with various regulatory agencies.
Designed, developed, and sold a new product while interning at Primetime Products, Inc.; fulfilled over $300K in payroll by implementing creative marketing and business tactics; directly responsible for two products being nationally distributed.
Integrally contributed to the design of several new products at Primetime Products, Inc; increased sales by over $300K within six months of employment.
Mechanical Engineering Intern
Performed analysis on components of ship-to-shore cranes, automatic stacking cranes, and gantry cranes.
Analysis included review of design life, structural strength, and safety factors of gear trains, steel rope, structural components, and HVAC systems.
Reviewed and logged data on project completion milestones and projected timelines.
Achieved award for outstanding performance from Vice President of Engineering, Brian Martin; proudly recognized for achieving the corporate goal of more than 10% profit increase within six months.
Improved performance at Primetime Products by developing a more efficient production method; modified machinery to increase quality and maintain cost.
Mechanical Engineering Intern
Developed and optimized robust component and product specifications detailed on engineering drawings to meet customer and regulatory requirements.
Translated the requirements to a verification test plan and measured the performance of the design.
Provided engineering support for the design, purchase, modification, implementation of tooling and equipment associated with injection molding processes for new product designs, engineering changes and maintenance of business projects.
Developed a unique and distinctive design for a new product to fulfill the buyer's needs.
Performed research and create solutions to complicated mechanical engineering problems with the full support of supervisors.
Mechanical Engineering Intern
Designing and building test fixtures to evaluate thermal and electrical performance of heating cable interconnect components.
Collecting and analyzing data using data acquisition equipment and basic statistics.
Designing, assembling and evaluating prototypes of mechanical components and terminal blocks using SolidWorks.
Successfully solved difficult problems by using techniques appropriate to the problem at hand.
Worked on projects that were completed within the time frame requested by the client.
Mechanical Engineering Intern
Developed electromechanical layouts and enclosures for new product design with electrical engineers.
Designed injection-molded plastic and sheet metal components for mass production under supervision of senior mechanical engineer.
Constructed and reported bill of materials, advised production capabilities, and demonstrated prototypes to managers.
Demonstrated good interpersonal skills in confidential situations.
Repaired and maintained many types of machinery under tight time schedules.
Mechanical Engineering Intern
Computed and created a thermal resistance database for components in power units.
Wrote and edited structural analysis reports dealing with stress, deflection, and fatigue life.
Communicated with different departments and vendors to prepare engineering files.
Designed unit fixtures that were manufactured in-house and tested with shock vibrations.
Successfully finished a project that was on the verge of failure.
Wrap Up
You need to make sure your resume stands out amongst the other candidates. It is the first impression that employers have of your work experience and skills. Use the samples above to put together a resume that best suits your needs and helps you get the job you want.