Marketing interns provide assistance to marketing managers. Their duties include preparing presentations, distributing mail, preparing presentations, investigating market data, attending staff meetings, creating social media posts, and taking part in training sessions. This job has no education requirement, as it's an entry-level position. Marketing interns must demonstrate a solid work ethic, consistency, dependability, professionalism, multitasking skills, communication skills, and an attention to detail.
A good resume is well-written and concise. It should be neat and easy to read, listing previous experience in a logical order.
Our resume samples will provide you with multiple examples of what you can include when writing your resume.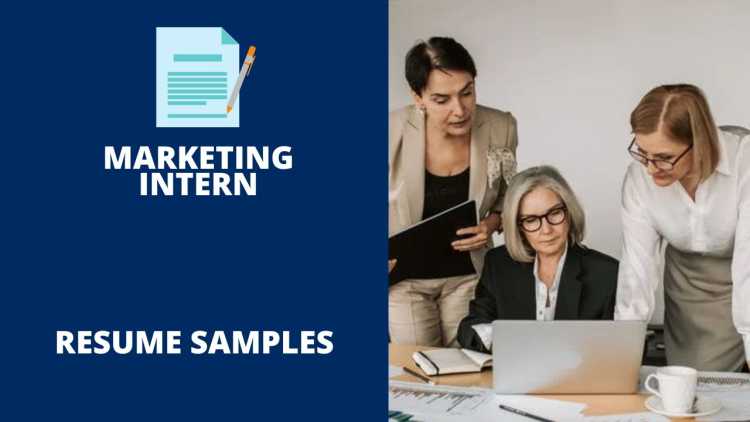 The Best Marketing Intern Resume Samples
These are some examples of accomplishments we have handpicked from real Marketing Intern resumes for your reference.
Marketing Intern
Designed and created marketing content for Menlo College's nine sports team (men and women's).
Revitalized group's social media presence, including the addition of Twitter and YouTube, leading to improved member involvement.
Collaborate with the team of five marketing interns brainstorm and promote materials.
Marketing materials utilized to help efforts to increase prospective student athletes, targeting schools nation-wide.
Founded, coordinated, and presented a marketing department that represented Toyota of San Diego's six regions to the San Diego Board of Realtors.
Marketing Intern
Worked with Founders of this alternative energy (co-generation) start-up.
Program and fly a Phantom 3 Professional Drone, take pictures, and record videos for use online.
Draft newsletter, created social media marketing campaign presentation, and turn PowerPoint presentations into video for use online.
Promoted Toyota's healthcare benefits for all employees.
Created public relations opportunities for Toyota as a corporate sponsor and event sponsor for the United States Youth Soccer Association.
Marketing Intern
Collaborated remotely in San Francisco with the London team to develop and expand business into the US market.
Strategized with the founder and marketing team on implementing best social media practices and coordinating marketing efforts.
Utilized Sprout Social to manage social media engagement and scheduling.
Oversaw three social media projects, including Twitter, Facebook, and LinkedIn accounts.
Created Myspace pages within two weeks and hosted six events in a month during which time created 48 dozen posts on Facebook.
Marketing Intern
Utilized photography skills to help created content for social media such as Instagram, Facebook, and Word press, keeping social media content feed updated and consistent.
Was also introduced to SEO optimization and reading web analytics to better understand ecommerce and social media traffic and flow.
Understanding the basic concept of SEO and reading analytics aided in utilizing marketing content to its fullest in terms of creating the proper content for aiding in sales as well as boosting visibility and growth in different areas.
Developed comprehensive content, messaging, and presentation for printed design packages, digital designs for banners, flyers, posters, and direct mail.
Managed website content and design modifications for consistency with franchise branding.
Marketing Intern
Analyzed competing school's demographic attributes such as programs, tuition, recruitment styles, and student resources for data analysis, reporting and marketing.
Collaborated with colleagues and sponsors to host promotional events at department stores to market and advertise school programs.
Translated between Chinese and English for lecturers and future students regarding fashion school attributes.
Set up I.T. systems to promote company brand across various online platforms including Facebook, Twitter, and Google+.
Identified key sales channels that target potential franchisees throughout the USA.
Marketing Intern
Assisting the marketing manager in weekly Google Analytics reports to make decisions on how to drive more traffic.
Managing an ongoing project of analyzing Craigslist and League Meetup posts of upcoming sports leagues and events using Analytics to determine how to drive more traffic and revenue for the company.
Actively working with the Sponsorship team and giving input on how to created fun and memorable activations with our sponsored leagues and events.
Created media relations campaign strategy to increase online presence and create buzz about the company's products & services through innovative marketing tactics that capture the attention of the most desired audience.
Increased the number of online hits at the company's website by creating and executing a viral marketing campaign.
Marketing Intern
Management of blog and social media pages for the College of Biological Sciences, UC Davis.
Increased followers on accounts by the hundreds over the course of the summer.
Project plan is to merge the two existing websites for the college by fall, designing a site map for one comprehensive site, using SEO, data analysis and marketing content to increase website traffic.
Creating content for the new website, using writing that will optimize visitation on the new site and bring more readership and applicants to the college in the future.
Saved an average of 40% in print and online advertisement costs by identifying unnecessary expenditures and negotiating lower rates with vendors.
Marketing Intern
Compose email marketing campaigns directed to a database of over 15,000 businesses and key decision makers.
Build and manage excel data sheets by researching contacts online and accessing B2B databases.
Writes magazine advertisements, highlighting city incentives to promote business expansion in the city.
Reduced the number of unsolicited calls to the company by identifying personal information online, analyzing data, and creating an opt-in registration form for clients interested in receiving offers from the company.
Developed and implemented an online campaign utilizing blogs to attract new customers; increased website traffic by 70% in one month.
Marketing Intern
Gathered research data to created reports and presentations using Microsoft Power point and Excel.
Met weekly with the marketing team to present research findings and collaboratively implement findings into the website redesign.
Participated in weekly conference calls & meetings with overseas offices for status reports, ensuring the project moved accordingly along the timeline.
Fielded customer complaints, inquiries, and requests for information concerning products and services; handled more than 100 customer contacts per week.
Presented innovative marketing consensus to a group of senior executives at a meeting; received multiple requests for such presentations from executives in other cities and states.
Marketing Intern
Worked directly with engineers to accurately update work experience and relevant credentials, to created project team resumes attractive to potential clients.
Responsible for transferring and organizing all HDR media files to a new database to improve efficiency and accuracy of search queries.
Batch reduced large images using Adobe Photoshop to ensure image quality on multiple proposals.
Executed a "product launch strategy" to promote Company X's 30-item product line to at least 6,000 customers per month via direct mail delivery.
Developed an innovative email marketing campaign to keep the Company's 150,000 email database current.
Marketing Intern
Worked under marketing and administrative supervisor to creative innovative plans for social media and outreach.
Assisted in for Customer Relationship Management (CRM) software to keep track of previous, current, and potential donors.
Performed data analysis in seeking efficient ways between client and employee communication.
Managed the cross-functional team of brand managers and promotion managers in planning company events and implementing marketing strategies.
Participated in marketing planning, research, and advancement of advertising and public relations strategies; supervised the production of numerous marketing collateral.
Marketing Intern
Responsible for all product management, competitive intelligence, marketing and creative efforts for a global skincare company.
Develop a hardworking and goal driven mentality to energize colleagues and team members.
Updated and follow up on delegated tasks to ensure all deadlines were met, and consistently receive positive feedback on all projects.
Seamlessly execute brand awareness events and lead marketing promotions for perspective clients.
Completed scheduling, on-time delivery capabilities, purchasing, and quality assurance of over 1000 events; produced event photography.
Wrap Up
You need to make sure your resume stands out amongst the other candidates. It is the first impression that employers have of your work experience and skills. Use the samples above to put together a resume that best suits your needs and helps you get the job you want.