Medical Sales Representatives sell medical products and services to hospitals, clinics and practices. Their duties include establishing and maintaining relationships with clients, keeping records and completing progress reports, providing information on products to clients, researching and understanding the products, traveling to meet with clients and teaching hospital employees to use equipment. To work as a Medical Sales Representative you do not require any specific education. Medical Sales Representatives must demonstrate organization, communication, confidence, motivation, knowledge of medical systems, interpersonal skills and the ability to multitask.
A good resume is well-written and concise. It should be neat and easy to read, listing previous experience in a logical order.
Our resume samples will provide you with multiple examples of what you can include when writing your resume.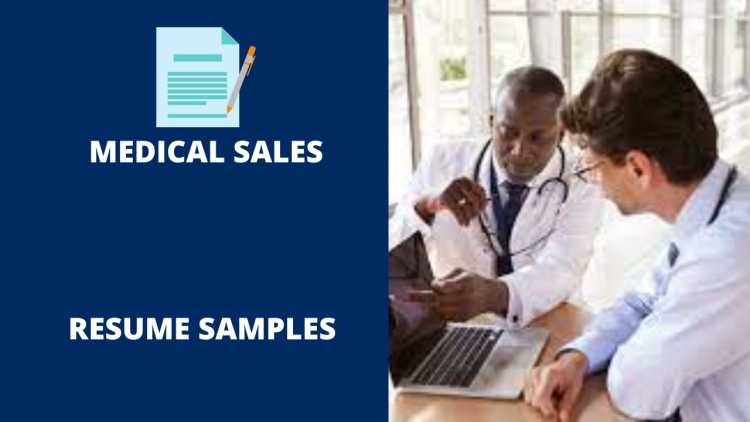 The Best Medical Sales Resume Samples
These are some examples of accomplishments we have handpicked from real Medical Sales resumes for your reference.
Medical Sales Representative
Recommended better merchandise display to management, which was implemented and resulted in sales improve.
Assisted team members when necessary in handling medical products, organizing inventory root.
Demonstrating or presenting products to healthcare staff including doctors, nurses and pharmacists.
Gained a new client base of 180+ physicians, independent agents, and hospitals.
Targeted high-end physicians by advertising in direct mailings and the internet, as well as through referrals.
Medical Sales Representative
Prospect and build relationships with doctors' offices, rehab facilities, nursing homes, & diagnostic laboratories through cold calling & B2B.
Introduce relevant services to help save time, offer convenience, enhance patient experience, and/or increase revenue compliantly.
Travel through assigned territory to call on regular and prospective customers while providing on-site product expertise and consultation to medical facilities.
Advertised in major print media including Parade Magazine, Entrepreneur Magazine, CoBanker Magazine, Top Doctors' Group Guidebooks.
Obtained over $500K in new business through advertising and private sales.
Medical Sales Representative
Developed relationships with key opinion leaders in order to maximize potential growth of products.
Worked harmoniously with four Otsuka, two Lundbeck and one Avanir counterpart.
Managed numerous offices who were having issues with Managed Care in order to get scripts approved.
Gave over 100 seminars for the medical industry to help physicians better serve their patients.
Increased medication utilization and decreased medication costs by implementing a physician-focused campaign designed to raise awareness of physician services.
Medical Sales Representative
Launched several novel medications to multiple markets for the treatment of pulmonary, cardiovascular, gastrointestinal, and psychotic diseases.
Organized educational speaker programs with National Thought Leaders. Participated at national medical conventions; PriMed, DDW, and ASHP.
Solo responsibility for the sales, marketing, and promotional efforts of Prilosec and Plendil for the Southern California CIGNA and FHP staff site accounts.
Developed business relationships with Medical Directors and decision makers to implement the company vision.
Achieved recognition for outstanding performance by exceeding all sales quota during year one, growth in new accounts from 35% to 90% over two years, and positive employee evaluations.
Medical Sales Representative
Established own business using experience based judgement, strong work ethics and integrity.
Inspire, motivate, and train all employees around exemplary customer service.
Actively scouted for new clients while retaining and developing existing client base.
Expanded customer base from 85 to more than 350 hospitals in 15 months; recognized with the 'Sales Agent of the Year' award for effective sales performance.
Worked independently as a designated agent covering 11 states; maintained high-performance standards while communicating effectively with customers and managers via telephone, fax, e-mail, and Skype.
Medical Sales Representative
Establishing relationships with physician offices, conduct productive sales calls, acquiring new referral business and ensure customer satisfaction with excellent customer service.
Execute marketing strategies to increase market share in a highly competitive industry.
Communicate and provide feedback to the organization to support customer base.
Worked on a sales team that delivered more than $33 million in medical sales, making the company profitable.
Made presentations to physicians at various locations throughout the country.
Medical Sales Representative
Promoted specialty eye and ear products that the firm is offering to targeted physicians on a daily basis while out in the field.
Record each sales call in order to track and maintain consistency throughout territory.
Organize meetings to present products and discussions to educate physicians and their staff about product features and benefits.
Analyze data on both an individual and territory level to incorporate specific strategies in order to grow overall market share.
Supported and maintained client relationships, providing continual support and assistance during the period of performance.
Medical Sales Representative
Grew existing dealers through prospecting referral sources, where previous representatives were unable.
Called on vascular, physical therapy, wound care, breast centers, plastic surgeons, and medical spas.
Found and opened a distributor in Mexico at an international vascular conference.
Participated in training workshops, meeting objectives as outlined by the Company and its clientele.
Became an expert in the field of frozen blood plasma replenishment with specialized knowledge providing service to our clients in need.
Medical Sales Representative
Created solid relationships with the California School of Podiatric Medicine teaching faculty.
Received invitations from college faculty to participate in Continued Medical Education meetings and conferences.
Organized and conducted cadaver labs for alumni, residents & students of the School.
Worked regularly with Director of Residents to coordinate teaching labs using our products.
Sponsored podiatric society meetings, recruiting keynote speakers/physicians to present to colleagues.
Medical Sales Representative
Consult with Medical Directors and C-level Hospital Executives regarding use of malignant tissue samples for research to discover new biomarkers for cancer.
Negotiate lucrative contracts between the CTC and healthcare facilities to created mutually advantageous business relationships.
Actively sell and promote malignant tissue samples to PhD level Scientists at pharmaceutical and biotechnology companies.
Overhauled a division into a profitable, high-performance-driven agency.
Utilized sales skills to design, produce, and sell new surgical instruments; established new relationships with distributors and customers.
Medical Sales Representative
Distributor of medical devices, specifically rehabilitation and range of motion braces.
Coordinate fittings with patients at local physical therapy clinics.
Market to patients by explaining the benefits and treatment outcomes of the devices.
Interact with therapy clinics and doctors regarding treatment plans for patients.
Dramatically increased the number of surgical instruments sold in a given time frame by developing strategic partnerships; obtained additional income by setting up private consultation rooms in hospitals.
Medical Sales Representative
Consultative sales approach to drive market share and consistently exceed sales quotas.
Worked cohesively with fellow counterparts to promote mutual brands.
Divide time between the Operating room and the office to maintain and grow business.
Develop and implement innovative methods and processes to establish mutually beneficial relationships between multiple entities to include doctors and pharmacies.
Achieved annual sales volume goals while exceeding individual expectations by 25%, 50%, and 100% during each quarter of the year.
Wrap Up
You need to make sure your resume stands out amongst the other candidates. It is the first impression that employers have of your work experience and skills. Use the samples above to put together a resume that best suits your needs and helps you get the job you want.