A photo lab technician develops and processes photographic negatives or otherwise creates physical versions of digital photos. Their duties include editing, cropping, and enhancing photos, creating the chemical solution needed to develop film, developing film, quality checking prints, and cleaning and maintaining their equipment. There aren't any education requirements for this position, though a certification through Association of Image Consultants International (AICI) or relevant job experience in a similar position are helpful for photo lab technicians. A successful photo lab technician has knowledge of photography, chemistry, and color theory, as well as computer literacy, proficiency in photo editing software, and an eye for detail.
A good resume is well-written and concise. It should be neat and easy to read, listing previous experience in a logical order.
Our resume samples will provide you with multiple examples of what you can include when writing your resume.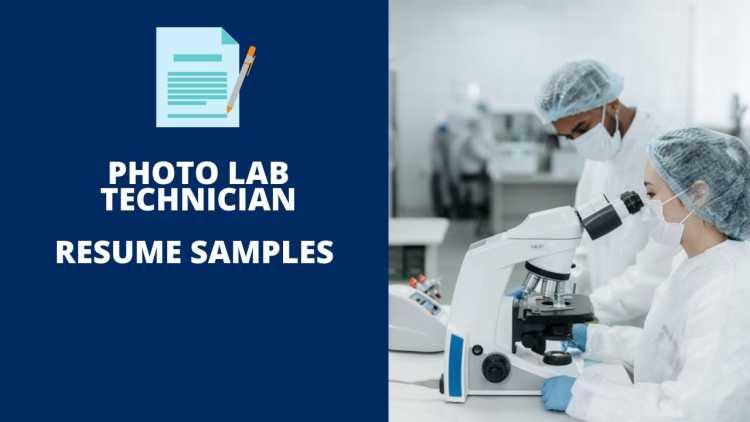 The Best Photo Lab Technician Resume Samples
These are some examples of accomplishments we have handpicked from real Resume With Photo resumes for your reference.
Photo Lab Technician
Specialist technician that operates the photo processing machines and area.
Answer all questions customer have even if they apply to another area of the store ( i.e Pharmacy, Cosmetics, Weekly promotion items ).
Along with the designated photo area of the store I must keep track of product availability in each isle and correspond it with the availability that our stock room holds.
Everyday tasks aside from keeping the photo lab in order would be keeping the cooler and freezer clean and well stocked.
Met or exceeded lab and storewide monthly sales, quality, and safety goals by providing superior customer service.
Photo Lab Technician
Assisted members with their photo needs and help members use photo kiosks.
Process photo orders in a timely fashion .
Maintain photo processing machines and daily maintence .
Worked cash register and answered phones.
Onboarded new hires and trained them in photo lab technology, workflow procedures, and quality standards.
Photo Lab Technician
Assisted customers in selecting products and/or services that best meet their shopping needs.
Troubleshoot machine issues and malfunctions.
Operate all equipment, kiosks, and technologies associated with the Photo Lab.
Answer customers questions and resolve complaints in a professional manner.
Communicated with customers to determine their specific needs; met all objectives to align with the company's mission.
Photo Lab Technician
Assisted customers in using the photo lab software. Managed weekly inventory.
Trained employees to use the photo lab and related software.
Created a manual listing common problems and troubleshooting steps for fellow employees to use.
Delegated tasks, by creating daily task lists and goals for various departments.
Documented exceptional performance while demonstrating a commitment to the company's core values through communication, integrity, leadership, and teamwork.
Photo Lab Technician
I opened the photo lab up got kiosks and computers started so that customers photos would print and be ready for pick-up.
I also assisted customers with help on floor with questions and merchandise, and checked customers out on cash register.
Did inventory on cameras and made sure that work area was clean.
Acted as a go-to person for problem-solving; handled questions regarding quality issues and helped resolve problems that resulted in increased sales incentives.
Quickly and accurately loaded film and processed 135 prints per hour; ranked among highest levels of efficiency.
Photo Lab Technician
Follows established procedures to maintain and supervise all the lab equipment.
Recognizes unexpected problems and take appropriate actions.
Demonstrates the labs technical skills to other technicians.
Assisted customers on how to use the hardware and software to get their photo products.
Delivered high-quality prints with consistent color and clarity; received award at Photo Association annual conference.
Photo Lab Technician
This position included direct customer service with helping customers created and upload the pictures they wanted to print.
I was responsible for creating multiple types of products including varying sizes of Photo Prints, Canvases, Folded Cards, and Mounted Photos.
We also made Specialty Products such as Calendars and Photo Books.
Demonstrated dedication to customer service by providing fast turnaround times, promptly returning calls and emails, along other time management skills.
Adhered to strict management guidelines concerning quality control procedures in the absence of the assistant lab manager.
Photo Lab Technician
Address all Photo Customers by name, Complete order envelopes for customers.
Assisted customers in deciding the product and/or service that best meets their needs.
Prioritize all customer on-site orders based on pick-up time, Suggest additional photo products and services to all Photo customers.
Follow all customer off-site order policies and procedures, Assist customers with questions, problems, complaints.
Worked independently based on precise instructions for handling toxic chemicals including developer, fixer, neutralizer, and stop bath chemicals; handled photo processing chemicals safely during daily use for two years.
Photo Lab Technician
Duties included the start up and shut down of photo including quality control and maintenance of machines.
Customer service including the operation of kiosks enlarging, reducing, touch-up and enhancing of photos and negatives.
Creating layouts for collages, Christmas, birthday, graduation cards and birth announcements.
Developed promotional flyers and media ads for increased customer awareness of the photo lab business.
Maintained effective communications with investors and managers.
Photo Lab Technician
Assisted customers with photo requests, helped with decisions to purchase products for their needs.
Assisted customers with knowledge about products and help them make the right choice for their needs.
Take inventory of products in department and record in computer for orders.
Held responsibility for understanding, implementing, and enforcing all federal, state, and local regulations.
Trained new hires to keep up with new technology; created training manuals for hiring standards and technical standards to ensure consistency among staff members.
Photo Lab Technician
Processing customers' orders in a timely fashion, while keeping the Photo Centre work area safe and zoned for customers.
Proper handling of upset customers, Suggestive selling through counter techniques.
Answering Customer calls promptly, Assisting Customers in finding merchandise.
Achieved high-volume production; maintained a 99% error rate in operational accuracy in processing film orders.
Successfully processed a large volume of wood and gelatin prints for photography studios that are considered among the best in the industry.
Photo Lab Technician
Receiving web orders for photo orders, using a computer to execute orders sent online or by the in-store kiosk.
Taking passport photos for adults and young children, printing them out in a fast manner.
Checking out guests at the front register as well as behind the photo counter.
Unloading trucks – Stacking totes in designated areas to be stocked after the truck is unloaded.
Assisted customers by offering a personal service by anticipating their needs and providing them with solutions.
Wrap Up
You need to make sure your resume stands out amongst the other candidates. It is the first impression that employers have of your work experience and skills. Use the samples above to put together a resume that best suits your needs and helps you get the job you want.