A Medical Lab Assistant assists in performing lab testing. Their duties include preparing samples, screening for illegal substances, processing samples, developing medications, testing blood samples, diagnosing diseases, taking vital signs, keeping accurate records, and maintaining lab equipment. Educational requirements for lab assistants are an associate's degree in biological science and voluntary certification. Skills needed to be a lab assistant are documentation skills, manual dexterity, attention to detail, communication skills, research skills, analysis skills, stress tolerance, problem-solving, and independence.
A good resume is well-written and concise. It should be neat and easy to read, listing previous experience in a logical order.
Our resume samples will provide you with multiple examples of what you can include when writing your resume.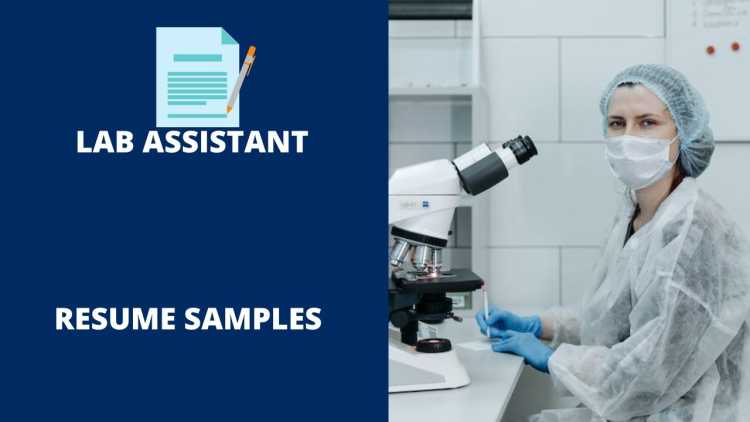 The Best Lab Assistant Resume Samples
These are some examples of accomplishments we have handpicked from real Lab Assistant resumes for your reference.
Lab Assistant
Operate instruments and regulate temperature and pressure during chemical reactions that produce specific products.
Add specified chemicals to products to ensure that they meet requirements.
Weigh and measure chemicals in the proper amounts following the formula.
Complete and sign off detailed batch sheets confirming work performed and standards met.
Prepared, processed, and organized laboratory tests within a scientific laboratory.
Lab Assistant
My responsibilities was to make sure that the assembly lines ran properly.
I had to open and close the assembly doors to maintain production.
It was also my responsibility to make sure that the products was stored in the right bins and preventing the assembly lines from overflowing.
Performed testing routines to ensure innovative results.
Coached technologists and students in the scientific laboratory.
Lab Assistant
Answering phones and expediting calls to different departments in lab.
Distribution of lab reports for hematology and chemistry departments.
Making sure the requirements for send outs are met before logging it in the system and sending them out to other labs.
Raced against time as an inpatient lab assistant and acted as a research assistant for a biochemistry professor.
Actively recruited prospective students for the college based on his personal knowledge of their needs and motives.
Lab Assistant
Conduct standards tests, such as blood alcohol, blood culture, oral glucose tolerance, glucose screening, blood smears, or peak and trough drug levels tests.
Explain fluid or tissue collection procedures to patients.
Transport specimens or fluid samples from collection sites to laboratories.
Collect specimens at specific time intervals for tests, such as those assessing therapeutic drug levels.
Successfully completed biosafety training for a variety of infectious diseases, using standard practices and procedures.
Lab Assistant
Answer telephones and give information to callers, take messages, or transfer calls to appropriate individuals.
Operate office equipment, such as fax machines, copiers, or phone systems.
Draw blood from veins by vacuum tube, syringe, or butterfly venipuncture methods.
Supervised the staff by scheduling work for all positions, ensuring the safety and cleanliness of the lab.
Cataloged, tested, and labeled the various pharmaceuticals and supplies used in the lab.
Lab Assistant
Prepares and sorts specimens and samples for laboratory testing, ability to operate simple lab equipment.
Thorough understanding of sterilization techniques and handling of harmful materials.
Knowledge of using, maintaining and cleaning laboratory equipment and use.
Was instrumental in establishing standards for medication adherence which helped to promote drug-free workplace policies at patient care centers.
Participated on clinical trial teams conducting research studies on drugs that affect laboratory staff.
Lab Assistant
A New Graduate with a Pharmaceutical Chemist Diploma with experience in Research and Development of Cosmetic industry (formulation and characterization).
Highly-motivated, productive and customer-focused team player with strong communication, interpersonal, organizational, time management, analytical and problem solving skills.
Reliable and dedicated with the ability to grasp and apply new procedures quickly; organize and prioritize tasks to meet deadlines and adapt readily to new challenges.
Demonstrated exceptional retention ability for memorization of compound formulas and substance properties.
Certified to administer injections and IV drugs in accordance with FDA guidelines.
Lab Assistant
Collect all specimens from emergency room, all hospital floors, process them and deliver to the appropriate department.
Responsible for sending out specimens to other outreach labs for testing.
Customer service, mailing and faxing results as requested by the Physicians.
Minimized the risk of product contamination by ensuring sterility through PECS and ISO guidelines.
Recognized for exceptional skill in phlebotomy; exceeded national averages for successful blood draws.
Lab Assistant
Conducted optical testing for fold mirrors that will be used on a probe arm on MIRADAS, a third-generation near-infrared spectrograph for the Gran Telescopio Canarias (GTC) in Spain.
Revised Solidworks drawings and part files of components used for MIRADAS before they are sent for fabrication.
Created a test jig on Solidworks that was manufactured and used for the fold mirror tests.
Used Python to develop code to analyze the fold mirror test results.
Provided approved testing methods, results, and recommendations by using equipment; recognized as a knowledgeable expert in molecular biology processes.
Lab Assistant
Performs various laboratory support procedures which include phlebotomy and/or specimen processing.
Actively participates in outstanding customer service and accepts responsibility in maintaining relationships that are equally respectful to all.
Responsible for the prompt and accurate collection, storage and shipping of plasma bottles and samples.
Maintained a high standard for handling and maintaining medical supplies, equipment, and chemicals.
Achieved certification in Medical Lab Technic by working under the director of the clinical lab.
Lab Assistant
Organize and analyze obtained data statistically for publication.
Plan and actively involve in discussions about future projects with creative ideas.
Able to work together with high sense of teamwork and responsibility to produce quality work.
Demonstrated a high level of proficiency as a technician in the appropriate use and safety of laboratory supplies, instruments, and equipment.
Served as an integral member of a team that accepted responsibility for resolving differences within and between departments.
Lab Assistant
Assists the Medical Technologist in operating various types of laboratory equipment to perform tests in chemistry, bacteriology, urine analysis, hematology, etc.
Maintain laboratory logs of tests as required and in accordance with generally accepted practices, policies, procedures, and protocols established in said area.
Participates in a quality control program and prepares blood samples and likewise for analysis at outside laboratories, as instructed by the providers and Medical Technologist.
Maintains reagents and supplies, order inventory and inspect all material to assure the valid dates of use and destroys those outdated supplies as required by state licenses.
Participated in seven research projects conducted over an 18-month period; efficiently juggled multiple tasks to complete complex experiments on time and on budget.
Wrap Up
You need to make sure your resume stands out amongst the other candidates. It is the first impression that employers have of your work experience and skills. Use the samples above to put together a resume that best suits your needs and helps you get the job you want.