Warehouse Supervisors oversee warehouse operations and manage warehouse staff. Their duties include log analysis, tracking shipments and inventory, hiring and training new employees, improving productivity, ensuring proper workflow and overseeing equipment maintenance. Warehouse supervisor positions require a high school diploma or equivalent and experience in business administration or a related field. To be a warehouse supervisor you must be efficient, organized, punctual, analytic, critical-thinking, a team player and have attention to detail.
A good resume is well-written and concise. It should be neat and easy to read, listing previous experience in a logical order.
Our resume samples will provide you with multiple examples of what you can include when writing your resume.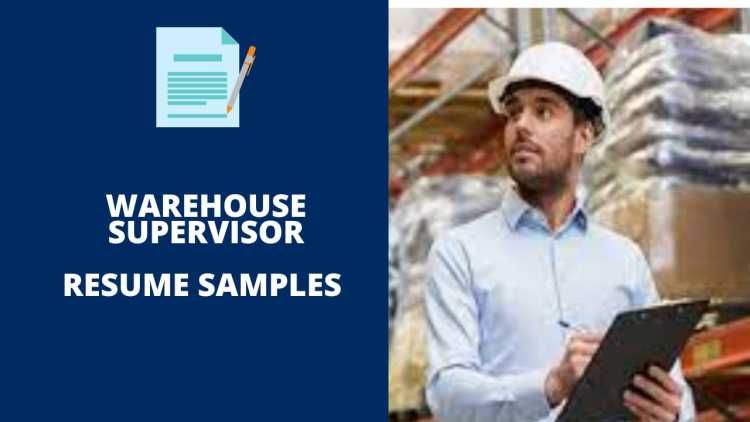 The Best Warehouse Supervisor Resume Samples
These are some examples of accomplishments we have handpicked from real Warehouse Supervisor resumes for your reference.
Warehouse Supervisor
The warehouse Supervisor directly supervises and coordinates all activities in the Shipping / Receiving department to maximize productivity on assigned shifts and areas.
This includes planning, assigning, and directing work, addressing product and employee complaints, and resolving problems.
Prepared weekly management reports and participate in the plant management meetings.
Streamlined overall inventory operations by implementing a new and efficient computerized system of record keeping.
Helped develop an effective system to maintain stock rotation, thus reducing costs and improving customer service.
Warehouse Supervisor
Measure and report the effectiveness of warehousing activities and employee performance.
Maintain item records, document necessary information, and utilize reports to project warehouse status.
Coached all customer service representatives (CSR) to ensure they had the skills and knowledge to use the warehouse management system.
Achieved record production with quality products while maintaining ISO standards by directing workforce on a daily basis; provided leadership when necessary.
Presented quality improvement plan in front of Senior Management which was approved, resulting in greater value for the customer.
Warehouse Supervisor
Managing fuel levels for all yard tanks to include taking samples and receiving incoming loads of fuel.
Overseeing the preparation of deliveries of bulk lubes and oils to customers daily.
Coordinating and conducting monthly inventory through scanners and logs as well as correcting deficiencies.
Received award for "Outstanding Warehouse Supervisor" based upon profits, production, and employee feedback regarding attitude and work ethic.
Effectively arranged for the materials needed for projects, ensuring that each product (or quantity) had proper inventory and was obtainable from suppliers.
Warehouse Supervisor
Trained staff on material handling processes to reduce shipping times.
Demonstrated integrity and honesty while interacting with guests, team members, and managers.
Led warehouse improvement initiatives to advance operational efficiencies.
Selected equipment and materials to ensure job completion within the budgeted time frame.
Supervised the assignment of personnel to ensure efficiency by identifying necessary skill sets.
Warehouse Supervisor
Supervised 10 employees to ensure proper warehouse operations. Maintained all California safety standards.
Knowledge of and managing all warehouse logistics including receiving, shipping, loading, and unloading of trucks, warehouse organization, and inventory control.
Building bulk delivery pallets for customers and loading them in delivery vehicles in proper order.
Excelled in production output time, quality, and final product value; attained respect from superiors and peers due to results.
Promoted an effective work environment with a positive attitude; consistently demonstrated loyalty to company's mission/values in all aspects of work.
Warehouse Supervisor
Responsible for ensuring the plant is thoroughly cleaned and properly sanitized which includes breaking down each piece of equipment, having it inspected, and then reassembling before production begins.
Ensures that all work activities are performed with attention to the highest standards of food quality, safe processes, compliance with all regulations and policies, and a focus on continuous process improvement.
Ensuring sanitizing practices are being followed, monitoring chemical and sanitation supplies and equipment, and ordering when necessary (Also maintaining inventory of chemicals for environmental reporting).
Responsible for overall product quality to include ingredients, packaging & finished palletized product to the warehouse.
Met objectives for customer service and quality by establishing measurements of customer satisfaction.
Warehouse Supervisor
Implemented warehouse rules in accordance with company vision and mission.
Complied with the federal requirements on safety and health regulations.
Coordinated the activities of the warehouse staff and the delivery team in transporting and meeting orders.
Increased productivity and reduced operating costs by 25% through the implementation of the following items: automated guided vehicles, warehouse deployment systems, and outside receiving.
Secured distribution channels; formed alliances with three new suppliers that increased net profit by 75%.
Warehouse Supervisor
Responsible for coordinating the day to day of operation, overseeing 4 terminals approximately 10 employees at a time.
Well-versed in all Shipping & Receiving Procedures and Receiving Room Standards.
Handle Loss Prevention issues and ensure to minimize internal and external shrink.
Worked with other warehouse employees to receive and break down all shipments in a timely manner.
Achieved high employee morale; received a company-wide commendation for my leadership skills.
Warehouse Supervisor
Managed warehouse and oversee workers' duties and everything that goes in and out of the warehouse.
Upload and print all products on Photoshop/Adobe illustrator for products to be made and handled correctly in an orderly and quick rate to maintain quality and persistence for consumers to receive as constructed.
Make sure employees are safety orientated and the workplace is a nice clean peaceful environment to work in.
Also, upload work on laser machines for custom orders as requested by customers.
Recognized as a co-worker of the year; demonstrated knowledge and advanced QA/QC to ensure quality control in all aspects of distribution.
Warehouse Supervisor
Responsible for keeping the warehouse clean and in orderly condition while maintaining all company safety regulations and policies.
Experienced working with both sit down and stand up forklifts, pallet jacks, hand trucks, as well as various power tools and equipment.
Maintains warehouse efficiently by utilizing maximum floor space and continuously making improvements.
Delivered on time, in spec, and in full over 3 million dollars worth of components.
Installed a computerized tracking system for parts and inventory; recorded new sales records for the company.
Warehouse Supervisor
Responsible for making sure that all incoming product was checked into inventory and made available immediately.
Worked closely with purchasing personnel to make sure that inventory levels were always kept up to date.
Responsible for Train/developing/mentoring/motivating all warehouse personnel, analyzing and improving warehousing and inventory management systems to exceed all productivity and service quality objectives.
Responsible for checking all deliveries into the inventory program and making notes of any damaged or missing product.
Recognized by CEO and executives as an expert in customer satisfaction; resolved customer complaints and concerns.
Warehouse Supervisor
Currently supervising thirteen plus material handlers, permanent and temporary.
Worked with a staffing agency to maintain a workforce suited for the daily workload.
Organize the warehouse picking process for distribution to the body line and general assembly.
Maintain a close relationship with SAP developers to report any issues or necessary upgrades.
Maintain inventory via SAP in receiving, material disposition, and production order assignment.
Wrap Up
You need to make sure your resume stands out amongst the other candidates. It is the first impression that employers have of your work experience and skills. Use the samples above to put together a resume that best suits your needs and helps you get the job you want.