A Substitute Teacher assists the classroom teacher in the education of students when the regular teacher is absent. They should have excellent communication skills, be able to handle different personalities, be patient, know how to work with teenagers, and enjoy working with children. It can be helpful for substitute teachers to have a degree in the subject they are teaching or previous experience in child care or tutoring.
A good resume is well-written and concise. It should be neat and easy to read, listing previous experience in a logical order.
Our resume samples will provide you with multiple examples of what you can include when writing your resume.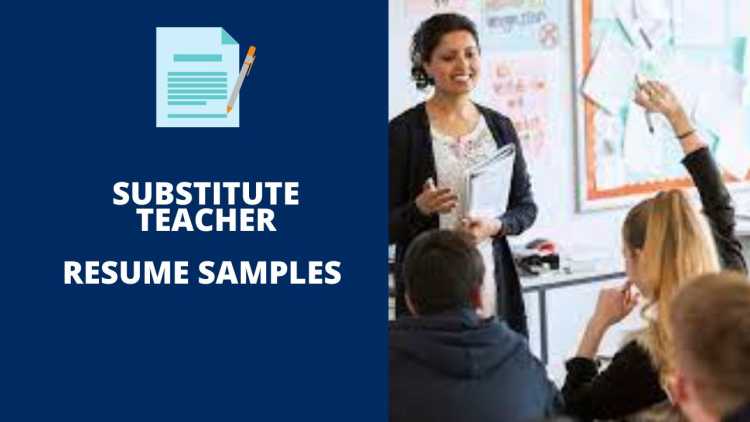 The Best Substitute Teacher Resume Samples
These are some examples of accomplishments we have handpicked from real Substitute Teacher resumes for your reference.
Substitute Teacher
Consults, as appropriate, with the building principal and/or supervisor before initiating any lesson or other procedure not specified in the teacher's plans.
Maintains as fully as possible the established routines and procedures of the school and classrooms to which they are assigned.
Assumes responsibility for overseeing pupil behavior in class and at other times during the school day as requested.
Maintains appropriate student behavior always throughout the school day for assigned students.
Respected, supported, and guided students to reach their full potential in academics and social growth while contributing to a safe and pleasant learning environment.
Substitute Teacher
Indicated to students the basic expectations for behavior in the class in accordance with school and district policies.
Guided the learning process toward the achievement of curriculum goals and objectives as indicated in the lesson plans.
Created a classroom environment that is conducive to learning and appropriate to the maturity and interests of the students.
Employed instructional methods and materials that are most appropriate for meeting lesson objectives.
Achieved award for Outstanding Teaching Assistant; helped students acclimate to the teaching style of an educator who was absent for five consecutive days.
Substitute Teacher
Possessed the ability to establish an evenhanded and ethical atmosphere for all students.
Worked with lesson plans established by primary teacher with ease.
Exhibited versatility in methods of instruction and ability to adapt quickly.
Well-versed in adapting to new environments and to the students as individuals.
Possessed the ability to adapt lesson plan/instruction techniques for students with special needs.
Substitute Teacher
Help students learn subject matter and skills that will contribute to their educational and social development.
Learn and adapt to each student's special medical, physical, communicative, and emotional needs.
Managed student behavior and report student discipline problems to appropriate administrator.
Communicate with Teachers and Parents on a daily basic regarding student's behavior.
Earned accolades for allocating professional time by executing duties as a substitute teacher after a student body representative's request for assistance.
Substitute Teacher
Adapted teaching methods and instructional materials to meet students' varying needs and interests.
Established and enforced rules for behavior and procedures for maintaining order among students.
Conferred with parents or guardians, other teachers, counselors, and administrators to resolve students' behavioral and academic problems.
Maintained accurate, complete, and correct student records as required by laws, district policies, and administrative regulations.
Volunteered ten hours/week as a tutor in special education classes; effectively assisted students with developmental disabilities.
Substitute Teacher
Take instructions from school office and lead teacher about handling classroom instruction.
Refer to the lesson plans left by lead teacher and ensure that appropriate measures are taken to follow.
Managed classroom order and student behavior.
Contributed to the academic success of middle school students by achieving a 100% score on required state evaluation of teaching competencies.
Worked as an instructional assistant and taught English.
Substitute Teacher
Led the children in completing their classwork and fulfilling their duties for the day.
Ensure that classroom instruction is handled according to the school's policies, goals and objectives.
Take necessary and reasonable actions to ensure the safety of students, materials and school equipment.
Organized and supervised special materials for the education department.
Supervised the recreation department while developing an entire curriculum of physical fitness activities.
Substitute Teacher
Reports to school at beginning of day to obtain required materials/schedule of classes.
Return materials; follows sign out procedures at the end of school day.
Carries out program of study prescribed lesson plans left by the classroom teacher.
Creates classroom environment conducive to learning and appropriate maturity/interests of the students.
Coordinated special activities, such as a junior-senior prom, a parent/teacher conference, and a Greek picnic.
Substitute Teacher
Assisted schools with absence of the regular classroom teacher and to provide meaningful instruction for assigned classrooms.
Maintain a classroom environment that is conducive to learning and appropriate to the maturity and interests of the students.
Employs instructional methods and materials that are most appropriate for meeting lesson objectives.
Maintains as fully as possible the established routines and procedures of the school and classroom to which assigned.
Conducted zone improvement programs for the school principal to increase school safety with new security measures in place.
Substitute Teacher
As a substitute teacher my duties include covering for teachers all over the district.
During testing periods monitor hallways and classrooms.
Filling for the front office delivering memos or packages to staff.
Provided individualized instruction to students in Special Education, English, and Reading.
Reinforced classroom management skills with aggressive students; implemented successful behavior management plans.
Substitute Teacher
Being prompt to accepted jobs by ones-self.
Having availability to assist other classes other then the one you are working.
Being attentive for students whom may need direction or guidance on a daily basis.
Ability to work in classrooms with a large ratio of students.
Ability to improvise on subject lesson plans when non are provided by teacher.
Substitute Teacher
Followed and taught lesson plans assigned, by permanent teacher for students' in grades Kindergarten through the 12th grade.
Guide students through planned activities and tend to their physical needs.
Maintained effective classroom management strategies and applied advanced teaching capabilities in all subject areas.
Determined appropriate consequences for inappropriate student behavior and write a report for teacher about the classes events.
Studied the curriculum for upcoming lessons; sought to prepare for potential questions from students and parents regarding assignments, missed class time, and teacher's absence.
Wrap Up
You need to make sure your resume stands out amongst the other candidates. It is the first impression that employers have of your work experience and skills. Use the samples above to put together a resume that best suits your needs and helps you get the job you want.