Second-grade teachers teach students in 2nd grade or elementary school. They typically have a bachelor's degree in elementary education and have completed student teaching. Second Grade Teachers must be organized, dedicated, creative, enthusiastic, patient, well-spoken, good problem solvers, and quick decision-makers.
A good resume is well-written and concise. It should be neat and easy to read, listing previous experience in a logical order.
Our resume samples will provide you with multiple examples of what you can include when writing your resume.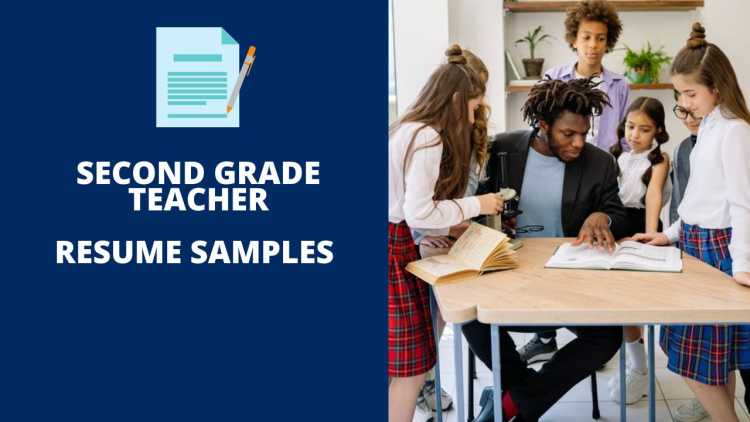 The Best Second Grade Teacher Resume Samples
These are some examples of accomplishments we have handpicked from real Second Grade Teacher resumes for your reference.
Second Grade Teacher
I've been a full-time homeroom teacher teaching second grade at this private school for 5 years.
I've been responsible for lesson planning and teaching Math, Language Art, Social Studies and Science to the children, along with basic PE training.
I've a passion for teaching younger grades and am a dedicated learner myself.
I have been growing in this field by keeping up with my studies on a part-time basis to be able to better meet the needs of my students.
Empowered students to be kind, respectful, and happy people; empowered students for life skills in Math, Science, Language Arts.
Second Grade Teacher
Teach and responsible for the care of 22 students.
Created weekly lesson plans based on the curriculum set forth by the administration.
Teach to various learning styles and personalities.
Worked alongside and collaborate with 2 other second grade teachers.
Plan and implement activities and/or field trips to encourage the learning process.
Second Grade/Kindergarten Teacher
Served as the Tech Lead for the school site, providing technological support and Diego curriculum ideas.
Utilized one-to-one chrome books in daily lessons and activities HIGHLIGHTS.
Developed and delivered instructional activities, using technology, that facilitated active learning experiences for classrooms of 23 – 31 students Lead a professional development.
Determined needs of each child (reading, math, science) and taught each child to the maximum of his or her individual capabilities.
Initiated and nurtured relationships with parents of all children.
Second Grade/Kindergarten Teacher
Served as the Tech Lead for the school site, providing technological support and curriculum ideas.
Utilized one-to-one chrome books in daily lessons and activities.
Developed and delivered instructional activities, using technology, that facilitated active learning experiences for classrooms of 23 – 31 students.
Collaborated with colleagues and resource specialists to leverage joint experiences for classroom planning and support students who were consistently performing below grade level.
Demonstrated leadership skills through curative acts and conduct of behavior.
Second Grade Teacher
Prepared weekly lesson plans based on Second Grade Common Core State Standards.
Designed various cross-curriculum activities to enhance connections between school subjects.
Used differentiated instruction in both formative and summative assessments to evaluate student work.
Incorporated technology daily using document camera, laptops, iPads and various educational apps.
Assumed additional school responsibilities: Special Event Coordinator, Yearbook Advisor, Coach, Tutor.
Certificated Second Grade Teacher
Developing /implementing integrated curriculum units, differentiating and scaffolding as needed.
Regularly assessing student progress to refine instruction and meet student needs.
Participating regularly in professional development opportunities and collaborative meetings.
Communicating frequently with students, students' families, colleagues and other stakeholders.
Organized project-based projects for the enrichment of curriculum; collaborated with other classroom teachers.
Second Grade Teacher
Develop and implement engaging, differentiated, and standards-aligned lesson plans using the TEKS Resource System.
Incorporate differentiated centers in a student-focused learning environment.
Performed regular formal and informal assessments, and collect data to reflect on and improve student grouping and instructional strategies.
Foster problem solving and critical thinking while integrating Project Based Learning activities.
Had effective control of a classroom of sixteen children in the role of teacher, disciplinarian, and role model.
Second Grade Teacher
As a self contained second grade bilingual teacher in an early exit program I created differentiated lesson plans focused on growing each individual student.
I acted as the Science lead team member creating engaging hands on lesson plans.
I orchestrated guided reading and guided math groups using multiple hands on manipulatives and methods.
Assisted parents, teachers, and parents with special education needs by understanding their individual learning styles.
Developed curriculum for all students in the English/Language Arts, Math, Science, and Social studies programs to include individualized guidance in reading/language development.
Second Grade Teacher
Organized, planned, and delivered lectures to students that reflected accommodations for individual differences.
Guided the learning process toward the achievement of curriculum goals according to the Common Core Standards for English Language Arts.
Worked cooperatively with school administrators, support personnel, colleagues and parents.
Provided assistance/substitution for special education students as needed including speech delays, visual-motor coordination difficulties, and language difficulties.
Maintained credentials for American Red Cross emergency response instructor; provided emergency response training to the community on natural-disaster preparedness techniques.
Second Grade Teacher
Creates a safe, encouraging environment conducive to learning.
Establishes and maintains efficient classroom management procedures and standards of student behavior.
Identifies student needs and cooperates with other professional staff members in assessing and helping students resolve health, attitude, and learning problems.
Cultivated self-discipline, leadership skills, and self-confidence in 32 low-income elementary school children.
Presided over the class with diplomacy; managed a class of six boys and four girls who spoke a total of seven languages.
Second Grade Teacher
Implemented the Florida Standards (LAFs, MAFs), Next Generation Standards and Common Core curriculum.
Tailored professional development to individual students' needs.
Implemented technology-based curriculum using both textbook and interactive lessons.
Prepared students for the Palm Beach Performance Assessments.
Incorporated hands-on activities into lessons to enhance critical thinking, team building, and participation; put information into context using real objects or videos to capture the interest of students.
Second Grade Teacher
Managed all classroom aspects including professional development, parental communications, and student assessments.
Prepared a variety of written materials (e.g. grades, lesson plans following scope and sequence, correspondence with parents and students, examinations and quizzes, attendance, anecdotal records, etc.) for the purpose of documenting student progress and meeting mandated requirements.
Significantly enhanced classroom environment by acting as a facilitator to promote student leadership in initiating and creating positive, learning opportunities.
Sought positive feedback from parents through classroom newsletters in order to improve future classroom performance and transference skills, which directly contributed to increased student scores on standardized state testing.
Prepared students for the NYS Learning Standards assessment.
Wrap Up
You need to make sure your resume stands out amongst the other candidates. It is the first impression that employers have of your work experience and skills. Use the samples above to put together a resume that best suits your needs and helps you get the job you want.