IT Network Engineers design, implement and maintain network systems. They are responsible for the installation of hardware and software, daily backups, troubleshooting system malfunctions, security updates, testing new technologies, coordinating with vendors/outside IT services professionals to provide technical support and training staff members on new technology. For this profession, you must have a bachelor's degree in a related field along with 1-3 years of experience. IT Network Engineers must be detail-oriented problem solvers with strong communication skills who can work independently or as part of a team.
A good resume is well-written and concise. It should be neat and easy to read, listing previous experience in a logical order.
Our resume samples will provide you with multiple examples of what you can include when writing your resume.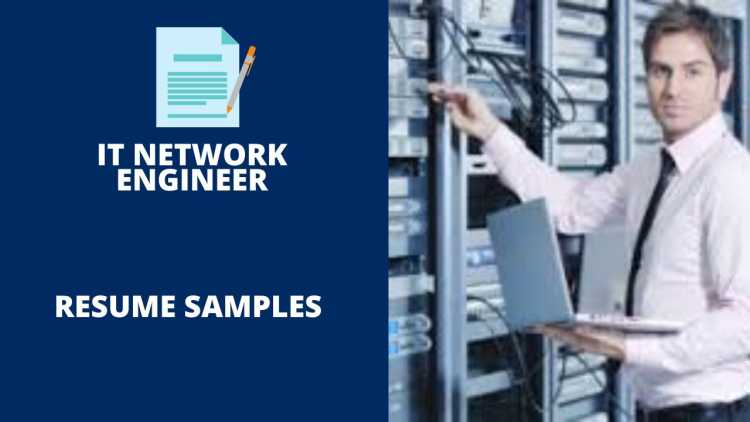 The Best IT Network Engineer Resume Samples
These are some examples of accomplishments we have handpicked from real IT Network Engineer resumes for your reference.
Network Engineer
Setup, configure, manage and document all WAN connectivity between sites to include router configuration/ maintenance, coordination with Communication Company/ISPs for installs and turn-ups, DNS administration, TCP/IP configuration, protocols, VPN and encryption, firewall configuration/ maintenance, ports, monitoring and network security.
Provided enterprise level networking solutions: Architect, develop hardware specifications, coordination of HW/SW vendors and pricing, project plans and scheduling, configure and implementation of network solutions.
Evaluate system resources, make recommendations for procurement where necessary.
Communicate with users regarding scheduled repairs, installations, and changes to company hardware and software.
Developed, implemented, and maintained network connectivity for the company's network systems.
Network Engineer
Created documentation for requirements, architectural designs, engineering drawings and diagrams, as well as operational installation (run-books).
Familiar with Network Performance Management systems including network & application traffic capture probes.
Identify performance issues and recommend performance recommendations.
Maintained a secure, unified network from which the company received its full benefits.
Implemented disaster recovery plan with multiple off-site sites to ensure the continuity of communication between branch offices and the headquarters office.
IT Network Engineer
Planned IT network infrastructure with clients to ensure that the systems are tailored and comply with their requirements and needs.
Implemented IT network projects: Installed, configured and maintained network services, hardware systems and peripheral equipment/devices.
Administered all systems, including hardware platforms, software applications and numerous interfaces included in the Local Area Network (LAN) and Wide Area Network (WAN).
Implemented systems software changes, operating system releases and maintain the operational status of systems.
Greatly contributed to maintaining efficient worldwide data transfer and connection through operating system updates.
Sr. Network Engineer
Expertise in Integration, configuration and maintenance of Cisco Router, Catalyst Switches and Firewalls.
Experienced working with ASR 9000 series switches with IOS-XR.
Switching related tasks included implementing VLANS and configuring ISL trunk on Fast-Ethernet and Gigabit Ethernet channel between switches.
Datacenter upgrades from C6500s to Nexus 7k/5k/2k, double-VPC between distribution and access, single-VPC to servers.
Contributed to the development of network solutions for Defense Information Systems Agency and numerous US Government Agencies through the application of networking technologies.
Network Engineer
Redesigned network and implemented Hierarchical Network Design by adding a distribution layer.
Redesigned and Implemented new rack designs for IDF network rooms and Datacenter.
Worked with Plant Engineers to provide Network Design and Implementation to fit their needs.
Project Management and SME for IT Infrastructure projects.
May have discovered a new generation of the encryption algorithm.
Sr. Network engineer
Experienced in HSRP standby troubleshooting & Experience in configuring & upgrading of Cisco IOS.
Working in high availability Nexus Environment with switches like 7k series and provide Level 3 Network Support.
Working with Cisco Nexus 2148 Fabric Extender and Nexus 7010, 7018, 5000 series to provide a Flexible Access Solution for a datacenter access architecture.
Configured trunk and access ports, and implemented granular control of VLANs and VXLANs using NX-OS to ensure virtual and flexible subnets that can extend further across the network infrastructure than with previous generation of switches.
Overpassed the national pool test in Internet Protocol Security (IPSec).
Network Engineer
Responsible for designing and implementation of network and Security infrastructure.
Reviewing, analyzing, approving and executing all changes in the network,All Configurations of Cisco Routers and Switches, Participated in a rotating 24×7 support schedule for the Network operation Center.
Responsible for the delivery of Wireless Planning, Design, Implementation & Optimization Services to Cisco's major accounts.
Developed a technology solution for a user group that was able to disable unauthorized access by unauthorized users.
Received honorable mention as one of the top performers over an extended period (31–40%) while on an IT contract with an international government agency.
Network Engineer
Responsible for various consulting services to include architecture technical support, implementing, configuration, administration and troubleshooting on various network infrastructures and enterprise applications such as Cisco router, switches, wireless, F5 load balancers and VoIP systems.
Led on projects that included but not limited to client/vendor's relationships, administration, engineering and project management including any aspect of a home or business networks.
Additional responsibilities included desktop support to ensure proper functionality by engaging with the customer's teams or one-on-one in these activities to ensure proper implementation.
Achieved award for consistent performance improvement within his work team, pinpointing issues with other team members and acting as an intermediary to align their efforts.
I have a passion for computers and the internet. I have programmed in various languages such as JAVA, Data Flex, Visual Basic, Delphi, and Fortran.
Network Engineer
Provisioning buildings to interface with colocation/data centers via point-to-point circuits and fiberoptic connectivity.
Configuring core routers with appropriate BGP peering and route maps to optimize bandwidth usage and changing flow of traffic based on requirements and/or network outages.
Architecting redundant paths and ideal network topologies as necessary.
I am able to communicate with hardware via Device driver software.
Designed, developed, and installed software that automated online banking systems for over five hundred sites.
Network Engineer
Completed major WAN network upgrade for all district sites from 100 Mbps Metro Ethernet to 10 Gbps fiber.
Completed upgrade of the district's Cisco-based VOIP system, which involved new 4300 series routers, Call Manager 11, and Unity Connection 11.
Completed rollout of a brand-new Meraki 802.11ac wireless system, with access points in every classroom, providing full coverage for over 5000 new student devices such as iPads and Chromebooks.
Created 14 domain-specific applications for banks in business-to-business relationships with home banking systems to decrease the cost of error, minimize training, and increase customer convenience.
Wrote scripts to enable web developers to create custom web pages with multiple banks and branches with ATM access.
Network Engineer
Network engineering services, including test plan development, operations, and project support.
Participate in system technical reviews, integrated planning team sessions, and group meetings.
Network design and develop baseline documentation consisting of IP address, network devices, systems interconnection drawings and sites LAN/WAN with Virtual servers.
Responsible for the ongoing operation of nurse system medical devices.
Developed an application that enabled customers to transfer funds between bank accounts using their computer or mobile device via a browser.
Network Engineer
Hired to help with updating, research and implementing REP ring and HSRP usage across their network.
Attend to all customer needs and concerns regarding the network.
Troubleshoot issues with the network in order to make it run more efficiently and to avoid future problems.
Troubleshooting and diagnosing network, software, and hardware problems for the engineering department.
Tested the most recent release of the PA-RISC environment for communications, routing, and transport protocols.
Wrap Up
You need to make sure your resume stands out amongst the other candidates. It is the first impression that employers have of your work experience and skills. Use the samples above to put together a resume that best suits your needs and helps you get the job you want.