Production line workers operate factory machinery and assemble products for distribution. They lift and move heavy objects, feed machines, operate factory equipment, pack goods for shipping, monitor assembly lines, implement quality checks and maintain equipment. On-site training is usually provided. Production line workers must be able to lift 35+lbs, work in a fast-paced environment, be punctual, detail-oriented, attentive to safety requirements, willing to work on a team and stand for long periods of time.
A good resume is well-written and concise. It should be neat and easy to read, listing previous experience in a logical order.
Our resume samples will provide you with multiple examples of what you can include when writing your resume.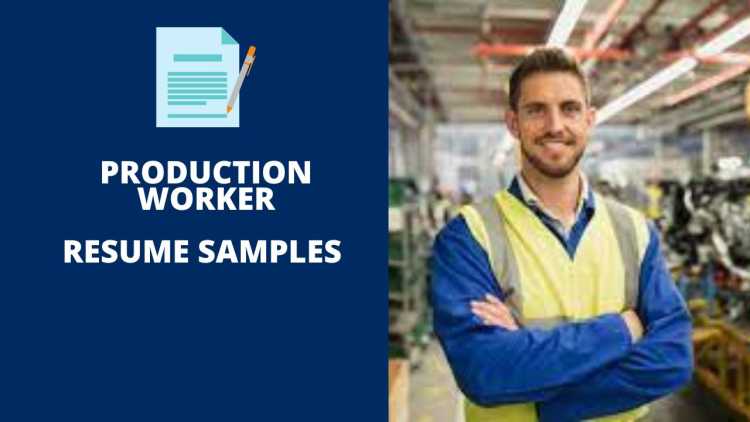 The Best Production Worker Resume Samples
These are some examples of accomplishments we have handpicked from real Production Worker resumes for your reference.
Production Worker
Maintain and help in production of magnetic cores by separation of cores to allow epoxy to flow, adding release agents to mandrels on metglas,cobalt, nickel and nanocrystal line.
Rack and plate cores to achieve shape, place cores in oven for curing.
Help maintain equipment by cleaning, changing oil resins, and performs minor repairs on equipment to maintain operation.
Performed quality control and metallurgical tests to insure with regularity that production lines met specifications.
Assisted in the manufacturing of precision threads and springs, custom made screws, and other products.
Production Worker
My position as an production worker is to complete the process that are assigned to me.
Such task as loading second row seats , and bolting them down.
Installing tubs for the front trunk , also top carpet which includes installing carpet floor for the model s trunk.
Increased production by "managed by exception" which involved operations planned and directed by those responsible for product quality.
Received outstanding performance award at a regional meeting; demonstrated exceptional leadership skills through setting a positive environment for motivating and encouraging others to acquire proficiency in producing high quality products.
Production Worker
Production line assembly worker with three years experience in large manufacturing plant.
Experienced soldering professional with strong leadership and relationship-building skills.
Responsible and hardworking warehouse assembler who can collaborate with a team and produce quality work on tight deadlines.
Developed a computerized process control system (programmed by hand) to monitor daily activity trends to ensure proper inventory levels, variances, and other control procedures were implemented.
Managed multiple production lines through the scheduling and coordination of labor.
Production Worker
Accurately assembled materials and contributed to the manufacturing process.
Assembly was accomplished in compliance with manufacturing standards.
Contributed to the success of multiple production teams, meeting all requirements and time lines.
Helped to implement a new productivity system; collaborated with manager to improve machinery, quality, and efficiency.
Chaperoned and supervised several young people undergoing training on safety rules and handling procedures; gained experience in dealing with people under pressure.
Production Worker
Assembled high quality seats along with the electrical wires, motors, labeling motors, painting seat cushions, proper use of chemicals, proper use of band saw, drills, cutters, and hammers.
Making changes to certain products, to be properly used in production lines.
Also, trained to use a sewing machine for the seat fabric.
Participated in union negotiations with management; became a member of the International Union for the Protection of Workers (IUPW).
Acquired work ethic by working at night when most other employees are off; remained reliable on busy shifts.
Production Worker
Checked all charts and chambers to ensure that product was fully cooked, checked moisture levels.
Changed clothes and work gear according to product specifications to prevent cross contamination.
Washed, cleaned, and sanitized before and after of the use of the equipment.
Worked in all phases of freeze dried production and packed fully cooked material.
Trained to the full completion, from Blue to Purple Belt, in Applied Kinesiology and intensive back care.
Production Worker
As an Ice cream Maker, my responsibilities include but are not limited to: rotating and operating various pieces of equipment that directly, or indirectly, are linked to the safe production of the highest quality ice cream products possible.
Demonstrated through knowledge of 'Best Safety Practices' and comply with all company safety policies and procedures.
Troubleshoot unsafe conditions and take appropriate levels of corrective action.
Complete and document all food safety checks as required and actively participate in preventing and correcting potential quality related issues.
Received a superior rating for my performance and on-time compliance in my duties as an Assembly Line Production Worker.
Production Worker
Inspects products for damage or for conformity to specifications, Notifies Supervisor of any non-conformance of product.
Attends box former by starting and stopping machine when necessary, keeping magazine full, and clearing jams safely.
Performs other tasks that may arise in the production area after appropriate training.
Helps in training of new employees or employees who change job classifications.
Initiated new programs for training, safety compliance, and worker satisfaction.
Production Worker
Managed a variety of operations, including troubleshooting and rework, requiring a sufficient understanding of the functional operation of the items assembled as well as the finished product.
Worked from complex and detailed manufacturing documentation and/or verbal and written instructions and specialized fixtures/test equipment.
Responsible for quality activities, including self-inspection, and inspection and Update production records and test results.
Fired up production ability of three assembly line engineers; enabled each of them to achieve personal career milestones by identifying strengths and weaknesses.
Made products with unmatched quality; met customer satisfaction quotas and received excellent ratings from management.
Production Worker
Hand price garment racks of 90 in a 45 minute time allotment while choosing a retail price based on brand quality from a memorized pricing scale.
Pick products from sorting table to tag, recognizing what is appropriate to process for the sales floor.
Worked independently in decision making, while still working as a team production group to unify company profits.
Adhered to Q.C. inspection standards while contributing to the production and improvement of products.
Wrote and implemented new work procedures, including the assembly of production equipment.
Production Worker
Monitors, measures, and records quality assurance data including dimensions, weight, or other specific information.
Tracks orders, utilizing appropriate equipment, moves material so the production process to flow efficiently.
Accurately follows specific detailed operational instructions and prints for job and setup operations.
Developed a new product line; recognized for leading a team of ten fellow employees in reducing time spent on each product produced by 20%.
Achieved award for outstanding quality control; contributed to gaining plant certification for ISO 9002, an international standard for quality management systems.
Production Worker
My duties include Packing and sorting good and bad chicken product.
My responsibilities are to pack and arrange chicken product at a fast pace while standing for long periods of time.
I am responsible for labeling product before distribution.
Identified waste within the company's production processes; immediately reduced material costs by $8,000 per month due to waste reduction efforts.
Earned an "Outstanding" rating of on-the-job performance.
Wrap Up
You need to make sure your resume stands out amongst the other candidates. It is the first impression that employers have of your work experience and skills. Use the samples above to put together a resume that best suits your needs and helps you get the job you want.