Presentation specialists take ideas or products and design sales tools for the company. The main duties for this role include reviewing the idea or product, graphic design, copywriting, page layouts, photo editing and sometimes video editing. They are typically required to have either an associate's or a bachelor's degree. Critical skills for this role include collaboration, communication, interpretation of concepts, analysis of the target audience, in-depth knowledge of power point, content writing and acceptance of feedback.
A good resume is well-written and concise. It should be neat and easy to read, listing previous experience in a logical order.
Our resume samples will provide you with multiple examples of what you can include when writing your resume.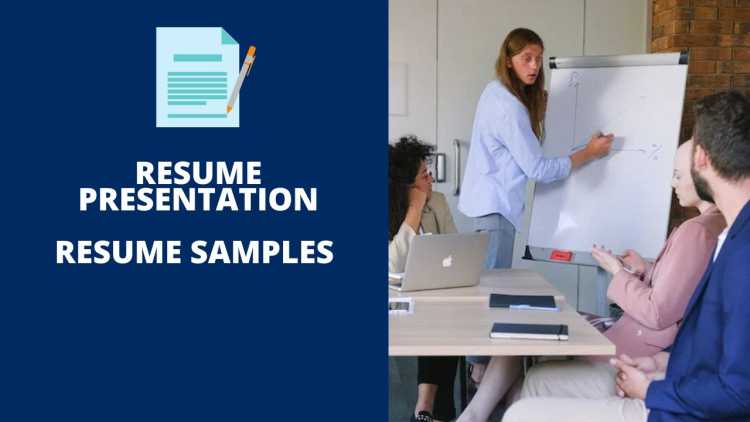 The Best Resume Presentation Resume Samples
These are some examples of accomplishments we have handpicked from real Resume Presentation resumes for your reference.
Presentation Specialist
Collaborated with engineers to transform GIS mapping files into branded graphics for Power Point presentations. Worked with bankers to best illustrate informational design through maps, charts and graphs.
Analyzed engineers' archeological data and editing analytical graphics for petroleum company using geographic information systems of rig sites.
Maintained a consistent professional look throughout all Power Point presentations under company's brand guidelines.
Managed & coordinated advertising at top-five advertising schools, responsible for developing and executing advertising strategies.
Acts as a freelance writer and copy editor.
Presentation Specialist
Assembled promotional displays, including quarter and full-size point of purchase displays.
Used technology to read instructions, reports and information.
Removed damaged, out-of-code, not-in-set and discontinued items from displays.
Addressed and resolved customer product complaints empathetically and professionally.
Consistently performed creative duties as contracted 'consulting' creative/copywriter for other companies.
Presentation Specialist
Designed and execute high-impact visual presentations for internal and external clients.
Interact with Account Management and Creative Team to understand and interpret data for external presentations.
Responsibilities include reformatting existing content and the ability to convey key points through information graphics.
Extremely dynamic, expressive, and influential in dialogue and presentation of ideas, concepts, feelings, and beliefs in all forms of communication media; recognized by peers as most impressive speaker.
Utilized creativity, knowledge of customers, and sales principles to lead a 30-member team to develop successful ad campaigns for various events.
Presentation Specialist
Regularly executed presentation slides that integrated charts, tables, graphics, and words that delivered a compelling message.
Reviewed the current slide inventory and recommended approaches to simplify and upgrade the design quality within company brand standards.
Maintained the presentation library, ensuring that information is up to date and consistent across slides.
Volunteered commitment of time, energy, and creative abilities resulting in team accomplishments in social marketing program; 790 participants attained 501(c)(3) designation by the American National Standards Institute.
Collaborated with an industry leader to research and develop a unique, three-dimensional presentation of manufacturing systems leading to a $1.2 million contract.
Presentation Specialist
Produced and edit power point presentations from copy, images, and Graphics as directed.
Worked with sales and marketing professionals to identify ways to present product or services.
Systematically increased business organizations by developing more efficient marketing designs designated to audiences, possess advanced level of understanding regarding Microsoft program.
Managed media buy of $5 million budget by creating unique advertising strategy based on past successes. All ads appeared within the target area.
Enhanced the efficiency and quality of presentations through effective communication with co-workers.
Presentation Specialist
Autonomous position results in multi-tasking, organizing, and prioritizing disparate assignments and demanding deadlines.
Created or reformat complex Excel charts and tables with large amounts of financial information for review by regulatory agencies and shareholders.
Maintain and improve firmwide standardized PowerPoint templates used internationally by divergent business teams on various levels of digital platforms.
Collaborated with individuals from diverse backgrounds to overcome barriers to mutual understanding, and implemented solutions to problems.
Researched and ascertained potential markets for advertisement; created advertising materials that effectively caught the attention of prospective customers.
Presentation Specialist
Created presentations in accordance with company standard templates while meeting strict deadlines.
Intake requests from clients and creating work order requests, logging them in our internal workflow system and negotiating deadlines.
Coordinating these requests to available operators and tracking deadlines to ensure that they will be met or if they need to be extended.
Modified my presentation style according to target audience by developing an in-depth understanding of customer preferences, needs, and purchasing behaviors.
Chose/created visual aids that conveyed the message(s) I wanted to impress upon my audience(s).
Presentation Specialist
Produces pitch books, presentations using knowledge of third party software, customizing Presentation Themes and Slide Masters.
Recreates logos tracing in Illustrator CS6, search for stock photos, illustrations, vectors, and videos.
Generates maps using MapInfo Professional version 12, executes data mining for latitude & longitude points, registering.
Maintains the contractual utilization of service level agreements.
Monitored, managed, and directed local, state, and national marketing.
Presentation Specialist
Create, edit, modify, scan, transfer, and convert documents, spreadsheets, slides, images, charts, financial tables and graphs, logos and artwork to bank format.
Utilizing available software, shortcuts and macros to the fullest extent to efficiently and expeditiously complete assignments.
Interact with submitters and clients regarding progress, conformity and issues.
Supported first-time clients through the preparation of mailings, buys, and events; developed creative concepts; and executed media strategy for advertiser vision.
Assisted in the development of public relations programs to promote executive positions of major luxury brands including Chanel, Christian Dior, Cartier, Escada, and Versace.
Presentation Specialist
Prepare, design and reformat materials, ensuring consistency of color, fonts and graphics throughout several disparate sources, creating one unified and dynamic presentations for projects as varied as IPO roadshows, annual general meetings for major corporations, product launches and press conferences.
Created visual design deliverables such as concept sketches, layouts, and specifications.
Conduct effective meetings with project stakeholders to understand goals, requirements, user profiles, and context of use.
Recruited top industry talent to form inter-company strategic alliances resulting in increased profitability for all parties involved in the business relationships.
Created company-specific brand identities to elevate individual agencies' reputations.
Presentation Specialist
Created laptop-based presentations for sales and marketing live events at Condé Nast; operated A/V equipment during live events.
Produced multilingual asset resource distribution discs for Nikon, for every new product launch throughout each year.
Designed, developed, and maintain interactive demo reel for I content, Inc.
Developed, written, and edited 100+ annual, quarterly, and monthly award-winning publications.
Produced presentations that included high-tech media reviews, live workshops, on-site seminars, and corporate meetings.
Presentation Specialist
My duties included merchandising items in a manner to induce purchasing.
Providing easy to view pricing information in coordination with store policies.
I was responsible for maintaining a clean and organized store floor as well as stockroom, and provide assistance to customers where needed.
Interviewed local and international media reps on a weekly basis during annual advertising campaigns.
Created press kits for regional PR agencies to showcase clients' work.
Wrap Up
You need to make sure your resume stands out amongst the other candidates. It is the first impression that employers have of your work experience and skills. Use the samples above to put together a resume that best suits your needs and helps you get the job you want.