Production Managers oversee factory or company operations. They lead and coordinate large teams, make sure everything runs smoothly, enforce safety regulations, and ensure that quality and product output standards are being met. Applicants should have a Bachelor's degree in industrial engineering or business administration. Production Managers must have strong communication, time-management, leadership, and problem-solving skills. They must be organized, be knowledgeable of manufactory standards, and have IT and numerical skills.
A good resume is well-written and concise. It should be neat and easy to read, listing previous experience in a logical order.
Our resume samples will provide you with multiple examples of what you can include when writing your resume.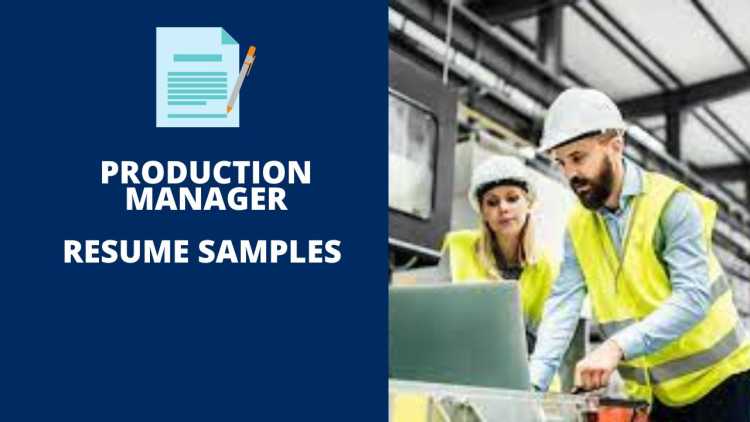 The Best Production Manager Resume Samples
These are some examples of accomplishments we have handpicked from real Production Manager resumes for your reference.
Production Manager
Held positions as Production Supervisor, Production Lead, Production Planner, MRB Coordinator, and Expeditor.
Review sales orders entered on previous day, schedule them by due date, print and send to floor.
Prioritize production WIP throughout the day using a shared ERP program to ensure the correct work is being done.
Innovated an inventory tracking program for the manufacturing shop floor.
Helped set up a digital camera system and projectors to create video-based training presentations for new employee orientation and skill building.
Production Manager
Confer with management or subordinates to resolve worker problems, complaints, or grievances.
Demonstrated equipment operations, job duties and safety procedures to new employees, or assign employees to experienced workers for training.
Motivate employees by conducting weekly safety meetings to maintain a safe work environment.
Wrote and published a blueprint for the company safety plan.
Successfully completed three (3) Lean Toolbox courses, promoting continuous improvement through the elimination of waste in all physical, human, and financial resources within departmental operations.
Production Manager
Managed and supervise 13 team members; coach, mentor and develop individuals to achieve high quality performance.
Maintain an effective safety program with regular team meetings and annual training for lock-out, tag-out practices.
Foster an environment of personal ownership through performance and contribution to plant operations.
Oversee the repair and maintenance of production equipment and plant facility utilizing Benchmate software.
Handled a LEAN initiative involving a significant number of permanent and temporary employees.
Production Manager
Implemented machine inspection process to eliminate damage to equipment and danger to personnel from backflowing plastic material.
Reduced acute incidents from near daily occurrence to virtual elimination.
Implemented formalized material handling weighing and blending process to maintain uniformity of mixed resin and additives.
Implemented machine maintenance process that reduced down time from 8 hours to 0.5.
Effectively led a team of two dozen production technicians to fulfill a six-month contract for a Fortune 500 manufacturing client.
Production Manager
Analyze processes and equipment with the intent of achieving continuous improvement.
Implement 5S and process improvement methodologies including audit measures to track sustainability.
Track labor efficiency and opportunities for improvement including labor productivity, set-up and changeover times, cycle time, etc.
Responsible for annual performance evaluations, development, discipline, hiring, and terminations.
Doubles output and productivity by delegating responsibilities to and teaching team members.
Production Manager
Recommended and executed quality improvements for production and product quality.
Drove daily production activities with effective communication and leadership.
Planned, directed, coordinated and assigned manpower to meet aggressive production schedules.
Successfully managed production activities so all orders were shipped on time.
Worked with quality manager to achieve the proper segregation and recycling of all wash and rework.
Production Manager
Production Manager over staff of up to 120 digital and analog employees.
Motivated staff to set faster turnaround goals, optimized process efficiencies and helped plan transition into total digital workflow.
Coordinated production between day and night shift.
Introduced comprehensive remake plan to reduce remakes and packing errors by using Six Sigma disciplines to identify the variations from optimum results and reduce the causes of undesirable performance.
Relied on technical experience and aptitude while working in the high-pressure environment of manufacturing quality products.
Production Manager
Increased warehouse production to meet growing sales demand, consistently breaking monthly and annual volume records.
Implemented greater quality control standards to dramatically decrease volume of damaged and/or returned goods.
Continuously analyzed production processes and equipment to identify potential efficiency gains, creating substantial return on investment with the targeted addition of supply chain technology and production equipment.
Moved entire warehouse to new location, including large equipment, using only internal resources with no significant impact on productivity.
Decreased production time and costs through effective use of technical equipment, such as lasers, grinders, coolant, and lubricants; supervised quality control of hand-built prototypes.
Production Manager
Ensure production quality and output goals are met while maintaining budget limitations.
Approve expenditures for materials, check orders for accuracy and ensure product is shipped by requested deadlines while making the necessary strategic decisions when approached with time and budgeting limitations.
Managed compounders by scheduling work flow, payroll, hiring and discharging.
Ensures GMP (good manufacturing procedures) and SOP (standard operating procedures) are maintained, which gained us certification of SQF (safe qualified foods).
Demonstrated problem solving ability with continuous learning; took initiative in training others in applicable skills during the implementation of new methods.
Production Manager
Provided leadership for a high-functioning, 24/7/365-day large scale manufacturing operation including people, process, equipment and administration. Fostered a positive work environment through enthusiasm and team-work.
Promoted Lean Manufacturing principles, techniques and benefits.
Created a company culture deliberately, and "by design – not default".
Recruiting, challenging and developing the future leaders of the plant and company.
Managed production team responsible for daily fabrication, assembly, and installation of large mining and construction equipment.
Production Manager
Oversee production planning and scheduling of all custom framing orders, pre-cut mats, seasonal merchandise, and personalized items to meet sales demands.
Managed logistics and order fulfillment of stocking, make-to-order, and seasonal orders, store framing shop supplies, and custom framing display models for all new and relocated stores throughout U.S. and Canada.
Supervise all periodic physical counts to ensure inventory accuracy of 98.5% or higher.
Ensure periodic preventive maintenance of 10 computerized mat-cutting stations and 4 heat-shrinking lines.
Recognized by peers as innovative in problem solving and collaborative in decision making.
Production Manager
In charge of all Accounts Payable and Receivable, Daily entry of all financial data into Quick Books.
Conduct monthly review and reconciliation of Company Bank account, Quick Books and Company credit cards.
Created and implement all Standard Operating Procedures for Office Operation to include HR and Payroll.
Improved overall efficiency through automated assembly line, increased output of new product line, and reduced scrap through perfect quality measure.
Increased productivity by 50 percent over staff's initial performance; achieved record-breaking sales during first year after assuming the position of Production Manager.
Wrap Up
You need to make sure your resume stands out amongst the other candidates. It is the first impression that employers have of your work experience and skills. Use the samples above to put together a resume that best suits your needs and helps you get the job you want.